In the latest TV version of The Handmaid's Tale, Amanda Brugel plays "Rita" the Martha who lives in Commander Fred's house where "Offred" (played by Elisabeth Moss) also lives. Amanda is the only Canadian in the main cast and has a personal affinity with Atwood's story – she actually got a scholarship to university because of a paper she wrote on the book (she also did her thesis on it).
We caught up with her this week.
SDTC: What should we be paying more attention to?
AB: What we post social media. We need to take more responsibility for the energy we bring into those spaces.
What was the gist of your thesis paper on The Handmaid's Tale?
The very short version: no matter which type of society (past, present or dystopian) we exist in, love remains our primary survival instinct. From something as savage as Ofglen brutally ending a life to ease suffering during the salvaging to something as simple as two fingers touching through a bathroom stall. Love is the foremost basic human need.
One new thing you learned this year?
To slow down. The universe gives you warnings. Several of them. Listen the first time. And slow the heck down.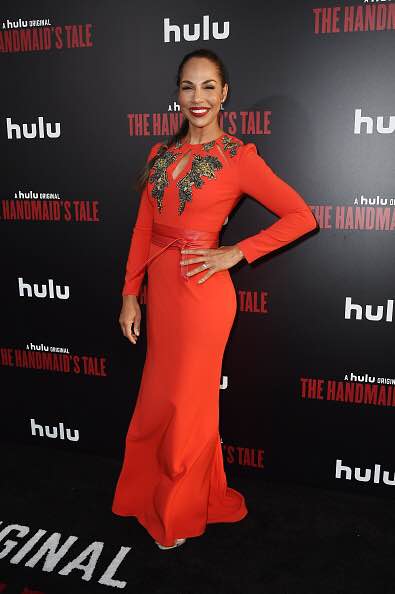 What memory brings a smile to your face?
My fortieth birthday. Along with my husband and children, I returned to the same remote beach in Malibu where my husband proposed. Whales, seals and dolphins played twenty feet from us. We hand fed squirrels. I took selfies with a sea lion. It was the most ridiculous, gorgeous, surreal day. I'm basically Snow Black, is what I'm saying.
What book/song/lyric/etc is resonating with you right now?
For each new role, I choose a new song for the character and a new fragrance. My anthem for The Handmaid's Tale was Bon Iver's "The Woods." Revisited again lately and now I can't stop with the repeat button. "I'm building a still. To slow down the time."
Best/worst parts about your costume for The Handmaid's Tale?
There is no worst. The costume designer, Ane Crabtree (Westworld, Masters of Sex) is an absolute genius. Every last detail of each costume was meticulously thought out by Ane. And when someone is that thorough, when a designer pours that much love into their work, it makes my job ten times easier.
When I put my costume on for the first time, my walk changed. That's the best part. Ane gave me my walk through fabric and tragically beautiful brown shoes.
Best life advice you've been given?
Fall down seven times, get up eight.
What is the best part of being your current age?
It sounds cliche, but I don't care what people think as much as I used to. And I've stopped hiding if I feel insecure or sad or am having a bad day. My public mask is a lot more transparent. And so many less effs are given.
What word or phrase should we use more often?
"I'm listening. I hear what you are saying. Please continue."
What's on your night table?
Alias Grace by Margaret Atwood. Fifth time's a charm.
What other book would you love to see brought to life on the big screen?
Silver Sparrow by Tayari Jones would make a wicked series. The same story is told by two different women. There aren't many shows where the same facts are told from two very different perspectives. And where television is currently heading with a bounty of female leads of colour, I think it's an exceptional possibility.
What do you wish people knew about the story of The Handmaid's Tale?
It is not so far off from how we live today. It's not an impossibility.
What trends are you loving right now?
Floral romanticism on the runway. The prints, ruffles and length of pieces this season are so feminine and dramatic. Philosophy di Lorenzo Serafini and Delpozo are killing me right now.
Who was your celebrity crush when you were a kid?
David Bowie in Labyrinth.
What do you love about Toronto?
I love how clean it is. I love that it is starting to accept its own hype and has a little swag now. A little bass in its step.
I truly love the fact that I can look around at faces on a random streetcar and not one person is the same race. NOT ONE. Now that's my kind of dystopian society.