Haley McGee's hit one-woman-show, I'm Doing This For You, tackles modern dating, grand romantic gestures, and the pressure of landing a "successful-relationship." From the hilarious to the humiliating, this award-winning show delves deep into just how far a person will go to not be alone.
We caught up with McGee this week.
SDTC: What should we be paying more attention to?
HM: Air pollution! It's a slayable dragon. Which is hopeful and deserves attention. I'm only just learning about it because I'm in the middle of R&D on a project about it. And I'm scared and encouraged.
What was the last Netflix/TV series you binged on?
Inspector Lewis—I find the combo of murder, mayhem and academia very soothing. Also Search Party, which I watched twice—sensational. And Love and Catastrophe.
One new thing you learned this year?
In life: There is always an epilogue. Just wait.
In Japan: I really like umeshu and sleeping without a pillow.
What memory brings a smile to your face?
December 2015. Mitchell, my director, sitting on my sofa as we rehearsed I'm Doing This For You in my apartment. His very calm demeanour as I contended with the gigantic Christmas tree taking up half the living room.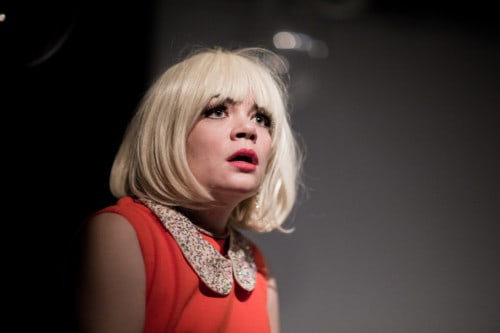 What book/song/lyric is resonating with you right now?
Maggie Rogers lyric, "…and I walked off an old me."
Describe the funniest thing you've experienced in recent memory.
My brother and I were singing in the car. I was trying to prompt him to sing, "Nice work if you can get it," but instead he belted out, "Nice night for a cook out!" The invented lyric with such intense bravado made me laughed till I cried. You had to be there. But it's definitely the hardest laugh I've had in recent years.
Best advice you've been given?
There's too much joy in you to dwell in doubt. Don't go so fast; nothing good can find you.
What is the best part of being your current age?
I like myself better and better the older I get. I'm less intimidated by other people. My friends are having babies. I am not the baby in the room anymore.
What word or phrase should we use more often?
"Yes."
What's on your night table?
Anna Karenina. Journal. Pens. Lavender oil. Nail clippers.
What one item would you be lost without (besides your phone)?
My backpack.
Biggest comedy pet peeve?
Handsome men who don't acknowledge that they're handsome. Meanness towards audiences.
What trends are you loving right now?
Ha! Wide-legged pants. Feldenkrais. Green juice. Soba noodles.
Who was your celebrity crush when you were a kid?
JTT. Will Ferrell. And the character Gus Pike from Road to Avonlea (who played the fiddle and had a Newfoundland accent and loved Felicity even when she was mean to him).
What do you love about Toronto?
It's bikeable and walkable. It's a city of neighbourhoods. Most of my favourite people live in Toronto. The Island.
Haley McGee performs in I'm Doing This For You, running May 3 – 6 at the Young Centre for the Performing Arts (50 Tank House Lane). StagePlay (under 30) & Arts Worker tickets available for $20 here.