Kamilah Apong is a queer black femme who is deeply in love with community arts and performance. She recently completed an artist residency at the Art Gallery of York University and performed at the TD Jazz Festival.
Kamilah combined creative forces with her long-time friend Casey MQ to create Hummingbird, a safer open stage catering to the youth of Toronto's Regent Park community.
She's also in a band with Casey MQ called Unbuttoned. Their new album Liquid comes out August 8th.
SDTC: What should we be paying more attention to?
KA: SYDANIE.
What was the last Netflix series you binged on?
I can't believe I'm actually telling you this but…iZombie.
One new thing you learned this year?
I'm strong and capable as FUCK.
Biggest music industry pet peeve?
Shadeism, tokenism. More than just a pet peeve.
What book/song/lyric/etc is resonating with you right now?
Amber Mark's Regret. I have a crush on her, I think.
Describe the funniest thing you've experienced in recent memory:
Best advice you've been given?
Reminding myself "this shall pass" is very helpful.
What is the best part of being your current age?
Knowing that I'm just getting started!
What word or phrase should we use more often?
Hi, I love you.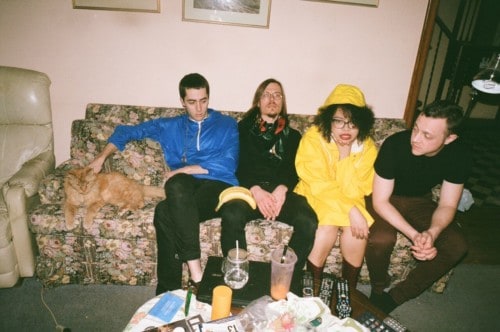 What's on your night stand?
Condoms & lube, a journal to write my dreams in when I wake up, a sock, some garbage, weed-infused "orgasm oil," and Casey's old speaker.
What one item would you be lost without (besides your phone)?
My debit card. I need to change that habit.
What's at the top of your bucket list?
To travel the world through music, and then promptly live on a farm far away from any big city.
What trends are you loving right now?
Pushback towards respectability politics, dialogue on neurodivergence being more commonplace, armpit hair on femmes, black men displaying tender, soft masculinities unapologetically, black femme entrepreneurs, BLIPTOR on his glow up, me loving myself, those ice cream roll things that I keep seeing.
Who was your celebrity crush when you were a kid?
Angelina Jolie and Justin Guarini.
Describe your ideal Saturday.
I just walked out of an ethereal forest, and greeting me is the shallow edge of a lake. The sun is gently waving down at me, and the water softly asks, "Won't you join me?" As I dip my toes in it, I hear the laughter of loved ones nearby; they're bringing fried chicken. I light a joint and hum sweet nothings to myself.