Last week, Toronto hip hop artist Keysha Freshh dropped her newest album, In Samadhi. We caught up with her this week.
SDTC: What should we be paying more attention to?
KF: Dakota, #NODAPL.
What was the last Netflix series you binged on?
Luke Cake and Stranger Things, at the same damn time.
One new thing you learned this year?
What "electoral college" means.
What memory brings a smile to your face?
All the memories with Nicholi and Khalid. God rest their souls.
What lyric is resonating with you right now?
Musiq Soulchild's: "Picture me. Down and out, lost without you. Picture me. Broken-hearted. And so lost and alone."
The funniest thing you've experienced in recent memory?
I was in rehearsal with this collective I'm part of called The Sorority. We were rehearsing for our headlining performance for Michie Mees birthday, and I completely forgot my lyrics to our cypher. That was great. But my life is a comedy so there were probably multiple moments after that.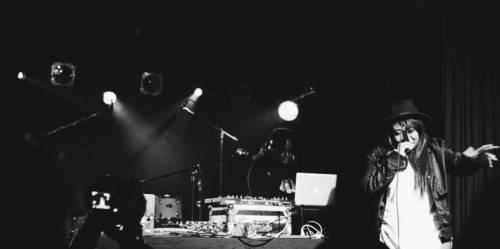 Best advice you've been given?
One that has been popping up in my head quite often recently. It is something my uncle Mark said: "Don't ever let what someone else brings to the table be all there is too eat. Makes sure what they bring is a bonus."
What is the best part of being your current age?
I'm at the age where it's socially okay to not have it all together right now.
What's on your night table?
Nothing, I'm a minimalist so I don't have one.
What one item would you be lost without?
My Swiss Army Knife.
What trends are you loving right now?
Yikes, um, actually, the new hairstyle the gentlemen have with the two braids but the sides and back of their head is shaved – that's cute.
Who was your celebrity crush when you were a kid?
Jaleel White.
What do you love about Toronto?
The vibe of the downtown core. Its really groovy.
What word or phrase should we be saying more often?
Kickout (Popcaan voice).
Check out In Samadhi. Follow Keysha on Twitter and IG: @Freekeysha