MJ Shaw, an actor most known for her comic appearances (The Baroness Von Sketch Show, The Beaverton) is also an acclaimed choreographer and personal trainer.
She recently launched her signature fitness-based cardio-dance program, FITPOP, which aims to bring out everyone's inner dancer. FITPOP is the newest fitness program released by Shaw's company, Dynamic Fitness and Retreats, which also offers personal training, group fitness classes and family-friendly mom and baby sessions.
We caught up with MJ this week.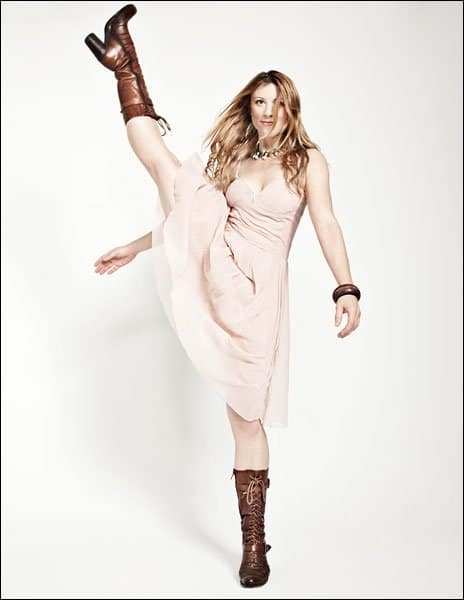 SDTC: What's at the top of your bucket list?
MJS: Climbing more mountains. Metaphorical and literal ones. I'm like a mule, I love to climb.
What's your go-to song for getting stuff done?
80s dance playlist of any kind. Don't make me choose one!
What advice would you give to your fourteen-year-old self?
Don't be such a cocky @#&%. You don't know everything and can learn from everyone. (I can still use that advice.)
Who has made a big impact in your life recently, and how?
My clients. Almost all women. They are truly an inspiring bunch and we've spent a lot of time together this last year, either in my training studio or at my classes. It's amazing that come snow or rain, amidst the myriad of life's commitments or when it's just a crap day, they arrive to sweat, dance and laugh – with me! I feel very lucky. It's so easy to slough off your workouts, but I have this posse of loyal and devoted Wonder Women, who make me grateful to be sharing my life's work with them.
What does your ideal Saturday look like?
Slight sleep in (7:30am), PT client, teach FITPOP dance class, brunch with my man Dan, culture vulture something in the city (gallery, play, film), make dinner and have some chuckles with friends at one of our homes, luscious restorative weekend sleep. Or be out in the world travelling on a road trip!
What's the best part of being your current age?
The benefit of experience and learning from mistakes while still being young and healthy enough to pursue and achieve new goals (I'll be forty this spring). I feel like I've already lived a bunch of lives, had a dozen careers and fallen and gotten up enough to know that my armour is pretty strong and my tools sharp enough to carve out new pursuits. I also speak in lots of metaphors at my age.
What is your favourite quality in your best friend?
Down to earth. Real. Easy-going. My closest friends are all very positive self-possessed people that save the drama for the stage. Bam! Together, there is always lots of acceptance, compassion and penis jokes.
What/who is currently inspiring you?
Working moms. I'll be one soon (I'm four months pregnant!). As a self-employed business owner I'm in high observation mode of how the heck the moms do it?! While my husband will be rocking out his government pat leave, I plan to take the summer off and get back in the game in the fall, with support from other awesome instructors and trainers to keep the biz running. It's slightly terrifying to me, balancing out caring for the real baby and the business baby. But women do it all the time, so I know it's possible. I have some inspiring examples around me.
What art work would you love to have in your space/on your walls, and why?
Oh god! This is the hardest. Hmmm, narrowed down my deepest aesthetic I'd choose female, colourful, spirited, Canadian landscape: Emily Carr. Probably her bright blue hued Forest painting.
Fave rainy day comfort food? Or activity?
Mother India Mixed Vegetable Roti. Bath with book and tea.
When you were a kid, what did you want to be when you grew up?
Exactly what I am. I also dabbled in becoming a hybrid investigator/spy/lawyer. Hopefully I'll get to play one on TV instead.
What was your favourite game/toy as a child?
Make up a play or dance where I tell everyone what to do. I guess it still is.
What adult task would you like to get better at?
Cooking.
If you could spend a year studying something, what would it be?
Spanish language, art and dance. In a Spanish country.
FITPOP classes are currently being held in three west-end Toronto locations. Sign up for a class now.
PLUS: We're giving away 5-class pass giveaways to three lucky readers! On Facebook, like and comment below this post to win, or tweet: "@Shedoesthecity – I'm channeling my inner dancer. Send me to #FitPopDance"