Canadian Jade Mya is a proud transgendered country singer, whose music is a refreshing blend of story-telling, heart-felt traditional folk, and rock with an edgy twist. She just released her debut album this past August, Heartbreak Country. Mya has established herself in the country music world, and released eight popular covers in 2015, including Lies of The Lonely, Mississippi Flood, This Love Ain't Big Enough & Shotgun, Used.
SDTC: What should we be paying more attention to?
Taking the time to be more kind to yourself and others. With so much negativity in the world, there is always a way you can bring a smile to someone's face.
What was the last Netflix series you binged on?
I recently binged on the series SCREAM. October is my favourite month, and I love getting into the Halloween spirit.
One new thing you learned this year?
I learned a valuable lesson about not taking things too personally. If you fall on stage, get up, brush yourself off and do the robot. Everyone loves the robot!
What memory brings a smile to your face?
Gosh, tough question. A lot of memories bring a smile to my face. Pizza always brings a smile to my face, But, honestly, this past summer I spent a lot of time with my mom at her lake house. I'm a country girl at heart from a small town and family time always makes me happy.
How do you recharge your batteries?
By binge watching Netflix with a tub of Nutella and writing music at my mom's home by the lake.
Describe the funniest thing you've experienced in recent memory.
It would definitely have to be falling off the stage at one of my past shows, and then getting up and doing the robot. It was my first reaction after feeling so embarrassed, and it made both the crowd and myself laugh.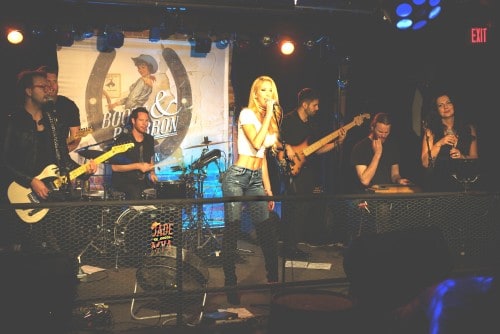 Best advice you've been given?
Do not Google yourself if you want to survive in the music industry.
What is the best part of being your current age?
I'm at the age where I'm more confident in my own skin. I'm stronger, more comfortable with who I am, and I know this is just the beginning of my journey.
What word or phrase should we use more often?
'Oh golly do it like Dolly.' Dolly Parton is one my favourite country music idols, she's still rocking it.
What's on your night table?
I don't have a night table, but if I did most likely water and cookies.
What one item would you be lost without (besides your phone)?
My eyelashes. God bless disposable eyelashes.
Weirdest thing in your purse right now?
Five cent bubble gum from Hubba Bubba, which is now discontinued, and an extra pair of earplugs for band practice.
What trends are you loving right now?
I'm loving the ripped jean shorts and high vintage socks look, paired with combat boots and a boyfriend fit sweater.
Who was your celebrity crush when you were a kid?
My virtual world crush, was hands down, Mr. Duff from The Simpsons. But in all seriousness, Seann William Scott in Dukes of Hazzard, the movie.
What should people check out in Toronto this month?
ROM's Friday Night Live series are always a blast! I'll be performing at their Country Night on November 4th at 9 p.m.
CONTEST!
We have two tix to give away to Jade's November 4th show at FNL ROM! To enter on Twitter, tweet:
"Hey @Shedoesthecity, I'd LOVE to check out @jademyaamour's performance at #FNLROM!"
Good luck!