Last year was a pivotal one for hip-hop artist Haviah Mighty. Her first solo album 13 Floors was released this past May, and everyone (like, everyone) was quickly hooked. "Hip-hop is built for a voice like hers!", lauded NOW Magazine, and Exclaim listed 13 Floors as one of the best Canadian albums to come out of the last decade.
In September, Mighty received the prestigious Polaris Prize, cementing her as top-tier talent—a richly-deserved honour. We're big fans for numerous reasons and think her tight politically-charged tracks like In Women Colour, Smoke, and Thirteen explore oppression and racial inequity with such depth that they could serve as course material for a critical race and anti-racism class—but are also what we want to hear, and move to, in a tightly packed late-night show.
On Saturday Feb 15th, Mighty will headline a phenomenal lineup at Longboat Hall for the 20th anniversary of Wavelength Winter Festival (don't miss this!).
We last interviewed the inspiration artist in April—a lot has changed since that time. In an effort to get to know her better, we asked Mighty a bunch of questions that range from her personal life to her creative process, and how she views the industry today.
First things first: what do you eat for breakfast?
Gluten free oatmeal, or a gluten free avocado sandwich, or gluten free cereal. Possibly a smoothie. No gluten. Ever. Bad way to start the day.
The last time we interviewed you, was before you won the prestigious Polaris Prize; how has that big win changed your life?
A lot has changed. Mostly, my album 13th Floor being acknowledged in that light just validates me as a true, professional Canadian musician, and I feel I am now recognized as such by my peers.
How would you describe the vibe of the Toronto music scene these days? Are creatives supporting one another?
I think there are many supportive creatives in the Toronto scene, but I do notice a difference between playing shows in Toronto, and playing shows in other areas of Canada. In some of those nearby cities like Guelph, or even out of province like Halifax or Vancouver, those crowds give you a lot of energy! Toronto, I find, brings the observant listener who is not so much jumping and dancing during your set, rather, they're listening intently, and probably stacking you up against their friends (it's a very saturated market and everybody knows somebody that makes music).
When do you feel your most you?
Definitely on stage. Before the confidence really hit, I thought the studio was my realm – but now that I feel extremely comfortable on stage, I find I'm the most comfortable in front of a bunch of people. Which is weird.
Speaking of writing music, what's your creative process?
It varies. Sometimes I start with a melody on guitar, or with a beat. Sometimes I write a melodic idea, and then build production around it. I tend to approach my creative process differently each time.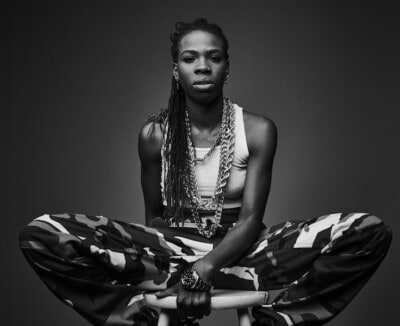 What have you done this winter that you've really enjoyed? A memory that you think will stick with you.
I played a festival called Toboggan in Quebec on New Years Eve. That was definitely a first! It was fun to play such a big festival during that time of year. I'll never forget how cold it was on stage,
It's Black History Month, what does this month mean to you? How will you mark it?
I value myself everyday, and am grateful for all the things that come with being black, whether positive or negative. I find Black History Month is a time where others are willing to discuss the things they kinda ignore for the rest of the year. For me, it's familiar and necessary to keep they conversation going, with or without a month.
What do you listen to that makes you feel at peace? In the flow?
Instrumental music of all genres.
What's a recent conversation you had, or overheard, that is making you think differently?
I attended an event where Obama was speaking about how to attain your goals, and he used the capture of Bin Laden as the example. It made me realize that:
1 – entrepreneurship can be applied to everything
And reminded me that …
2 – there is far too much war, conflict, and harm due to unfamiliarity in our current world.
What's a lesson you've learned this past year that is guiding your journey?
Never get comfortable. I try to keep myself on my toes, and though it requires your mind to always be active, that also means you're always thinking about what's next. Keeps me ahead of the curve.
Wavelengths is a very special kind of festival, and they're celebrating their 20th anniversary. What does playing for this occasion mean to you?
I played Wavelength once before! It was exciting, and one of my highlight shows of 2017. Now, I'm being invited back for their winter festival. I'm in a different place in my career, with a much stronger live set. I'm excited to experience Wavelength 2020!
Haviah Mighty will be playing Saturday, Feb 15 at Longboat Hall along with Lou Phelps, Yves Jarvis, and Desiire. Doors open at 7pm. Tickets are $20 in advance, or $25 at the door.
The festival launches Thursday, February 13, exactly 20 years since Wavelength's first show at Ted's Wrecking Yard. Despite that venue being a distant memory, Wavelength will provide a nostalgic nod to its older days by presenting the first night of the festival at Sneaky Dee's! Festival venues also include Longboat Hall (Fri & Sat nights), Sonic Boom Records (Sat. afternoon – all ages) and The Garrison (Sun night).
For more information and artist bios, please visit WavelengthMusic.ca