If you've ever seen SATE perform, or listened to emotionally-charged seductive music, you'll know she is a force, with a voice and stage presence that is incomparable.
Her sophomore album, THE FOOL, releases November 4, and explores her connection to The Tarot. It's gritty, sexy, and has a power to pull feelings of rage and frustration out of you. SATE's music is like therapy at warp speed—a thrilling and cathartic experience that will wake you up, and fuck you up (in a good way).
"This album is vital to me. It is a reflection of the risks I take to live fully while experiencing both victory and turmoil, and the spaces in between where I learn resilience," says SATE. "Ultimately this album is for the Fool in all of us."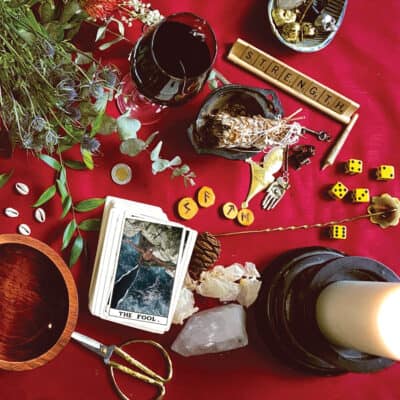 As with her debut album, RedBlack&Blue, THE FOOL mixes punk, rock, and blues into a sound that is uniquely hers. The Toronto artist gained a worldwide following after completing six tours in Europe (2016-2018), and SATE is the first Black Canadian woman to grace the AfroPunk stages in Paris, New York and Atlanta.
Combining empowering messages and a soul-shaking live show, SATE has built a reputation as a talent impossible to ignore.
We connected with SATE to get to know the artist and human behind the work we so deeply admire.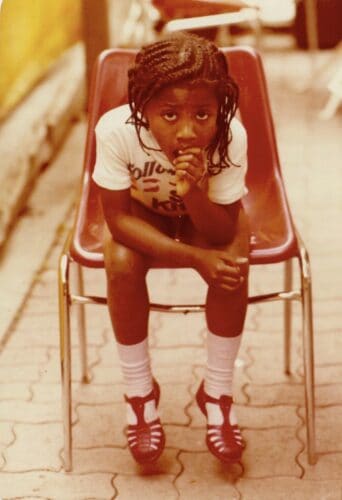 What TV shows did you love growing up?
FAME, The Cosby Show, and a A Different World.
Please share three things in your bedroom that you love.
My bed, my altar, and my plants.
What have you recently read or watched that you can't stop thinking about?
Movie: The Holy Mountain, Book: Women, Food & God by Geneen Roth.
What childhood toy do you still own?
My teddy bear, Catherine.
Do you recall the first song you slow-danced to? Or a best guess?
It's not the first song I slow danced to, but I remember slow dancing with my dude to "Send Me An Angel" by Lewis Taylor.
What posters hung on the wall when you were a teen?
The covers of TIME magazine.
What does breakfast normally look like?
Green smoothie: strawberries, blueberries, arugula, coriander, sea moss, hemp seeds, chia seeds, coconut water, banana.
What is a talent you've always had?
Being a singer/performer.
Tell us about a subject that you want to explore more deeply.
Astrology.
Who do you look up to?
There are many people that I look up to, but the first two that came to mind were Josephine Baker and Eartha Kitt. They were outspoken, autonomous, sovereign beings who left for France and made a huge mark on the entertainment industry in spite of being blacklisted by the American government.
Please share a place you think about often and in one sentence explain why.
My childhood home. It makes me think about a time when I would choreograph entire movements in my living room to my favourite records and cast movies on my bedroom wall with my hand-cranked Fisher-Price movie viewer.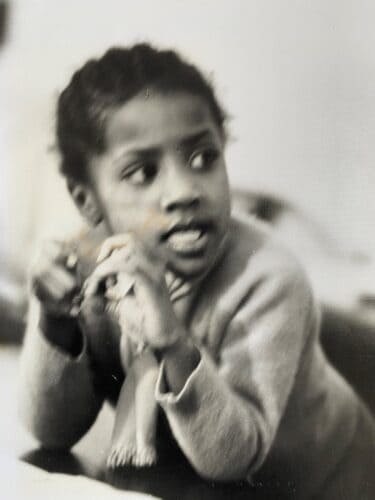 What does comfort food look like to you?
Anything that reminds of my Dad's cooking. I could go on and on about everything he cooked, he was just incredible with food.
What do you do when you want to energize?
Journaling and working out.
What's a perfect Saturday look like?
Late morning snuggles and laughs in bed with my dude.
What does your cozy look like?
My gorilla onesie pyjamas.
What was the last in-person concert you attended, other than your own?
Michael Kiwanuka at REBEL Nightclub.
If you could get on a plane tomorrow and go anywhere, where would you go?
St. Kitts.
What item of clothing makes you feel your most you in? Or maybe something you are just loving right now?
I'm currently loving my 'Holy Mountain' sweatshirt and my SATE toque.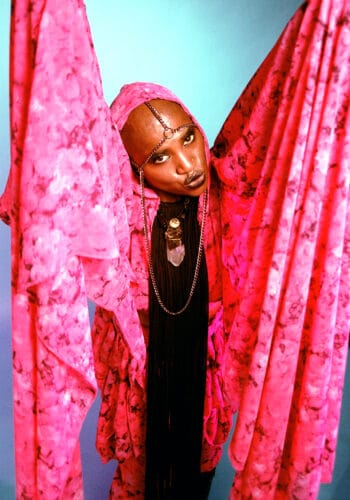 What philosophy is currently guiding your path?
That we are all Fools on our own Fool's journey — trusting my knowing and that I am & have everything that I need.
Who inspires you on social media?
@van_ren, @sheba.shakti, @tabbyluna, @iamjoelleon.
What nonprofit would you like to give a shoutout to?
SATE's new album THE FOOL releases November 4. Follow SATE on Instagram.