With the year we've been through, everyone needs more love this Valentine's weekend.
Whether you're seeking something an adorable story, some straight-up body on body hotness, or want to celebrate platonic love—because Galentine's Day never disappoints and you miss laughing with your best friends—we have ideas.
Ask yourself: What kind of good feelings do you want to fill your mind…and body? Do you want to fall deep into an epic and tangled love story, that has just the right tension and drama to take you on a wild ride? Or do you want to escape back to high school, and relive young love with Devi Vishwakumar in Never Have I Ever, or devour the sweetness that is Lara Jean and Peter in To All The Boys: Always and Forever? Perhaps it is the Duke of Hastings that you seek.
Whatever you are in the mood for, load up on chocolate kisses and cinnamon hearts and feast on a full-on love-in this weekend that celebrates all types of love!
Sweet/True Love:
A Secret Love – Amid shifting times, two women kept their decades-long love a secret. But coming out later in life comes with its own set of challenges.
Firefly Lane – Best friends Tully and Kate support each other through good times and bad with an unbreakable bond that carries them from their teens to their 40s.
The Half of It – When smart but cash-strapped teen Ellie Chu agrees to write a love letter for a jock, she doesn't expect to become his friend, or fall for his crush.
The Heartbreak Club – Coping with heartbreak, the shy owner of a floundering cafe finds solace in the Javanese love songs of Didi Kempot.
Julie and the Phantoms – Julie lost her passion for music when she lost her mom. But when three ghostly guys appear and lift her spirits, they decide to start a band together!
Love on the Spectrum – Finding love can be hard for anyone. For young adults on the autism spectrum, exploring the unpredictable world of dating is even more complicated.
Never Have I Ever – After a traumatic year, an Indian-American teen just wants to spruce up her social status — but friends, family and feelings won't make it easy on her.
Emily in Paris – After landing her dream job in Paris, Chicago marketing exec Emily Cooper embraces her adventurous new life while juggling work, friends and romance.
Sweet Magnolias – Lifelong friends Maddie, Helen and Dana Sue lift each other up as they juggle relationships, family and careers in the small, Southern town of Serenity.
To All the Boys: Always and Forever – Senior year of high school takes center stage as Lara Jean returns from a family trip to Korea and considers her college plans — with and without Peter.
Virgin River – Searching for a fresh start, a nurse practitioner moves from LA to a remote northern California town and is surprised by what — and who — she finds
Summerland – Irritable writer Alice finds her life disrupted by the arrival of wartime evacuee Frank, a London schoolboy who slowly melts her frozen resolve.
Steamy True Love:
The Kissing Booth – When teenager Elle's first kiss leads to a forbidden romance with the hottest boy in high school, she risks her relationship with her best friend.
The Last Kingdom – As Alfred the Great defends his kingdom from Norse invaders, Uhtred — born a Saxon but raised by Vikings — seeks to claim his ancestral birthright.
Love is Blind – Nick and Vanessa Lachey host this social experiment where single men and women look for love and get engaged, all before meeting in person.
Malcolm & Marie – As a filmmaker and his girlfriend return home from his movie premiere, smoldering tensions and painful revelations push them toward a romantic reckoning.
Outlander – A World War II army nurse finds herself torn between two lives — and loves — when a mystical Scottish landmark hurls her 200 years into the past.
Bridgerton – Daphne Bridgerton enters the marriage market of 1813 London only to find herself entangled in a steamy romance with the smoldering Duke of Hastings. Inspired by Julia Quinn's bestselling novels.
Sweet and full of drama (not necessarily the kind you want in your life, but fun to watch)
The Babysitter – When Cole stays up past his bedtime, he discovers that his hot babysitter is part of a satanic cult that will stop at nothing to keep him quiet.
Riverdale – While navigating the troubled waters of sex, romance, school and family, teen Archie and his gang become entangled in a dark Riverdale mystery.
Desperados – After drunkenly sending a cringeworthy email, hopeless romantic Wes heads to Mexico with her best friends to erase the note before her new love reads it.
Indian Matchmaking – Matchmaker Sima Taparia guides clients in the U.S. and India in the arranged marriage process, offering an inside look at the custom in a modern era.
Too Hot to Handle – On the shores of paradise, gorgeous singles meet and mingle. But there's a twist. To win a $100,000 grand prize, they'll have to give up sex.
The Wrong Missy – Tim thinks he's invited the woman of his dreams on a work retreat to Hawaii, realizing too late he mistakenly texted someone from a nightmare blind date.
Steamy, Thrilling…and (in some cases) Chilling
Bonding – A New York City grad student moonlighting as a dominatrix enlists her gay BFF from high school to be her assistant.
The Perfection – In this twisty horror-thriller, a once-promising music prodigy reconnects with her former mentors, only to find them taken with a talented new pupil
She's Gotta Have It – Nola Darling struggles to stay true to herself and her dreams while juggling three lovers in this Spike Lee series based on his breakout film.
Dark Desire – Married Alma spends a fateful weekend away from home that ignites passion, ends in tragedy and leads her to question the truth about those close to her.
Someone Great – On the heels of a blindsiding breakup, music journalist Jenny braces for a new beginning — and one last adventure with her closest friends.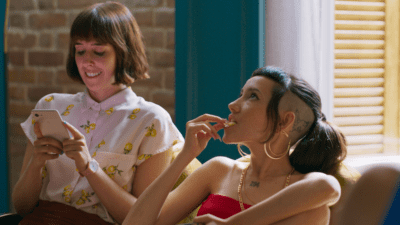 Valeria – A writer in creative and marital crises finds support from three friends, who are also discovering themselves. Based on the novels by Elísabet Benavent.
And that's just a start. Go on your own exploration for love, and see what characters or tales capture your heart.
In lockdown life, in mid-February, falling deep into pleasureful stories about love is a delightful and healthy form of escapism. Get lost, and enjoy.