With astonishing breadth and scope, the Scotiabank CONTACT Festival 2019 covers the city with extraordinary lens-based art each May. The festival is especially good at showing us seldom-seen perspectives and narratives that document the cultural, social, and political events of past and present. Women are well-represented at this year's festival, featured heavily in both core and open-call exhibits. Check out the whole schedule here.
Here's who we'll be watching for:
Artist and writer Carmen Winant will discuss her career, artistic practice and representations of women through collage, mixed media and installation. Her work is presented in the 2019 festival on billboards in Toronto and across the country, and her astonishing book, My Birth, is an extraordinary and genuine document of childbirth. Talk takes place at Ryerson University School of Image Arts (122 Bond St) on May 3, 5–6 p.m.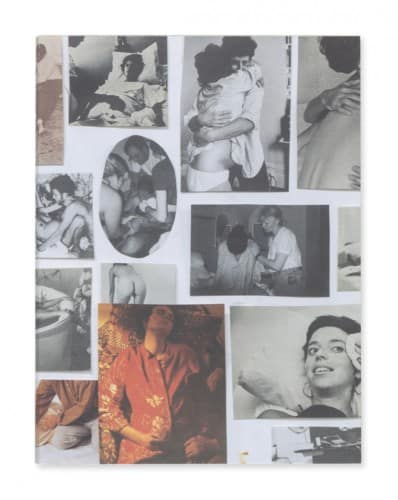 Carmen Winant, My Birth, 2018. Self-published, Be Happy
Carrie Mae Weems' work investigates family relationships, gender roles, racism, classism and politics through photography, text, video, installation and theatre. This year, her work will be featured at five separate sites across the festival, focusing on themes of women (both repression and empowerment), police brutality, the devastating effects of violence (especially against Black men), the realities of losing and gaining privilege, and the power of personal strength and resilience. Through her art, she is committed to helping us better understand the present by examining our past. May 1–July 27 @ CONTACT Gallery (80 Spadina Ave St. 205) + sites throughout Toronto.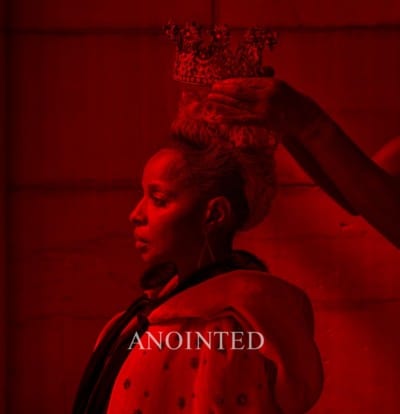 Carrie Mae Weems, Anointed, 2017. Courtesy the artist and Jack Shainman Gallery, New York, NY.
Moyra Davey, winner of last year's Scotiabank Photography Award, will showcase work that examines "how we value what makes up our lives: family, friends, what we read, the objects that sustain us and nourish our sense of ourselves." This exhibition includes portraits, still lifes, and photographs of subway scenes, along with a suite of films. The work looks at the notion of how we can be with others, yet still alone. May 1–August 4 @ Ryerson Image Centre (33 Gould St).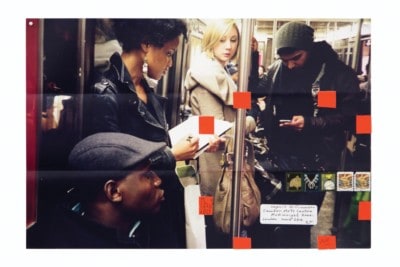 Moyra Davey, Subway Writers (detail), 2011/2014. Courtesy the artist; Galerie Buchholz, Berlin/Cologne/New York; and greengrassi, London.
Ayana V. Jackson uses her own body as subject to tear apart stereotypical representations of Black women. Posed in staged scenes and donning servants' garb, the women of her work reclaim their place in history with authority, dignity and grace. May 1–June 2 @ Campbell House Museum (160 Queen St W).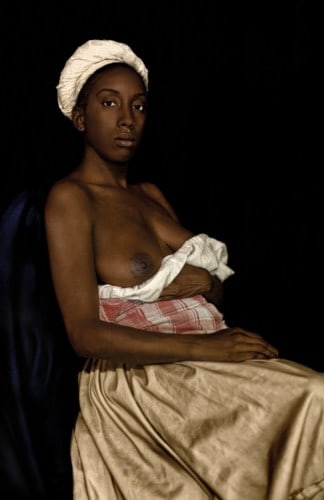 Ayana V. Jackson, Lucy, from the series Intimate Justice in the Stolen Moment, 2017. Courtesy of the artist and Galerie Baudoin Lebon.
Filmmaker Beatrice Gibson's films I Hope I'm Loud When I'm Dead (2018) and Deux Soeurs Qui Ne Sont Pas Soeurs (2019) examine the particular anxiety mothers face when confronted with "a world mediated by images of terror." Plural Dreams of Social Life is Gibson's first exhibition in North America. April 13–June 1 @ Mercer Union, a centre for contemporary art (1286 Bloor St W).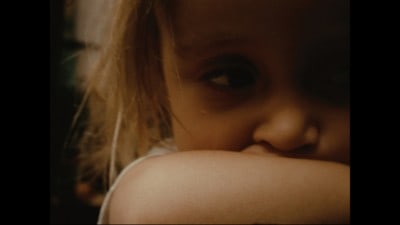 Beatrice Gibson, Mercer_I-hope-Im-Loud-When-Im-Dead-7copy, 2018. Film Still. Courtesy of the artist