Two weeks ago, Indigo announced the launch of RECO, the first iOS mobile app that is basically like tapping into the world's largest book club. With RECO, you can easily surf through book recommendations from authors, friends, publishers and critics, create reading lists, and upload your own commentary on books you loved, or novels you're currently swept up in. WE LOVE IT for so many reasons, but here's what made the top of our list:
Create your own reading list
While you browse RECO, you can quickly file books into your own reading list. Unlike a penned list that you may have by your bedside, RECO allows you to see the book's cover art, summary, as well as praise by critics and other app users.
Stay up-to-date with new releases
By following Indigo founder Heather Reisman (@Heather) and publishers like Penguin Random House (@penguinrandomhouse) or Harper Collins Canada (@harpercollinsca), you can be the first to know when new releases are about to hit the shelves.
Easy search tool and beautiful interface
We love when an app is intuitive, super easy to use, and beautiful in design; RECO gets an A+ for all three areas. You can filter your hunt by Book, Interest or People, allowing you to quickly track down a title or author, or find friends using the app. If you aren't sure where to begin, start by clicking on a word that suits you TODAY (e.g., Food, Magic, Happiness, Bestsellers), and your fingertip will quickly lead you somewhere exciting.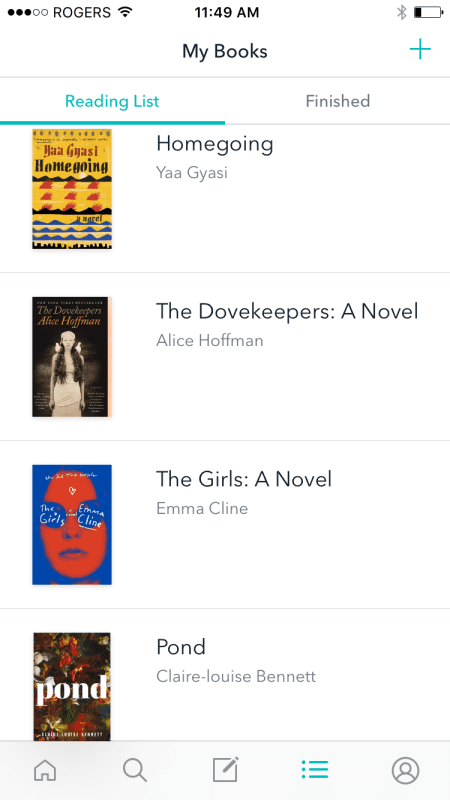 Get book recommendations directly from Margaret Atwood
Suddenly, we feel very connected to one of our favourite authors. We not only love to see what @MargaretLizard is reading, but we also love seeing what words she uses to describe the books she loves.
Join the RW (Reese Witherspoon) Reading Club! OR The Mindy (Reading) Project!
As if RECO wasn't cool enough, you can also follow your favourite celebs and see what they're reading/recommending.
Improve your professional life
Beyond finding delicious novels to sink into, RECO can also provide you with amazing books that will help grow your career. We recently followed Malcolm Gladwell's "The Psychology of Business" list, as well as Arianna Huffington's "Redefine Success in the Working World." Seeing what Bill Gates and Barack Obama are reading is also fascinating!
We've begun adding our recos, and we want to see yours! Follow us @shedoesthecity and we'll follow you. Happy reading!
This post was generously sponsored by Indigo, but opinions are our own.