Three hours, thirty chefs, one amazing cause: On February 23rd, join us as Toronto's top chefs unite at St. Lawrence Market for FoodShare's annual fundraising event: Recipe ForChange.
For those who aren't familiar, FoodShare is an amazing non-profit organization that works with communities and schools to deliver healthy food and food education. "We work hard to improve access to good healthy food all year; this is our night to come out and celebrate the great flavour the city has to offer and to raise funds and awareness for the work we do in schools," says Katie German, Senior Manager at FoodShare. "Getting kids excited about eating, cooking and growing when they're young makes for a healthier society tomorrow." HEAR, HEAR!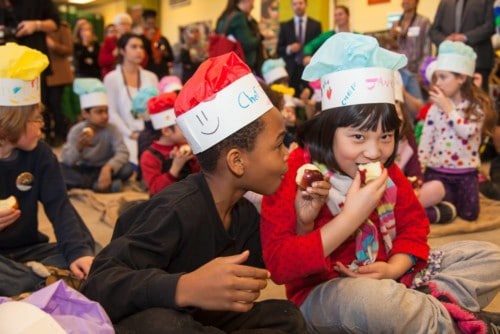 With thirty top chefs coming together to support over ninety-five initiatives that benefit over 250,000 people in Toronto (you do the math!), there are MANY reasons why this evening is a truly beautiful affair! But you're busy, so we've narrowed it down to eight super delicious reasons why you should get your tickets now.
Attending a foodie event at the St. Lawrence Market at night is magical. Especially when you can wander and taste the best of Toronto with a lovely drink in your hand.
LOOK AT HOW MANY TOP CHEFS WILL BE IN ATTENDANCE!
And for all you home chefs, you can talk to the pros and check out a demo of the new super low-fat Air Fryer from Philips. (We're salivating over these recipes; what would you make?) Bid on one at the silent auction and become the best steak frites bistro in town!
Taste several grape varietals from local wineries like Niagara's Southbrook Vineyards and Frogpond Vineyards or Grange of Prince Edward Vineyards.
Drink tasty brews from Beau's All Natural Brewery or craft beer from Great Lakes Brewery.
Renee Bellefuille, Therese De Grace, Kristin Donovan, Amreen Omar, Paola Solorzana: These are just a few of the city's top female chefs and food entrepreneurs that you can connect with on February 23rd.
Be part of the School FoodRevolution! By attending, you are already helping classrooms full of children get the nutritious food they need to focus, learn, and grow. Find out more about all the innovative school programs here.
For many, February is the toughest month of the year to feel good. Flip it with a February feast that will radiate warmth in your belly and in your heart.
Toronto is a beautiful city, and Recipe For Change is an event that demonstrates just how rich and flavourful we are.
Tickets are $135 and include an evening of sumptuous food + drink with 100% of proceeds going to FoodShare's school programs. Get your tickets before they sell out!