As a high school student at the Etobicoke School of the Arts, Astrid Mohr was immersed in all things film. She and her peers would make up to six films each year, learn about the industry, and study prominent filmmakers. But she quickly realized how much of the curriculum focused on the achievements of cis men.
"We were taught the classic narrative of film history as being shaped primarily by white cis men making Hollywood films," she says. "I felt that being taught this perpetuated a confidence in our cis male peers that wasn't matched in the female and gender-diverse folks in the classroom."
So, while still in school, she launched the Femme Fatale Film Festival. Her goal was to help emerging women and gender-diverse filmmakers thrive, providing them with a much-needed space in the industry to showcase their work and build community.
Now, at 22 years old, Astrid is gearing up for the 6th edition of the festival. On August 5 at Revue Cinema, the Femme Fatale Film Festival will screen a selection of 3-8 minute films from women and gender-diverse filmmakers, all between the ages of 15 and 25.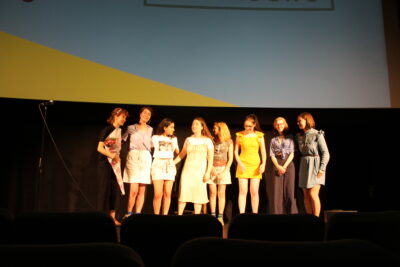 "Every year that I get up on stage to introduce the audience to the festival I am completely blown away; not only that I am still running something I started as a school project at 17 but that the audience and community are so supportive and invested in what we've created," Astrid says.
While the festival started with films submitted by Astrid's fellow students, its scope has since grown to an international scale, receiving submissions from filmmakers in almost every continent. Since Femme Fatale was born, they have incorporated federally as a not-for-profit, started a podcast (The Femme Fatale Podcast), and received their first federal grant.
Women and non-binary filmmakers are often overlooked and undervalued, and face additional barriers to funding and opportunities. A 2021 report from Women in View found that investments in women-produced and women-directed films in Canada remain lower than films led by men, and are even lower for women of colour.
"Honestly, being a young filmmaker is difficult enough. Pair that with facing the sexism and misogyny, it's difficult to navigate this industry!" Astrid says. This is part of what inspired the festival's name. "To me, femme fatales are women who have understood the limitations of the industry they exist within and still create something powerful and beautiful in the face of it. In my four years of high school, the femme fatales were the first time that I got to see women owning the camera through their characters on screen."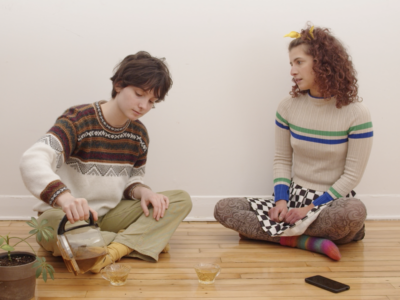 The Femme Fatale Film Festival is one of a few Toronto organizations dedicated to uplifting women in the industry—non-profits like the Toronto chapter of Women in Film and Television, film festivals highlighting the work of women and non-binary filmmakers like the Breakthroughs Film Festival, and empowering communities like Firecracker Department.
Spaces that uplift marginalized creators are critical, and can truly make an impact for a burgeoning filmmaker—whether it's the confidence boost of seeing their work on the big screen, the creative energy of being surrounded by like-minded filmmakers, or valuable industry connections and knowledge.
Astrid has seen this impact first-hand. In the second year of the festival, a family came up to her at the end of the event.
"They had bought their daughter a ticket to the festival for her 16th birthday because she was an aspiring filmmaker. I told her: next year, if you make a film, submit it! Not only did she submit a film, she won our audience-chosen Best in Show Award! She is now pursuing filmmaking full-time."
Astrid hopes the festival can grow to provide more support for young female and gender-diverse filmmakers in the form of workshops, and eventually funding opportunities and practical support.
Her best advice to anyone who was in her position six years ago? "Find your community. Find the people who inspired you, empower you and can offer support on your projects. I can say confidently from my own experience of running the festival; it is so much easier to be an artist when you are surrounded by other artists to learn from, lean on and share resources with!"
The Femme Fatale Film Festival is happening on August 5 from 3-7pm at Revue Cinema. Reserve tickets online at ffff2023.eventbrite.ca or via Instagram @femmefatalefilmfestival.