Last night, seventeen of Toronto's best bartenders set up shop at the Liberty Grand to compete for the best cocktail at the MadeWithLove competition. Instead of simply relying on a small panel of judges to select the winner, the huge audience was tasked with the job of sampling each drink and picking out the diamond in a sea of sparkly gems. With bar tools, enough ingredients to make a thousand 1 oz drink samples, and a fair measure of dapper charm in hand, each bartender delivered a cocktail that was nothing short of dazzling.
BEST COCKTAIL
Jeff Puddy from the Thompson Hotel won the heart and vote of this thirsty Torontonian for his cocktail "The Blackened Rose." It was a fresh, savoury, and carefully crafted labor of love that truly let the tequila shine. The star ingredient here was the tequila syrup that he infused over the course of four days with black pepper, rosemary, fresh ginger, lime zest, grapefruit zest, and vanilla extracts. While all of the drinks I tried at the event were fantastic, I voted for Jeff Puddy because of all the bartenders, I would most like to sit at his bar. The great thing about this event is that it includes one of the most important elements of making cocktails—the relationship the bartender establishes with the person trying their drink. You simply cannot have one without the other.
BEST PRESENTATION
The table that had the most buzz was generated by Adrian Stein from Boots and Bourbon for his "Coffee and Donuts" cocktail. The table had the coolest presentation (no one could compete with the smokey dry ice) and the coffee Old Fashioned was served in mini coffee cups and garnished with a handmade donut. Top your drink with a dessert and you're bound to be a crowd pleaser.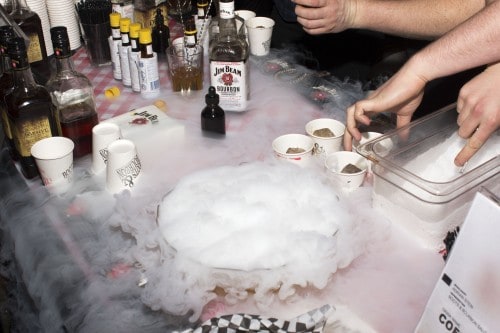 MOST CREATIVE COCKTAIL
The coolest cocktail I tried was "A Sea of Trees," the creation of Michael Mooney from Geraldine. Inspired by the forest, his creamy cocktail had a distinct umami flavour with woody and earthy tasting notes. The cocktail included Hendricks gin, a homemade shrub (consisting of shiitake mushrooms, fresh fennel and thyme), Genmaicha tea syrup and lemon juice. It was garnished with dried cedar powder that Mooney personally foraged from the forest (I mean, really) that he then dried in a confection oven and grinded into a fine powder. The cocktail was experimental, unusual, and totally successful.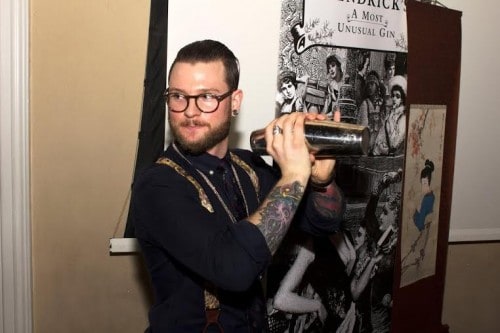 So who won? The public voted on Michael Mooney from Geraldine, Aaron Beaudoin from Rock Lobster and Adrian Stein from Boots and Bourbon. That was a great event but now I have to go nurse my ridiculous hangover.