I lost several hours of sleep this week because I couldn't stop watching Maid—I was too engrossed and moved to pause or look away.
The gripping and immensely powerful new Netflix series, based on Stephanie Land's best-selling memoir, Maid: Hard Work, Low Pay, and a Mother's Will, examines the ugly reality of economic inequality in America, showing how the system is set up to fail poor single mothers.
Margaret Qualley is absolutely remarkable as Alex, a young mom trying to escape an abusive relationship to build a better life for her daughter. Having grown up in a family with a mother (Andie McDowell) who lives with untreated mental illness, and a father who is in recovery for alcoholism, life has never been easy; Alex has never known a sense of security.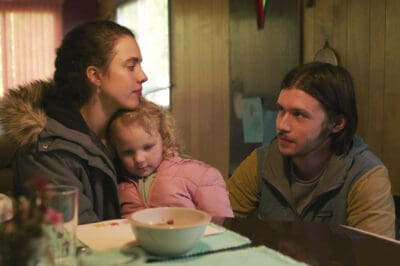 When most people think of homelessness, they visualize people living on the streets, or encampments under bridges or in parks, but homelessness looks many different ways. For Alex and her daughter, it is constant movement to find a safe place to sleep, from curling up in the ferry terminal to tolerating stressful nights in her mom's caravan, Alex is continuously moving late in the night, carrying her sleepy toddler. It's heartbreaking to watch, but an all too familiar scenario.
While Maid takes place in a fictional town in the Pacific Northwest (shot in Victoria, B.C), the story is one that unfolds all over. "The face of homelessness in Toronto and cities across Canada is changing. Poverty and homelessness disproportionately affect women and children," says Wendy Bray, Senior Fund Development Manager, Red Door Family Shelter. "Devastatingly, the new reality is that the face of homelessness is the face of a child. On any given day, over 64%, or two-thirds, of Red Door residents are children."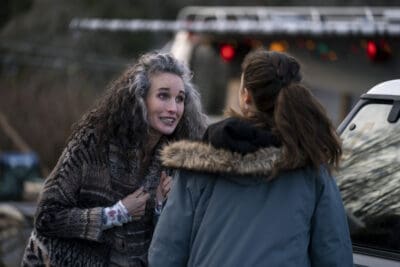 We see this reality in Maid, when Alex finds her way to the local shelter. We also see the relief, in both her and her daughter, when they're finally able to sleep soundly, or as Denise, the manager of the shelter (beautifully and tenderly played by BJ Harrison), says upon their arrival "You can breathe now." Audiences can feel that—we exhale with Alex.
Along with shedding light on the different ways that homelessness can look, Maid also shows how domestic abuse isn't always physical. Alex isn't beaten, but she is controlled by her partner Sean (Nick Robinson), and emotionally abused. "Abuse can take many forms other than physical — emotional, psychological, sexual, financial, technological. These forms can be just as destructive as physical abuse, leading to anxiety, depression, isolation, fear, lack of self-worth and esteem. They are a means of control and power," says Bray, who shares that of the 132 families who stayed at Red Door this past year, 70 were fleeing abuse.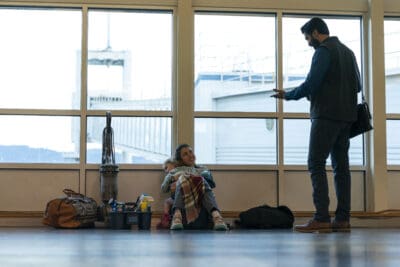 For Alex, the abuse, the long-term effects of abuse, and lack of familial support, are major hurdles for her, but the lack of affordable childcare and affordable housing also prevent her from building a new life. "When a woman makes the decision to leave, she leaves behind – her belongings and the financial security of a 'home.' Lack of childcare support and resources; lack of formal education and training opportunities; lack of networks and employment counselling; discrimination and stigma; legal and immigration issues are just some of the barriers a woman may face as she rebuilds her life."
Maid shows a single mother's struggle with painstaking honesty and takes audiences on an emotional journey. Over and over, we watch as Alex breaks through her station in life, finding new levels of comfort and freedom, only to have them yanked from beneath her due to outside forces out of her control. Through it all—cleaning the toilets of rich people, managing her mother's erratic and frightening outbursts, figuring out how to feed her child, and escaping her abuser—she uses her writing as an outlet. Her words on the page are the one thing that cannot be taken from her.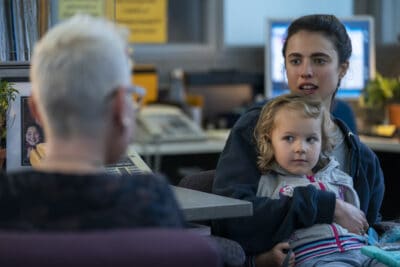 If you or a family you know requires shelter, call Central Family Intake at 416-397-5637. If you are a woman seeking shelter from situations of violence or intimate partner violence call the Red Door Family Shelter Crisis Line at 416-423-0310 (press 'O'), or the Assaulted Women's Helpline at 1-866-863-0511.
To support women and children experiencing homelessness and abuse, make a donation to Red Door Family Shelter.
Maid is now playing on Netflix.