I'm beyond burned out. As a widowed mom of two elementary school-aged kids and a small business owner, this pandemic has beat me up and spit me out more times than I can count.
It's been a wild trip on the emotional corona-coaster, and I'm currently averaging one mega meltdown per week. My kids are averaging much higher though! And don't get me started on their sleep, or lack thereof. Or the horror that is virtual school. Or the sibling bickering. Or the noise. Or how annoying TikTok is…the list is endless when you've been stuck in a house for 13 months with two children and no break from parenting.
Tears have been shed, F bombs have been dropped, plates have been smashed and endless hugs have been given and received. This pandemic has exhausted me in ways I could never have imagined and has pushed me to places I never want to go again. As is for so many working parents in Ontario, I was burnt out three lockdowns ago. Here, deep in the hellscape that is the third wave in Ontario, I'm barely hanging on.
I cannot stop thinking about how the Ford government has led us directly into this catastrophe through their actions (and inactions). In his disastrous announcement on April 9th, Ford announced that the police now had special powers to question the public about where we were going, that we were moving to virtual school indefinitely, and that playgrounds and parks would be closed. He did not mention vaccinating essential workers, paid sick days or mobile vaccine clinics for workplace hotspots. He did not mention anything that would actually lead us out of this catastrophe. I threw my phone across the room, screamed some more swear words and started sobbing yet again. I was beyond burned out, barely hanging on and now I was seething with rage.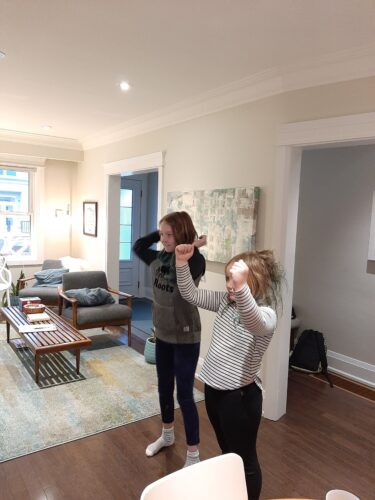 I needed to do something to soothe this rage and refill my gas tank. The damage to my family unit was already becoming visible…fighting, frustration, feuding, poor sleep, procrastination were all surging in our house. All of us were struggling and we needed to reconnect. In therapy, I've learned that connection is the secret sauce to managing my kids' behaviour. Any time things are volatile, I remember…they are showing me that they need to feel connection and love.
Carving out time to connect almost always results in better behaviour (and a less burnt out mom!) than any sticker chart or removal of privileges could ever do. The words "I need to delight in my children again" often echoes in my mind. The joy that comes from special time together was the fuel my emotional tank needed and was the antidote that my rage required. As my seething rage and overwhelming exhaustion threatened to take over, these sage words were deafening.
That night we had another hard night. One kid was having anxiety attacks and was unable to sleep. The other kid was having trouble understanding why the first kid was getting all the middle-of-the night attention. As the three of us ended up in a giant cuddle in my bed, tears in all of our eyes, the solution came to me. I needed to delight in my kids again to regain the strength to deal with these hard moments. We needed to delight in each other again in order to refuel us, and to give us the collective strength to take another step forward. So at 1AM in the middle of this cuddle puddle, I blurted out "Guess what we are going to do tomorrow? We are having a Yes Day!"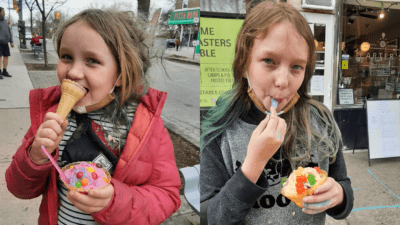 We had recently watched the Netflix movie Yes Day and had thoroughly enjoyed it as a family. In addition, a friend (also slogging it out in the single parent trenches) had told me about the positive experience he had had implementing a Yes Day with his kids. I knew that a day that was dedicated to family fun and connection was just the medicine we needed. We grabbed paper and pens and immediately started our brainstorming about what we were going to do. By 2AM, the anxiety attacks were gone, the tears were wiped away and we had an amazing list of things for our Yes Day. As we drifted off to sleep (all in my bed), I already felt more at peace and more restored. I knew this was the medicine our hurting family unit needed.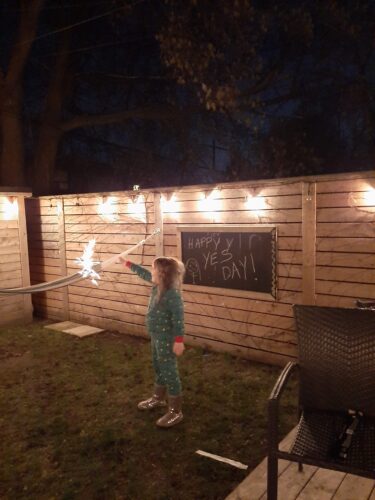 The next day, we ate pancakes that were bigger than our heads. We went for a walk in our neighbourhood and ate ice cream. We had a pillow fight. We watched a movie and ate popcorn (and turned off all our devices during the movie so we all would be present). We had a bath with glow sticks. We bought beautiful yellow and orange tulips. We learned Tik Tok dances. We had sparklers in our backyard. We laughed and danced and hugged and loved each other. Simply put, we delighted in each other again.
We refuelled our emotional gas tanks by connecting with each other and connecting to the love that holds our little girl gang together. I'm still burnt out and I'm still seething with rage, but our Yes Day gave all of us the strength to put one foot in front of the other. We are limping to the finish line, but our Yes Day made the limping a little easier.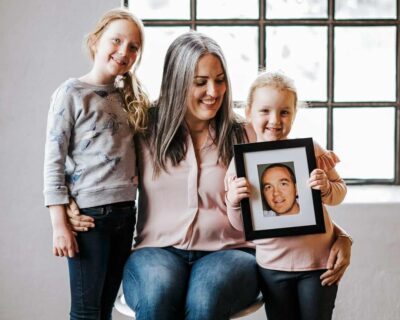 Sarah Keast is one of the co-founders of Crying Out Loud, as well as a writer, public speaker and activist. She is a widow, a mom of two young girls and a wannabe Wonder Woman. Through her writing, public speaking, workshops and her TEDx talk, she explores the topics of love and loss, mental health and substance use disorder, shame and stigma, and the power of empathy, compassion and connection all while sprinkling in a healthy use of the f-bomb and humour. Her writing has been published in Chatelaine, Today's Parent, Good Morning America, ABC and the New Family. You can find her on instagram @adventuresinwidowedparenting or @cryingoutloudto.