In 2009, Dr. George Tiller was assassinated in a church in Wichita, Kansas. He was one of a handful of medical professionals in the United States providing third-trimester abortions to women in need. After his death, only four doctors are left who provide the service. All of them are protegés of Dr. Tiller, all of them live in constant fear for their lives, and all of them believe that what they're doing is worth the risk.
"George and I are both ex-military, so the mission is first," says Dr. LeRoy Carhart. In After Tiller, directors Martha Shane and Lana Wilson follow Carhart, Warren Hern, Shelley Sella and Susan Robinson, the four doctors continuing Tiller's mission. Third-trimester, or late-term, abortions make up only 1% of all the abortions in the US, but they draw an unbelievable amount of attention. These abortions are provided to women who are unable to carry their pregnancy to term because having the baby will put the infant or mother at physical or emotional risk.
In the film, these doctors support parents who are unable to have their babies for a number of reasons, most of them medical. These are parents whose babies suffer from conditions that would leave them in constant pain or unable to interact with the world around them. "What's important," Dr. Sella tells her patients, "Is that you've had a loss, and right now it's hard for you to talk about." Anyone who listens to these parents' stories could never suggest that they are murdering their babies, and could never suggest that they are taking the easy way out. As I hear the pain in their voices during a group session in the film, one thought strikes me over and over: I have never been through this, and therefore I barely feel I have a right to write about it, let alone tell people that there is a right or a wrong here. And the feeling of admiration for these parents is replaced by rage at those who would make this painful experience any more difficult than it already is.  "I listen to the people who shout at you from the outside," says a patient of Dr. Robinson's, "And I think, the exact opposite's happening on the inside."
In the film, we see protestors picketing the clinics, holding large rallies in churches to kick these doctors out of their state, and praising Dr. Tiller's murderer. The incredible lack of empathy or even a desire to understand that accompanies their blind "faith" fills me with anger. After praying for forgiveness for "the mothers who are the ones choosing to do this," one protester looks at the ground and says, "This just feels like evil here." And after hearing these womens' pain, you can't help but think that there's an accuracy to his statement—except it applies to the women in front of him clutching bibles and wearing "40 Days For Life" t-shirts, not the crying women inside the clinic to whom he is referring, or the young woman Dr. Hern is trying to encourage to report the rape that resulted in pregnancy to the police. "The person that raped you committed a crime," says Dr. Hern. "And that's not okay, that's not acceptable." It can be hard to believe we live in a world where this needs to be said out loud. "You need to have justice," he tells the girl, whose main concern is that she would feel terrible if her rapist did this to someone else.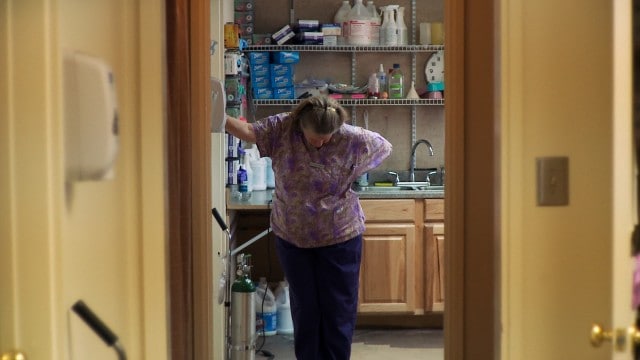 At one point in the film, Dr. Sella says that if you didn't understand what these women were going through, it would be "impossible" to support third trimester abortions. "It's not just about being alive," she says. "It's about life, and what does it mean?" These doctors live a reality of moral complication. After all, not every woman who walks through their doors is carrying a baby who will suffer incredibly and live a short, painful life. Others, the women who can't give birth because they feel it will be a detriment to their mental health, prove difficult in a different way. "What I believe is that women are able to struggle with complex ethical issues and arrive at the right decision," Dr. Robinson says.
These doctors are not only dealing with difficult cases every day, but fear for their own lives. Dr. Robinson, pottering around her beautiful home with her husband, says the FBI came and congratulated them on their real estate, because the unique geography would make the house a tough shot. With a weary resignation, Dr. Carhart and his wife debate calling the cops on a truck that has been following them. But none of them feel they can quit. "We're doing a legal, desperately-need service," says Dr. Carhart. Once you know these women's stories, you understand the importance of what the doctors do. "I can't retire, my god, there aren't enough of us!" says Dr. Robinson.
After Tiller screens as part of Hot Docs.
Showtimes: 
Wed, May 1, 9 pm at Isabel Bader Theatre
Thu, May 2, 3 pm at TIFF Bell Lightbox 1
Sun, May 5, 2 pm at TIFF Bell Lightbox 1
For tickets and more information click here.