When a friend from the UK reached out to Akilah Newton, asking if she had book recommendations that would help her kids understand Black history in Canada, Akilah was confident she'd be able to suggest several titles that would fit the bill. But when she went on a search, she found only one book for kids that shared comprehensive Black Canadian history, and it was outdated. It was a moment of frustration and outrage that presented an opportunity for change.
Since 2010, Akilah has been working with her twin brother Omari, to run workshops in schools that teach kids and youth about Canadian Black History. "We incorporate music, spoken word and multimedia to educate kids, so we aren't just talking at them, or throwing information at them," she tells me, while also sharing that the Black history workshop is rarely booked outside of February. Discovering that there was no recently published children's book wasn't entirely shocking, but it was disappointing, and is what compelled her to write one. "I have a wealth of knowledge, because I have been doing this for so long, so I thought, 'Why don't I just create a book for kids.'"
In 2018 (less than a year after her lightbulb moment) Akilah published Big Dreamers: The Canadian Black History Activity Book for Kids Volume 1, and has since published Volume 2. Her new book, Movers, Shakers, History Makers: The Canadian Black History Book of Rhymes, releases this week. Both books offer children a fun and engaging way to learn about Black History in Canada. Both books also fill a noticeable gap in the Canadian school curriculum.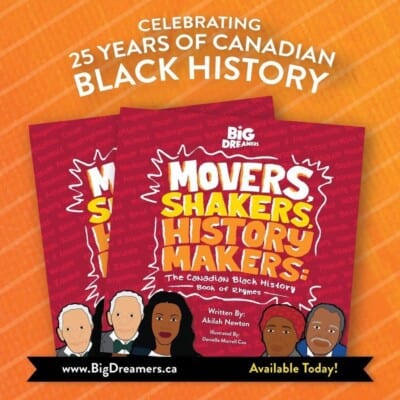 The historical figures that Akilah shares in her books like activist Carrie Best, inventor Elijah McCoy, or pianist Oscar Peterson, are missing from the majority of Canadian history textbooks. "It's systemic racism," says Akilah, who thought a lot about her own education growing up while researching and writing the books. "In elementary school and high school I didn't learn about Black history. My parents always had books about Harriet Tubman, The Underground Railroad or Malcolm X, but at school, I don't remember anything."
With beautiful illustrations and captivating rhymes, Movers and Shakers is a joy to read that will undoubtedly educate kids and adults alike (and not just during Black HIstory Month!). "I see it as a celebration of Black excellence. It's something that should be celebrated year round. I get excited watching the younger generation learning about Black History—it's the best feeling."
Movers, Shakers, History Makers: The Canadian Black History Book of Rhymes released on Jan 23rd. Find it at your local bookstore, or purchase directly from the Big Dreamers online shop.