This past weekend I drove by a family who were out on their front lawn awkwardly trying to take a photo. Their six-foot tall son was wearing a graduation robe and cap, and the parents were standing by his side beaming with pride. I decided to honk my horn several times. As I did, they waved at me and I smiled at them, while doing my best to convey a look that read "WAY TO GO!". It was obvious, in that instant, that without a graduation ceremony to attend, the boy's parents were doing their very best to mark the occasion at home.
Since the onset of the Coronavirus crisis, the media has covered numerous subjects, from stressed parents to the economic collapse, but we haven't heard much about how the pandemic has affected our youth. "I think a lot of people have been so focused on the adult problems that they have forgotten about the young people's problems. In my mind, they are even more significant," says Olympic champion rower Silken Laumann, who empathizes with the losses that Canadian youth are grieving, from graduation ceremonies being wiped out to the cancelling of summer camps, or the unknown that awaits them in September.
Unsinkable is a non-profit that Laumann founded a year and a half ago, and it shares the same name as her memoir that was published in 2014. In her book, Laumann devoted a lot of ink to her youth, sharing what it was like to grow up with a mom with a mental illness, as well as her own struggles with anxiety and depression. The issues she covered blew open numerous conversations about mental health and inspired her to launch Unsinkable, a space devoted to sharing the stories of Canadian youth. "It's goal, really, is to give hope and help give people a longer personal journey towards mental, physical and spiritual health."
When the pandemic outbreak hit back in March, Laumann received several messages from youth regarding their fears and concerns. As a mother and stepmother to four children on the brink of adulthood, she also knew how the crisis was affecting her own kids, "It wasn't a theoretical thing for me. I knew that they were anxious, and that so much had been taken away, and they are struggling with the loss of high school graduation, the loss of University. I knew it was going to have an impact on their mental health."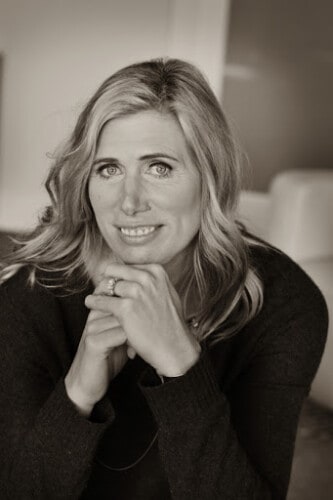 Having partnered with Kids Help Phone in the past, and understanding that, since March, they were suddenly in a position where they could barely handle the overwhelming influx of calls, Laumann reached out to see how Unsinkable might be able to best support them. Ideas began churning and ultimately led to the 1-hour CTV special Unsinkable Youth, airing Friday May 22 at 1pm.
It's an outcome way bigger than Laumann could have predicted; in a few short weeks, the team was able to lock down serious star wattage. Laumann is excited to co-host the show alongside 19-year-old Maitreyi Ramakrishnan, star of new Netflix series Never Have I Ever. They will be joined by a slew of musicians, performers, and athletes including Alessia Cara, Seth Rogen, Johnny Orlando, Hayley Wickenheiser, Jacob Tremblay, The Recklaws, Tessa Virtue, Walk Shah, Lauren Orlando, and Lennon Stella. It's a sizzling lineup that will no doubt draw big audience numbers, but the real purpose of the show is to give space to youth voices.
Through a social media callout, the Unsinkable Youth team received a ton of messages from across the country, and the show will share a variety of perspectives from Canadian kids and youth, from as young as 8 to as old as 22 (with the core focus being tweens and teens).
"What the kids are feeling is really important to them. We need to hold that space and listen, and not have the first thing coming out of our mouth be 'we are so lucky'", something Laumann admits that she too is guilty of. "They don't necessarily feel lucky. I'm hearing a lot about anxiety. That kids want their parents to reassure them. A lot of them feel afraid." Kids also hide their emotions because they don't want to burden their parents, and this can be detrimental to their own wellbeing.
What is making you sad? What are you looking forward to? What are you missing? What can adults be doing better? These are some of the questions that will be explored in Unsinkable Youth, with answers coming from both celebrities as well as kids across Canada.
What stemmed from a conversation amongst her small team has turned into a star-studded nationwide broadcast. It has come together so quickly and Laumann is blown away by the support, "Every single person who worked on this show worked on it without pay. It's all been through a commitment to Kids Help Phone. We're talking about a one-hour special, so you can imagine the labour that has gone into this."
The show will finally give our youth a proper platform to share their thoughts and feelings of how Covid has affected their lives, but it's more than that. "A big part of our vision was to celebrate young people. We wanted to show their strength, and their sense of humour, and their ability to literally finish high school online."
Unsinkable Youth will air on CTV, Friday May 22 at 1 P.M. EST. More info here.