Ali Wong is stepping into her first lead dramatic role as the co-star of the new series BEEF, coming to Netflix April 6.
We know and love Wong for her daring Netflix standup specials, Baby Cobra, Hard Knock Wife, and Don Wong, with her relatable comedy addressing motherhood, marriage, sex, and gender roles. In 2019 she shone as the star, writer and producer of the romantic comedy Always Be My Maybe.
In BEEF, Wong stars alongside Steven Yeun (Minari, Nope) in a 10-episode dark comedy centered on a feud between their characters.
BEEF follows the aftermath of a road rage incident between two strangers. Danny Cho (Steven Yeun), a failing contractor with a chip on his shoulder, goes head-to-head with Amy Lau (Ali Wong), a self-made entrepreneur and mother with a picturesque life in suburbia. The increasing stakes of their feud unravel their lives and relationships.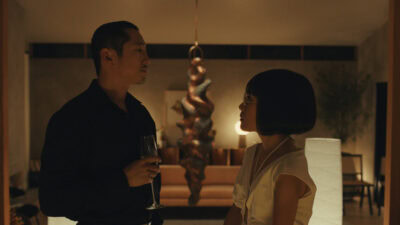 The series raises questions about our darkest impulses, and the trauma that lies beneath them. The series trailer gives us glimpses into Danny and Amy's unfulfilled lives, the revenge they begin to enact on each other, and the consequences they face.
Wong told The Hollywood Reporter that the role expands on the material she often addresses in her standup. "It was a way to say what I've been wanting to say about relationships and being a working mom that I haven't found a way to talk about onstage." We can't wait to see Wong take on this layered role.
BEEF is the latest from indie studio A24, known for experimental productions including Best Picture winner Everything Everywhere All At Once, and the hit series Euphoria.
Watch the trailer for BEEF here:
BEEF arrives to Netflix on April 6.