The Toronto-based coming-of-age movie Almost Adults hit screens last week. The film, which won IndieWire's 2016 Project of the Year, was filmed entirely in downtown Toronto and, before the film was even released, the trailer had already garnered almost two million views. It premiered at nine international film festivals, including the Austin Film Festival and Inside Out Toronto. Not bad for the first-time writer and director team who raised the film's entire budget with a Kickstarter campaign.
"We thought we could maybe make $30k, so we said we would aim high and set a goal of $40k," says Sarah Rotella, director of Almost Adults. As it turns out, they hit fifty per cent of their target within twenty-four hours and by the end of their thirty-day campaign, the duo had raised over $120k.
The pair, who both grew up in Niagara Falls, mobilized support from supporters of their YouTube page, The Gay Women Channel, and in doing so, circumnavigated the impenetrable barriers that often stand between first-time filmmakers and the all-important financing.
"Normally you have to bring a script to a production company or a financier and ask them to green-light it," says Rotella. "But we brought it to our audience and asked them to green-light us."
Rotella and Adrianna DiLonardo met in high school in Niagara Falls where they took a video class together. After completing a degree in Ohio, DiLonardo moved to Toronto and reconnected with Rotella, who attended film school here in the city. Their first collaboration was a four-episode web series that garnered around eight hundred views. "We were so excited! It felt like so many people," laughs Rotella.
From there they created The Gay Women Channel and released a parody of CollegeHumor's Gay Men Will Marry Your Girlfriends. Their film went viral (it currently has over 7.3 million views on YouTube) and the duo has continued to collaborate since.
Interested in what happens when friends, rather than lovers, break up, DiLonardo set out to write a platonic love story. Almost Adults follows two downtown millennials as they navigate their early twenties. Perma-hungry tomboy Mackenzie (Elise Bauman) embraces her sexuality while straight-laced social media guru Cassie (Natasha Negovanlis) ends a long-term relationship and panics that her life is not going as she planned. The film has some hilarious one-liners and Bauman and Negovanlis have great on-screen chemistry.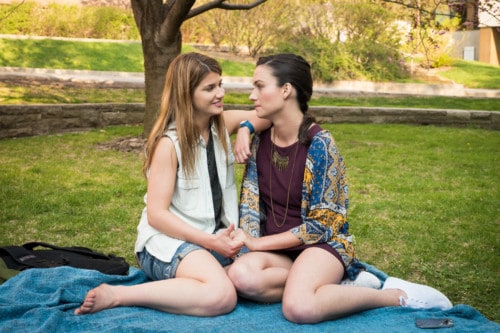 DiLonardo was inspired to write the film because she had not seen a story about the universal experience (for women, at least) of a friendship break up. "Sometimes it's harder to break up with a friend than it is with a partner," she says. "And we just love stories about women."
Both the subject matter and the making of the film were incredibly female-centric. Sixty-one per cent of the cast and crew were women and during filming, many of the crew members took female production assistants under their wings to give them on-set experience and mentorship.
By raising their own funds, Rotella and the film's writer, Adrianna DiLonardo, were able to maintain full creative control and achieved what many budding filmmakers can only dream of: producing their first feature film before they turned thirty. "This film may have not been made if we didn't have the opportunity to put it on Kickstarter," says DiLonardo.
DiLonardo and Rotella credit part of the success of Almost Adults' Kickstarter campaign to the fact that their audience is mainly LGBTQ. "It's a very supportive community," says DiLonardo. "And they want to see themselves represented more in film and television, so the fact that we were making a film that contains a lead character that was gay really spoke to them and made them want to support the film."
In fact, in a bid to increase the representation of LGBTQ people on screen, DiLonardo makes a point of always including at least one LGBTQ character in each project. "I think we need as much representation as possible in film and television," she says. "Because gay people are out there!"
Never ones to rest on their laurels, DiLonardo and Rotella have already shot their next feature film and are currently developing a new web series.
Almost Adults is available on iTunes, Amazon, Vimeo, Google Play, Microsoft, and Vudu and across all On Demand services.