When filmmaker Deanne Foley first read the script for An Audience of Chairs, written by Rosemary House and based on the 2005 book by Canadian author Joan Clark, she was moved to tears. "The story is so powerful. As a mother, I can't imagine making one mistake that can change your life forever. I read it and wept." The story follows Maura (brilliantly performed by Carolina Bartczak), a talented pianist who is trying to juggle a career in the arts with raising two young daughters, while her husband is away for long stretches for work. After moving into a charming old house on a picturesque cove in Newfoundland, Maura's bipolar disorder goes unchecked and begins to worsen, causing her to make poor decisions that put her children at risk. The consequences spark ideas, feelings, and conversations about family life, mental illness, human survival, and recovery. This is a film with a depth that comes with a heavy weight; it's an honest portrayal of a family in crisis.
From the get-go, Foley wanted to ensure that the story she was telling was authentic. "I felt such a strong responsibility to tell a story that was rooted in truth." Since the book was based on the real-life story of author Joan Clark's cousin, there was nothing added to the film that wasn't a true incident outlined in the book. "We were very careful and methodical about how we were going to tell this story." For the role of Maura, Bartczak consulted a trauma therapist and connected with a pianist who, like her character, also suffered from bipolar II disorder.
Beyond the phenomenal acting by the entire cast, the scenery of Tors Cove, where most of the film was shot, is breathtaking and may inspire a wave of tourism to the region. "Originally, in the script, it was set in a down-trodden fishing village. When I came across Tors Cove, I felt it was important to put Maura in that environment to show that contrast between her dark inner world and her beautiful exterior world."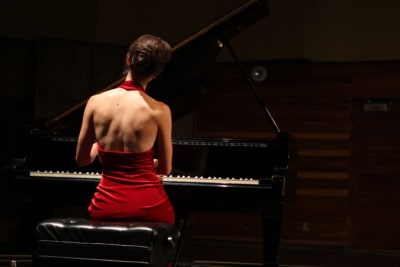 Having watched certain friends struggle with severe mental health issues, and having lived through my own issues of alcohol-use disorder, I love how Maura's story isn't portrayed as all doom, nor is the complex, frayed family dynamic easily pulled together. It's a gut-wrenching story, but while she falls further than she'd ever imagine, beauty and love prevail in unexpected ways. After a divorce, and on the brink of defeat, when she's left alone with her life in tatters, Maura meets Ben (Gord Rand). Watching their romance develop offers a sense of healing. "I think everyone wants to find someone who accepts them for who they are. I think that's what Ben and Maura offer each other, and that's what is so beautiful about it."
Even though her path veers far from what she originally mapped out, there is light that emerges from the deepest chasms of pain. "You can't change your past, you can't make up for that lost time, but you can move forward and forgive yourself, and let people into your life that can help you," says Foley. This is a story of survival, how a woman battles her sick mind, and how a family continues after it is blown up. There is no tidy feel-good solution, but there is hope.
Known for her comedy (Relative Happiness, Hopeless Romantic), signing up to direct a film about bipolar disorder was definitely a step in a different direction for Foley. "I've come to a point in my life where I'm looking for meaning, and I was looking for a project that had relevance as well as craft." Emotionally powerful, visually stunning, and with an utterly beautiful musical score, Foley's talents as a director are well showcased in this riveting film that will speak to everyone on some level. "I've had a lot of people close to me who've had their own struggles with mental illness. I think we've all had dark periods, myself included."
An Audience of Chairs is hard-hitting and ever so timely, as our society continues to push forward the conversation about mental health and how to best support our loved ones. No family is immune.
Opens in select theatres on March 22. Watch the trailer now.