At the 76th Cannes Film Festival, In Flames made history. The film was the first South Asian horror to premiere as part of the Director's Fortnight, and the first from Pakistan in 47 years. This was a groundbreaking achievement for director Zarrar Kahn and all involved with the film, including Pakistani-Canadian producer Anam Abbas. The team is now thrilled to have their Canadian premiere at TIFF this week.
"I think In Flames will get people excited about Pakistani cinema, and hopefully allow other artists to be bold and unafraid to make beyond what is expected of cinema from our region," says Abbas.
Set in Karachi, Mariam and her mother find their lives in jeopardy when a coercive family member returns after the death of the family patriarch. Mariam experiences nightmares that begin to bleed into reality, but the true horror of In Flames is one familiar to many—the terror of being a woman in an oppressive, patriarchal society. The film is haunting and powerful, with a final 10 minutes that will leave you with chills.
With an impressive repertoire of woman-centred work, including Showgirls of Pakistan, This Stained Dawn, her documentary about Pakistan's Women's March, and her web series Ladies Only, we were eager to hear more from Abbas about her work on In Flames.
Can you tell us about a memory you made while working on In Flames?
The whole shoot was so fun, I love fielding disasters every 5 minutes (lol)! We really were a happy family and that is a blessing I don't take for granted.
My favourite thing was shooting on location and getting to know the communities that welcomed us! Our DP Aigul Nurbulativa came to shoot the film from Kazakhstan and I think my favourite part was seeing how our Pakistani camera crew learned to work with her despite a language barrier and a cinematic style they were very much not used to, how in awe of her they all eventually were and how much everyone learned at that shoot. More women behind the camera please!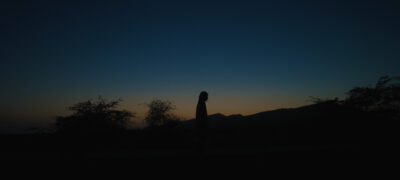 Your previous work also explores feminist themes and issues that affect women- why are you interested in exploring these themes in your work?
I am definitely an artist who is aware that everything you create has politics and that our work can have a huge impact to shift culture so one instinct is to lean into that, and the flip side is just me exploring my lived experience in the world through art.
I love teen girl films, and my favourite genre for a while has been young women being complete disasters. As a writer I'm exploring my own take on that cinematic ouvre.
We'd also love to hear about your band, Garam Anday! What was your favourite part of being in an angry grrrl band?
Living out my teenage fantasies! And also allowing myself to finally make music was so cathartic. Our first-ever public performance was also at the first-ever Aurat March (Women's March) in Karachi in 2018 so that was surreal and very fitting. A lot of the songs were ideas for music videos in my head first, and we reversed the process of making songs for the cool visuals we wanted! It ended up being a very short-lived band, RIP, but I am plotting a reprise!
What was the first film you saw that made you realize the power of film, or really made an impact on you?
I cannot pick one! I grew up watching Pakeezah, a landmark sweeping Indian melodrama starring the legendary Meena Kumari, that I think, like most films you watch as a child, is such a deep part of my romantic, poetic and cinematic imprint. As a teenager, it was Trainspotting and when I started studying cinema, Robert Bresson's L'argent definitely changed my brain chemistry!
What conversations do you hope In Flames will inspire?
I hope the story inspires hope and allows conversations about power relations within families that are not often addressed.
What does having In Flames premiere at TIFF mean to you?
Zarrar's short Bhai was at TIFF last year but it's a first for me. We both have a long history working/volunteering at TIFF so it really is a coming home/full circle moment for us.
My cinema education was largely through the many many years of absorbing films at TIFF. I was always keen to watch the cinematic offerings from the World Cinema section, now called Centerpiece, and the films at Midnight Madness, so it's surreal to be on the other side of this! While Cannes is an industry-facing festival, Toronto has always been about the audiences so we can't wait to enjoy and experience the screenings in that light!
What is some advice that someone gave you that has helped you on your journey as a filmmaker?
Be intentional and don't wait for permission. Forget about labels and create with any resources you have. It is a craft and the more you create the better you get, and the more you create with the people you love and who share your heart and values, one day you will wake up and be surrounded with a solid community that will be a lifeline in dark times and feed your creative energy by the collective work. Being competitive and gatekeeping is boomer energy, we choose each other.
In Flames premieres on September 14 at TIFF, and will release in cinemas nationally in late November.