Canada's preeminent music fest for underrepresented artists is now accepting applications for their incredible Venus Fest Mentorship Program, a transformational 8-week program (June 5 – July 28) that pairs emerging artists and music arts workers with established mentors in their field. Past mentors and workshop facilitators include Jully Black, Austra, US Girls, Kaia Kater, and Ezra Furman. Applications are now open (May 2-17)—you should definitely apply!
This extremely cool opportunity has been specifically designed for early-career musicians and music professionals who have faced barriers in the music industry. Participants receive one-on-one mentorship sessions, 2 in-person peer-to-peer sharing sessions, 3 in-person workshop sessions with guest artists in Toronto, and a care package designed to support wellbeing. Mentees receive an honorarium of $500 for their full participation. Wow-wow-wow!
Meet the 2023 mentors:
Artist mentors:
Melody McKiver (they/them)
Tamara Lindeman (she/her) – The Weather Station
Hannah Georgas (she/her)
Luna Li (she/her)
Industry mentors:
Koji Shiraki (they/them) – Get Better Records
Tinesha Richards (she/her) – Manifesto
Rachel Weldon (she/her) – Debaser
Katrina Lopes (she/her) – KL Management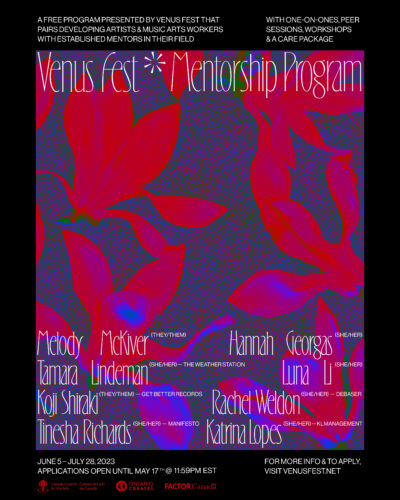 Check out the 2023 Venus Fest Mentorship Workshops:
Deep Listening
On June 18, Anne Bourne will host Environmental Dialogue: a listening and sound gathering, inviting guests to experience collective attunement to the biosphere of place and memory. Attendees will also learn improvisation techniques from the Sonic Meditations and Deep Listening text scores of Pauline Oliveros.
Songwriting
On July 9th, participants will spend a beautiful day songwriting with Lisa Patterson & Beau Cassidy.
Connecting With Your Audience
On July 23rd, Rina Espiritu will guide participants on how to thoughtfully share the story of their creative processes and discuss practical tips for growing an audience – both online and IRL.
The group will explore how to find and trust your voice, and differentiate what you want from your audience versus what your audience wants from you. Espiritu will also discuss how to approach and build a social media strategy armed with a sense of self-preservation that is in integrity with your art.
In the second half, the workshop will tackle the daunting artist bio. Every artist needs one, very few know what to include, and even fewer enjoy writing them. Mentees will learn the differences between a bio and a press release, what each is composed of and when to use them.

See what's inside the wellness care package:
Kat Gibson (Of Earth And Blooms) – herb bundle and herbal information packet
Haji Maa (Secondsight) – sound healing meditation
Sarah Walton – guided meditation
Ninang's Soft Alchemy – calming aromatherapy roller and rejuvenating face oil
Ahhhhh! This is so wonderful. Imagine if you were accepted into this amazing program? Invigorating, inspiring and loaded with practical skills, self-care, and built-in community support… It's a holistic approach to a successful career in the arts, and a model that so many industries should follow.
The Venus Fest Mentorship program is geared towards artists and arts workers of underrepresented identities/genders. Venus Fest encourages applications from artists/arts workers who are QT/BIPOC, otherwise equity-seeking, or have lacked previous institutional support for their current professional goals. Applications open May 2 until May 17 at 11:59PM EST. For more info and to apply visit www.venusfest.net.