Mia Nielsen was the Director of Art + Culture at Drake Hotel Properties for a dozen years before jumping ship to Art Toronto. "I'm personally invested in art for the public," she says, "but also audience development for great art." While wandering the floor of the Metro Toronto Convention Centre, Nielsen oversees the final touches before tens of thousands of people begin to pour in. "Here at Art Toronto, I get to do that on a bigger scale, a national scale."
Celebrating its 20th anniversary, Art Toronto is the only international fair for modern and contemporary art that draws galleries and collectors from coast to coast. The event spotlights our top homegrown talent, while introducing prominent work from all over the world, especially Portugal (the country being featured this year). "For international visitors, it's this moment where you can be immersed in the Canadian art scene," a scene Nielsen touts as world class (it is).
With over 100 galleries displaying work, walking into Art Toronto for the first time can be daunting, but Nielsen recommends that you simply "go with where your heart takes you. Don't feel like you have to pay attention to every single thing. If you see something in the distance that is intriguing to you, just go there, and let it be a choose-your-own-adventure." It's wonderful advice, especially for those who might feel intimidated by the art crowd, or doubting their capabilities of understanding art. Hint: there is no right way.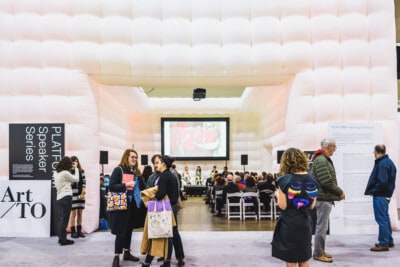 In its two decades, Art Toronto has become known as a destination where many make their first investment in art. The sheer amount of choice is one reason why people undoubtedly find something that speaks to them, but the fair also provides a relaxed way of viewing art. If you think of a private gallery, be it on Toronto's Queen West or in New York's SoHo neighbourhood, if it's not an opening, they are generally empty; every movement you make has a sound. It is often just you and a very well-dressed gallery assistant who silently eyes your movement. (Or is this just my experience?) At Art Toronto, any kind of pretension (real or imagined) dissolves. The fair setting provides an easy environment for striking up conversation. "Even if they don't buy their first piece from Art Toronto, it is a brilliant place to start a search," says Nielsen. "Often the first contact is made at the fair, even though the relationship is perhaps nurtured afterward. It might be a 4-6 months, or a year or two, before they start acquiring work."
For many, investing in art might not be a priority expense, especially with prints and art knock-offs so readily available in big box stores or online, but Nielsen believes that "living with art is an investment in your soul". Her home is full of art, and they represent different chapters of her life. "Sometimes pieces speak very directly to the time in my life when I acquired them, and that can be —in some cases—a moment of joy, and in others, it can be a really dark place." Listening to her, I do a visual scan of the work in my home, jumping to various eras in my adult life, examining it all from a slightly different vantage. "I don't necessarily have the means to spend a lot of money on individual work, but I am amazed at how the works [that I have acquired] continue to impact me. Seeing these works—every day, in different lights—it's almost spiritual to me. They give back to me, in the sense of beauty, and create these peaceful restful moments, that is unlike anything else."
With Toronto becoming increasingly unaffordable, artists are often the first to be pushed out of the city. "It is important that we, as a community, protect spaces for artists in urban centres," she says. "Creative production is what make cities great, and that's why we come here in the first place." Nielsen has noticed that in order to survive, artists are adapting new ways of living and creating, including sharing spaces in new ways—doubling up on studios, and becoming more reliant on organizations like Artscape, who help to provide affordable spaces for artists. "We really need to protect our cultural communities in this city because they are in massive economic growth. I also think that we are humans, we need to express ourselves, and we need to make. Artists will find a way."
Art Toronto is on from Oct 25-27 at Metro Toronto Convention Centre. Get your tickets now.