Bekah Brown is currently the Artist in Residence at The Bentway, and this is the final week that art lovers of all ages are able to experience her multimedia installation, With One Beat, which explores the history and stories of the land that The Bentway is on.
"My research has taken me from looking at the history of the land Toronto and The Bentway occupy to the Dish with One Spoon wampum and its relevance to our lives today. My work is focusing on our responsibility as Toronto residents to honour this agreement," says Bekah, who has both settler and Indigenous ancestry. "As tenants of this land, we all have a responsibility to respect this covenant and govern ourselves accordingly."
With One Beat includes video, audio, images, and textile (a jingle dress). Guests of the exhibit are encouraged to modify flat jingle cones to depict forms of play and recreation they enjoy that require shared land, space, resources, and knowledge. These modified jingle cones will be rolled and incorporated into a larger piece that will be available for public viewing.
The Bentway is a fascinating space in Toronto. It's a hub for cultural activity and recreation, situated underneath enormous cement structures that hold up the Gardiner Expressway.
When it first opened a few years ago, its future success was doubted; relaxing underneath a highway wasn't the most appealing idea. But The Bentway has proven to be a successful use of urban space. It's well designed, with patches of green, and has become a beloved destination for roller skating in the summer, ice skating in the winter, and has also been a runway for fashion shows, a striking backdrop for public art, and is generally a well-used patch of land in a densely populated part of Toronto.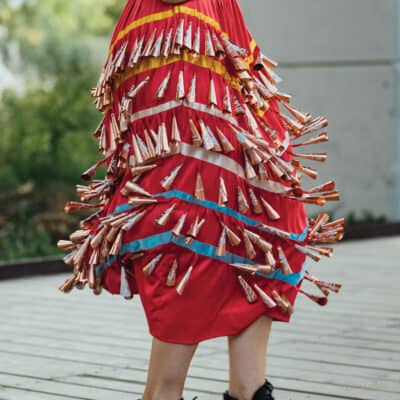 "I really like that I'm working in a location that is reclaiming public green space in Toronto that was lost due to things like the Gardiner. That being said, The Bentway wouldn't exist without the Gardiner. It's a strange paradox and layering of experiences that is reflected in who I am. I carry the identities of both the colonizer and colonized; the part of me I am fighting to reclaim is the very thing that the other part of me set out to destroy. It's complicated and heavy and confusing but that's reality," says Bekah, who hopes that With One Beat will get people thinking about the land and history differently, and consider the role we all have in caring for the space, and ensuring that it's shared equally and peacefully.
"With my work, I aim to create safe spaces where Indigenous people feel seen and loved while also offering the non-Indigenous community an opportunity to learn about some of their Indigenous neighbours. "
Bike, scoot, or walk down to The Bentway any day of the week to see what Bekah has done, and see what conversations With One Beat inspires. Open to the public Monday to Friday from 12pm – 7:30pm and weekends from 10am – 7:30pm.