We were introduced to Toronto's Lenny Bull in an email that described her influences as "The Pretenders, The Rolling Stones, and Raffi." Naturally we were intrigued, and as soon as we listened to her catchy single "Feel Alright", we were hooked.
Bull's powerful vocals definitely have a likeness to Chrissie Hynde, but her range is also reminiscent of PJ Harvey. Then there's the video with a bunch of dancing sock puppets… backyard glam rock meets Fraggle Rock with a steady kick drum—a most excellent combo. Quirky, talented, and a very cool new mom, we love Bull's sense of playfulness and the tracks on her new EP "Strange Vacation" had us dancing nonstop in our kitchen (the true sign of something magnificent).
Curious to get to know the ballerina-turned-rocker, we connected with Bull and asked her some things.
What was the first singer/band that you became obsessed with? The artist(s) that you were introduced to in childhood/youth that started a love for music?
We listened to EVERYTHING at home when I was a kid, so I never really got obsessed with one specific artist. Lots of classical, musicals and Beatles, oh and the NOW music compilations. I was pretty into Backstreet Boys and Britney. Then I got into The Shins and then Feist, and then Lucinda Williams and Linda Ronstadt and Pretenders and Blondie and The Go-Go's and you name it.
What was the first concert you attended? Looking back, how would you describe it in 3 words?
Oh, Stars and Death Cab for Cutie in Toronto, I think it was 2009? It was… inspiring and beautiful and electric.
What's your favourite venue in Canada for concerts? In short, why?
LEE'S PALACE. It's a grungy little gem that always sounds amazing.
When it comes to lyrics and songwriting, who do you really admire?
Too many to count but I'm currently very inspired by Dan Romano. He's a brilliant lyricist and songwriter. His imagery and storytelling are unmatched.
How has becoming a mom influenced you as an artist?
I have a new understanding of love. It's a LOT to handle and process but it's inspiring and it's my new goal to try and get it down in words. Also, I've had to learn to be much more efficient. Time seems to FLY by when you got a kid so when you get a moment to sit down and get something done, you gotta get it done.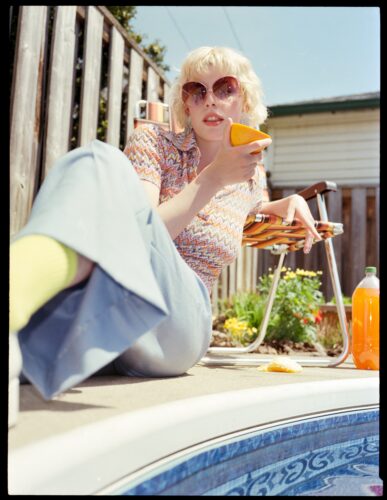 What book, film, or series has inspired you lately?
Pam and Tommy! And old episodes of Sesame Street.
What outfit do you feel the most you in?
Vintage Levi's, boots, and a vintage tee with a little spit up on it.
What does a perfect Saturday look like for you?
Let's hit the park, have a pizza and some beers and a jam before bedtime.
What principle or idea is currently guiding your journey?
One day at a time!
What do you do when you are in need of creative energy?
I used to go to A LOT of shows, it really filled my creative tank. Now that's a little harder to do (#momlife) so I watch a lot of YouTube concerts. Not quite as energizing but still very inspiring.
Who should we be following on Instagram?
Me: @lenny_bull_official. And Wet Leg for music. And these accounts for Aesthetic and Photography.
Can you share with us something in your routine that is very important to you? What does it add/bring to your life?
Every evening before bedtime, I put my little one in his sling and we go for a slow walk around the neighbourhood. It's my FAVOURITE part of the day. He babbles away and looks at trees and dogs and we just chill and wind down. How wholesome.
Describe yourself in high school.
I was OBSESSED with ballet, wore my hair in a slicked bun, and had braces. I'll let you take it from there.
Describe yourself now?
I don't wear my hair in a bun, but I still love ballet (and I teach if you're ever wanting to take a class!). I'm also a casual rockstar obviously.
What inspired Strange Vacation?
My ode to COVID-19! What a weird time.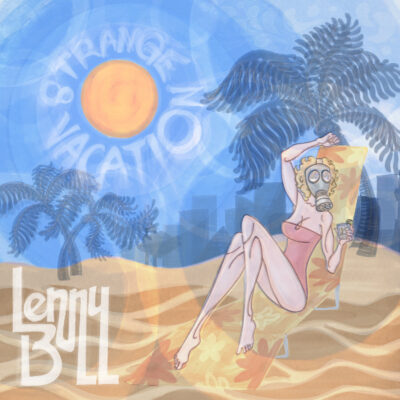 In a previous life chapter, you were a ballet dancer. How did that experience shape you?
I trained at Canada's national ballet school. The ballet world is INTENSE. It's an incredible mix of athleticism and grace. It's also an art that is hyper-fixated on perfectionism and unattainable expectations. I am still unraveling from that aspect in many ways. I value that it instilled really deep resilience and tenacity, and a lifelong love of movement and musicality.
What's something you are looking forward to right now?
SHOWS SHOWS SHOWS! Recording new music! My son's first steps!
What does breakfast look like?
Toast, yogurt and fruit, oatmeal. Pretty simple. And coffee is essential.
What's a change that you have made in your life in recent years that has served you well?
I got pregnant and had a baby.
What's something that you are talking about a lot lately? Preoccupying your thoughts?
I got pregnant and had a baby.
What's a non-profit you'd like to plug? Why?
Honey Jam—All about empowering womxn in music.