Have you ever felt sorry for your cat, having to eat the same ol' kibble day after day while you chow down on ribeye steaks, ceviche and artisanal sandwiches on the regular?
Luckily, Fancy Feast is here to bridge the gap and bring high-quality and flavourful meals so your kitty can be a foodie just like mom!
Find out more at Fancy Feast's Foodie Pop-Up, happening August 11th and 12th at 25 Charlotte Street, Toronto from 11am to 6pm.
The best part? For every selfie posted onsite with the hashtag #ForTheCatFoodie on Instagram, Fancy Feast will donate one week's worth of cat food to the Toronto Humane Society. (HOW INCREDIBLE IS THAT?)
Check out Fancy Feast Canada's Facebook page for all the deets.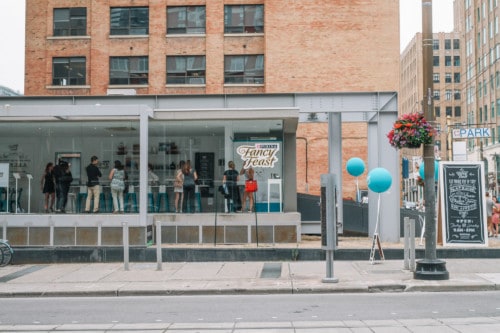 UPDATE!
We came, we saw, we ate and we conquered. Who knew that learning about cat nutrition could be this fun and delicious?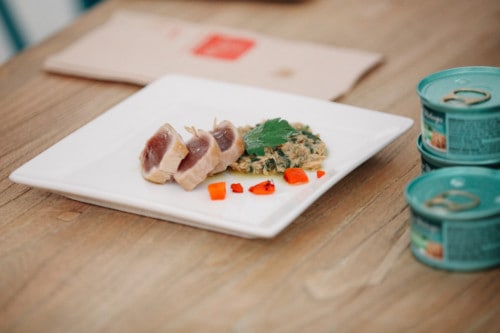 As a proud parent of three pups, I know that my boys gravitate towards the food bowls whenever we visit their feline friends, but had no idea why. Turns out, cat food is loaded with protein (cats are true carnivores, while dogs are just as happy to eat veggies and grains). I also learned that cats are a lot pickier when it comes to their grub, and oftentimes won't even touch their soft food if the same stuff is served to them a few days in a row.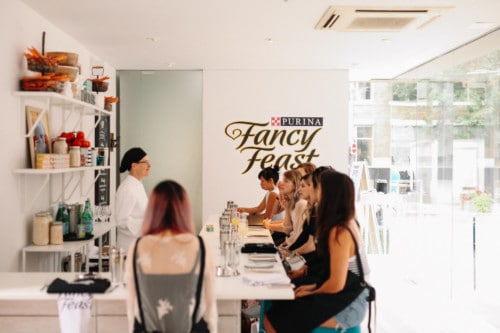 Over the course of our tasting, we got to chat with Purina's Executive Chef Amanda Hassner (um best job ever, right?) about her inspiration behind the newest Fancy Feast flavours like Salmon Pate and Tuna Florentine. How fancy!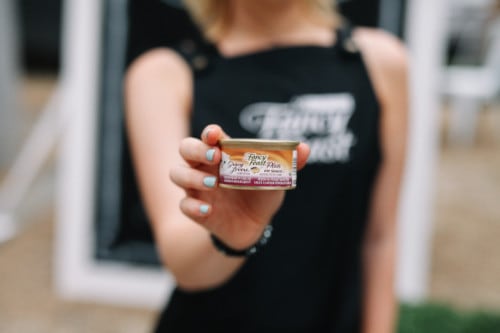 CONTEST!
We've teamed up with our pals at Fancy Feast to give away a foodie prize pack to one lucky kitty (and their human).
To enter, tweet:
"Meow @shedoesthecity, I'm OBSESSED with my cat! Please send me a Fancy Feast prize pack from @PurinaCanada! #ForTheCatFoodie"
Contest closes August 22nd, 2017. Good luck!