Audible.ca has selected numerous titles to highlight for Indigenous History Month. Whether you prefer a book in your hand, or a voice in your ear, here are five must reads by authors we deeply admire. They will grip you, move you, and make you think in new directions.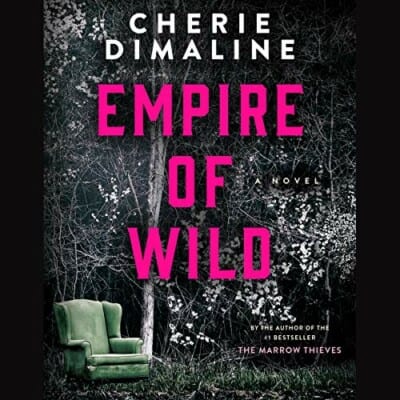 Empire of Wild – Cherie Dimaline
From the author of the YA-crossover hit The Marrow Thieves, a propulsive, stunning and sensuous novel inspired by the traditional Métis story of the Rogarou – a werewolf-like creature that haunts the roads and woods of Métis communities. A messed-up, grown-up "Little Red Riding Hood".
Broken-hearted Joan has been searching for her husband, Victor, for almost a year – ever since he went missing on the night they had their first serious argument. One terrible, hungover morning in a Walmart parking lot in a little town near Georgian Bay, she is drawn to a revival tent where the local Métis have been flocking to hear a charismatic preacher named Eugene Wolff. By the time she staggers into the tent, the service is over. But as she is about to leave, she hears an unmistakable voice.
She turns, and there Victor is. The same face, the same eyes, the same hands. But his hair is short and he's wearing a suit and he doesn't recognize her at all. No, he insists, she's the one suffering a delusion: he's the Reverend Wolff and his only mission is to bring his people to Jesus. Except that, as Joan soon discovers, that's not all the enigmatic Wolff is doing.
With only the help of Ajean, a foul-mouthed euchre shark with a knowledge of the old ways, and her odd, Johnny-Cash-loving, 12-year-old nephew Zeus, Joan has to find a way to remind the Reverend Wolff of who he really is. If he really is Victor. Her life, and the life of everyone she loves, depends upon it.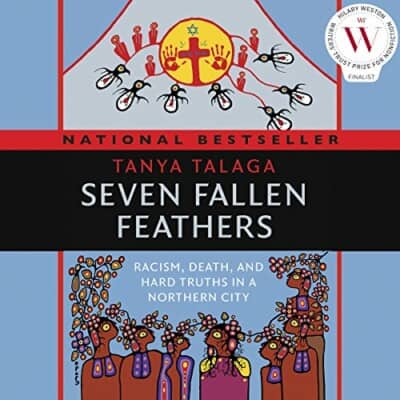 Seven Fallen Feathers – Tanya Talaga
In 1966, 12-year-old Chanie Wenjack froze to death on the railway tracks after running away from residential school. An inquest was called, and four recommendations were made to prevent another tragedy. None of those recommendations were applied.
More than a quarter of a century later, from 2000 to 2011, seven Indigenous high school students died in Thunder Bay, Ontario. The seven were hundreds of miles away from their families, forced to leave home and live in a foreign and unwelcoming city. Five were found dead in the rivers surrounding Lake Superior, below a sacred Indigenous site. Jordan Wabasse, a gentle boy and star hockey player, disappeared into the -20 degrees Celsius night. The body of celebrated artist Norval Morrisseau's grandson, Kyle, was pulled from a river, as was Curran Strang's. Robyn Harper died in her boardinghouse hallway, and Paul Panacheese inexplicably collapsed on his kitchen floor. Reggie Bushie's death finally prompted an inquest, seven years after the discovery of Jethro Anderson, the first boy whose body was found in the water.
Using a sweeping narrative focusing on the lives of the students, award-winning investigative journalist Tanya Talaga delves into the history of this small northern city that has come to manifest Canada's long struggle with human rights violations against Indigenous communities.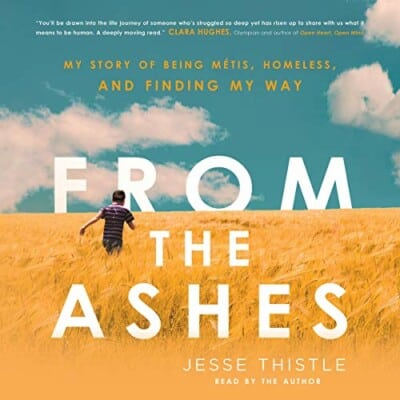 From The Ashes – Jesse Thistle
In this extraordinary and inspiring debut memoir, Jesse Thistle, once a high-school dropout and now a rising Indigenous scholar, chronicles his life on the streets and how he overcame trauma and addiction to discover the truth about who he is.
If I can just make it to the next minute…then I might have a chance to live; I might have a chance to be something more than just a struggling crackhead.
From the Ashes is a remarkable memoir about hope and resilience, and a revelatory look into the life of a Métis-Cree man who refused to give up.
Abandoned by his parents as a toddler, Jesse Thistle briefly found himself in the foster-care system with his two brothers, cut off from all they had known. Eventually, the children landed in the home of their paternal grandparents, whose tough-love attitudes quickly resulted in conflicts. Throughout it all, the ghost of Jesse's drug-addicted father haunted the halls of the house and the memories of every family member. Struggling with all that had happened, Jesse succumbed to a self-destructive cycle of drug and alcohol addiction and petty crime, spending more than a decade on and off the streets, often homeless. Finally, he realized he would die unless he turned his life around.
In this heart-warming and heart-wrenching memoir, Jesse Thistle writes honestly and fearlessly about his painful past, the abuse he endured, and how he uncovered the truth about his parents. Through sheer perseverance and education- and newfound love – he found his way back into the circle of his Indigenous culture and family.
An eloquent exploration of the impact of prejudice and racism, From the Ashes is, in the end, about how love and support can help us find happiness despite the odds.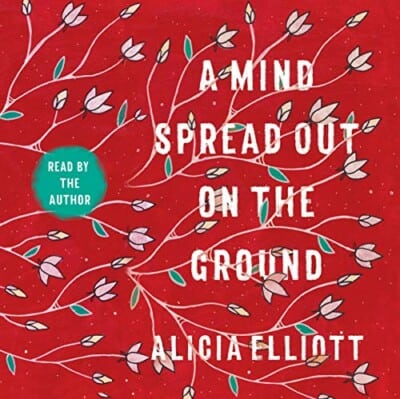 A Mind Spread Out On The Ground – Alicia Elliott
A bold and profound meditation on trauma, legacy, oppression, and racism in North America from award-winning Haudenosaunee writer Alicia Elliott.
In an urgent and visceral work that asks essential questions about the treatment of Native people in North America while drawing on intimate details of her own life and experience with intergenerational trauma, Alicia Elliott offers indispensable insight into the ongoing legacy of colonialism. She engages with such wide-ranging topics as race, parenthood, love, mental illness, poverty, sexual assault, gentrifcation, writing, and representation, and in the process makes connections both large and small between the past and present, the personal and political – from overcoming a years-long battle with head lice to the way Native writers are treated within the Canadian literary industry; her unplanned teenage pregnancy to the history of dark matter and how it relates to racism in the court system; her childhood diet of Kraft Dinner to how systemic oppression is directly linked to health problems in Native communities.
With deep consideration and searing prose, Elliott provides a candid look at our past, an illuminating portrait of our present and a powerful tool for a better future.
Split Tooth – Tanya Tagaq
From the internationally acclaimed Inuit throat singer who has dazzled and enthralled the world with music it had never heard before, a fierce, tender, heartbreaking story unlike anything you've ever heard.
Fact can be as strange as fiction. It can also be as dark, as violent, as rapturous. In the end, there may be no difference between them.
A girl grows up in Nunavut in the 1970s. She knows joy and friendship and parents' love. She knows boredom and listlessness and bullying. She knows the tedium of the everyday world and the raw, amoral power of the ice and sky, the seductive energy of the animal world. She knows the ravages of alcohol and violence at the hands of those she should be able to trust. She sees the spirits that surround her and the immense power that dwarfs all of us.
When she becomes pregnant, she must navigate all this.
Veering back and forth between the grittiest features of a small arctic town, the electrifying proximity of the world of animals and ravishing world of myth, Tanya Tagaq explores a world where the distinctions between good and evil, animal and human, victim and transgressor, real and imagined lose their meaning, but the guiding power of love remains.
Haunting, brooding, exhilarating, and tender all at once, Tagaq moves effortlessly between fiction and memoir, myth and reality, poetry and prose, and conjures a world and a heroine listeners will never forget.
Check out more amazing titles here.