The Park Hyatt Roof Lounge has always been a favourite perch for late night whisky, and now you can enjoy the city skyline over some Griddled Bacon Cinnamon Roll (as sinfully delicious as it sounds), and some pretty Brunch Bubbles (Prosecco, sorel & hibiscus flower).
Starting this Sunday, the Yorkville institution, that opened its doors in 1936 (although its story dates all the way back to 1820) is inviting Toronto's discerning brunch crowd to the 18th floor to test out the pork-centric menu. Weather permitting, guests can choose to sit on the outdoor patio or cozy up on a leather couch in the dark mahogany bar.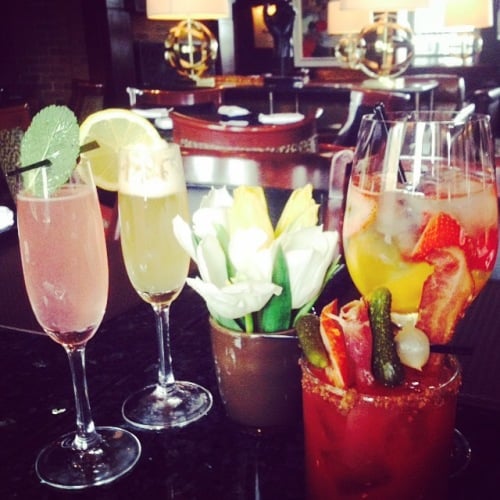 We've sampled the offerings and can assure you that the dishes will leave a lasting impression. Our favourites include the Toronto Bacon and Beans (corn battered peameal fritters with maple & molasses baked beans), Smoked Beef Brisket Eggs Benedict, Bar Man's Waffle (two Belgian waffle wedges, hooch & maple syrup ,flambeed banana, fried chicken & whipped cream), Scotch Eggs and Maple Syrup Glazed Thick-Cut Bacon.
Enjoy with a coffee, or test out one of the many dazzling brunch cocktails on offer. (The Hogtown Ceaser is a meal in itself.)
The Park Hyatt is located at 4 Avenue Road (Avenue Rd & Bloor Street). No reservations. Starts at 11am. Sundays only.