One of the biggest fan conventions in Canada is right around the corner! If you consider yourself a pop culture aficionado, a fantasy and sci-fi lover, an anime enthusiast or a devoted cosplayer, you won't want to miss FAN EXPO Canada, running from August 24-27.
FAN EXPO Canada will take over the Metro Toronto Convention Centre with a massive celebration of all things fandom, including celebrity panels, photo ops, special events, competitions, shopping, and plenty of eye-catching cosplay. We love the excitement and energy of FAN EXPO Canada, and it's always a joy to witness the creativity and passion of the hundreds of cosplayers who attend.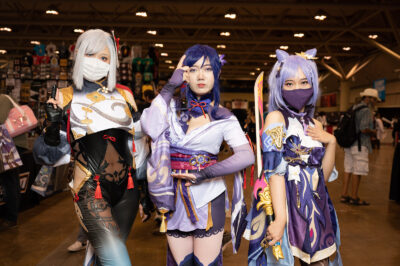 Their full schedule of programming is out now, and we wanted to help you plan a fun-filled visit to this fan extravaganza. Here are some of the happenings we're looking forward to:
Cosplay Red Carpet
August 24, 5pm, August 25, 11:30am & 5pm, August 26, 11:30am, August 27, 11:30am
Walk the Cosplay Red Carpet to show off your costume and get a FREE photo taken by the official red carpet photographer.
Drag and Cosplay, How Both Art Forms Interact
August 24, 6:30pm
Join this celebration of the artistry of drag and cosplay for a discussion of how these unique art forms interact.
Talking Toronto Ghosts
August 25, 11am, August 26, 12:30pm, August 27, 11am
The Haunted Walk of Toronto will share their favourite spine-tingling ghost stories, discuss the nature of hauntings, and more.
Evolution of Romance with Wattpad
August 25, 2pm
Join an exciting group of new romance writers who will discuss why romance is on top, how the genre and women readers have been historically dismissed, fandoms, and where they believe romantic fiction is headed next.
Lost In Toronto
August 25, 6:30pm
This panel features three writers offering a fresh look at Toronto, with their debut novels all set in the city. Featuring Tanya Turton (Jade is a Twisted Green), Danise Da Costa (And the Walls Came Down), and Ally Waterman (Mudflowers).
Women In Sci-Fi/Fantasy With Wattpad
August 26, 1pm
Celebrate the women who are breaking barriers and disrupting this historically male-dominated space and meet the next big names in sci-fi/fantasy lit.
The 404 Improv
August 26, 7:30pm
The 404 Improv Comedy group will perform their unique "geekprov" style of comedy, incorporating wit, charm, pop culture knowledge, and a great deal of audience participation.
Writing And Publishing Your Own Book
August 27, 2pm
This unique workshop will help you think more creatively, cultivate a strong writing voice, and make your sentences powerful. Patricia Westerhof, writing coach and author of The Canadian Guide to Creative Writing and Publishing will speak about what it takes to get published in Canada.
Christina Ricci Takes The Stage
August 27, 3:45pm
Hear from The Addams Family and Yellowjackets star herself as she takes the stage at FAN EXPO Canada.
View this post on Instagram
Barbie Bash
Come on Barbie, let's go party! August 27 will be packed with Barbie-related fun for all, including:
Hi Barbie! With Chris Anthony Lansdowne – 11:15am
Hear from the voice of Barbie herself, Chris Anthony Lansdowne.
Barbie Dance Party – 1pm
Inspired by the iconic glittery dance sequence in the Barbie movie, stop by this giant blowout dance party!
Barbie Ice Cream Social – 2pm
Cool down with a retro ice cream treat and Barbie-themed fun at the Barbie Ice Cream Social.
The Comedy Roast Of Barbie – 3pm
Watch as the worlds of Bratz Dolls, Polly Pockets and GI Joes collide in this one-of-a-kind comedy roast.
Barbie Character Cosplay Contest – 3:15pm
Walk the pink carpet and show off your Barbie cosplay, whether you're a Barbie, Ken, or an Allan.
For more info, see the full schedule of FAN EXPO Canada events here.