What is a Bookmobile? It sounds like the title of a great kids book—it's definitely a wonderful story—and this year's Biblio Bash, taking place at the Toronto Reference Library, will raise funds for a brand-new one. Vroom-vroom! We're all about it.
To get a better understanding of how a Bookmobile will help people in our city, we connected with Jennifer Jones, president of the Toronto Public Library Foundation.
SDTC: Can you describe the Bookmobile?
JJ: The TPL Bookmobile is a library on wheels! It is part of Toronto Public Library's mobile, community and outreach services, visiting under-served, vulnerable and isolated residents across the city. The goal is to provide greater access to library services and promote equity, so we operate two bookmobiles that regularly stop by areas that may not be close to library branches or where there is a physical barrier, which makes getting to a library more challenging.
What does it look like, and what does it contain?
Our newest Bookmobile, affectionately called Big Blue, resembles a large camper (32 feet long and just under 11 feet tall) that is custom-fitted with shelving to hold a TPL collection. It carries an assortment of items similar to what is offered in library branches: books and DVDs for adults, teens and children as well as comics, magazines and CDs. It is also equipped with free Wi-Fi, large computer screens and is easily accessible with a wheelchair lift.
You cannot place holds on bookmobile items, but you can place an item from a branch on hold and have it sent to your bookmobile stop for pickup there.
What does the Bookmobile offer communities?
Mobile libraries have been around our city for decades before amalgamation, including Bookmobiles in North York, Scarborough and York Township. Today our bookmobile makes 28 stops a week and usually stays for 1-2 hours at each location.
You might spot it on the ferry going to Ward's Island on Saturday mornings. Or visiting a family shelter. Perhaps stopped outside a community centre or an apartment complex. It also participates at local book and reading festivals, and it's a regular in the Toronto Pride Parade.
Back in 2016 when Toronto was welcoming Syrian refugees to our city, the Bookmobile would visit hotels where families were staying to get them set up with library cards, and provide access to books, while assisting them with settling in Canada.
What are your concerns around current provincial funding announcements for libraries?
News of a funding cut to Southern Ontario Library Service (SOLS) and Ontario Library Service North is very worrisome. The reaction on social media was swift, and vocal! It's very apparent how beloved libraries are. The funding cuts currently do not impact Toronto Public Library, but we are quite concerned about the news and how this will affect libraries across this province, particularly those in smaller communities. At TPLF we hear first-hand how libraries change lives so we are keeping a close eye on this situation.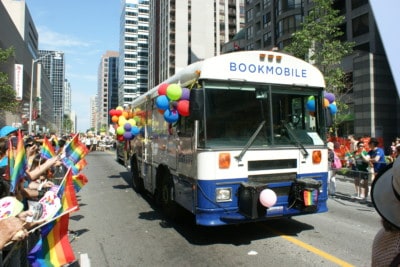 Why now, more than ever, are library services like the Bookmobile so important?
Everyone should have free access to the tools they need to put them on the path to lifelong success. That's what libraries provide, and our Bookmobile is no exception. Libraries are truly the great equalizer, and it will always be a priority for TPL to offer our programs, services and collections to communities all across this city, including those who cannot get easy access to our branches.
How can we donate to Bookmobile?
That's easy! This year, we launched our first-ever Biblio Bash Community Campaign in celebration of our Biblio Bash gala happening tomorrow at the Toronto Reference Library. The gala is sold out, but the public can participate and help us raise funds for two important Library priorities: TPL After-School Clubs and a new Bookmobile. Donors can contribute online at www.bibliobash.ca/give before April 30, 2019, and their gift will be directed to the priority they care about.
Anything else we should know?
Toronto Public Library is the busiest public library system in the world. 70% of Torontonians have a library card, so it's not an understatement to say we are a well-loved and well-used institution. Donors who support TPL really help change the lives of Torontonians and contribute to the health and vitality of this city, so now might be a great time for me to say thank you to all the Library People out there! Donors really do make a difference, and we are grateful to have them in our corner. #ImLibraryPeople