Torontonians strolling through stackt market to grab food and drink on the sprawling patios, or browse vendors at The Market, will now be met with 'Emergence from Emergency,' a provocative series of poetic installations presented by OCAD University's Creative Writing Program.
Created by Black students, the poetic-artistic works, which include a 7-foot tall traffic message board showcasing words and phrases addressing the Black experience, are transplanted in various spaces around the Market, and will no doubt inspire meaningful conversations.
"I was drawn to this project for many reasons—one being the artistic and poetic challenge and another being my admiration for the neo conceptualist artist, Jenny Holzer. More importantly though, I wanted to participate in service and solidarity with my community. I felt particularly drawn to the construction signs as a mood display as they act as a powerful critique of a society and justice system under construction," says OCAD student leaf jerlefia.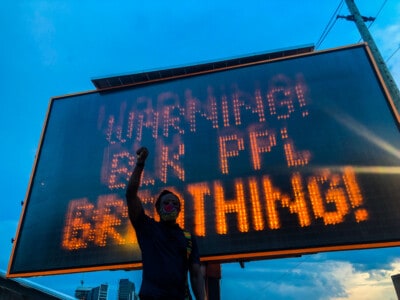 A Jamaican-Canadian curator, poet and cultural critic, leaf's work consistently explores notions of diaspora, home and belonging, and participating in this project was important to her on several levels, "As we continue to see stories, tragedies and protests develop in the media, it seems audiences empathize less and less with the characters of these stories. As a matter of fact, many have been minimized into characters and caricatures, suddenly they're shadows and no longer people. This work is so important because the words you're reading are from the mouth of the artist-activist rather than the artist's words from another mouth. What remains vital and important to every civil rights movement, including Black Lives Matter is the preservation of our voice. Our resilience, our truth, our history."
Located at Bathurst and Front Street, in a high-density pocket of downtown Toronto, the installation has the potential to reach thousands, from those visiting stackt market to people walking by to neighbouring residents spotting the signs from their balconies. "I want this work to be both an inspiration and an interruption. I want Torontonians to acknowledge that injustices are far more close to home than they may have believed," says leaf. "I want to inspire those on their mundane commutes to think about power structures, brutality and politics. This work is meant to inspire ownership, accountability and solidarity and interrupt silence, marking it as violence and complicity."