From portraits of iconic Black artists, to movie posters calling out racism in Hollywood, to unique takes on Charlie Brown characters, the BlackPOP! Exhibit at stackt market is redefining what pop art can look like.
Curated by Imani Dominique, BlackPOP! features the work of emerging and mid-career Black artists in Toronto that are disrupting and redefining the artistic style of pop art. The exhibit explores themes such as joy, culture, identity, justice, celebrity, and commercial consumption.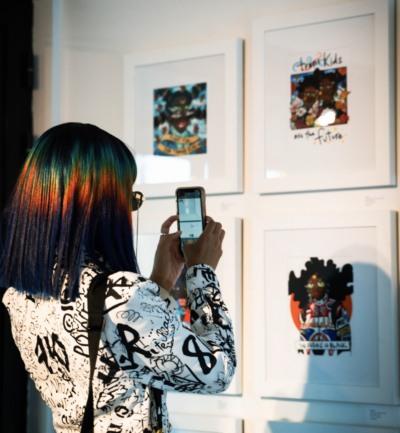 "If you think of Black pop art, whatever comes to your mind, we're challenging that," says Dominique. "There's an idea that kind of floats around that Black artists all have similar styles or talk about similar themes. There are 10 artists in the show — different mediums, different subject matter — to show that it's not all a monolith, but that everybody's unique and will create art from their own perspective."
For Dominique, the emphasis on community at stackt market made it the the perfect place to display these pieces. "Something that's really important to me with the shows that I curate is that they're accessible to the public and accessible to people who might who have been systemically marginalized by the art industry. By having an exhibit in a public space that's so frequently attended…it really puts the art where people are."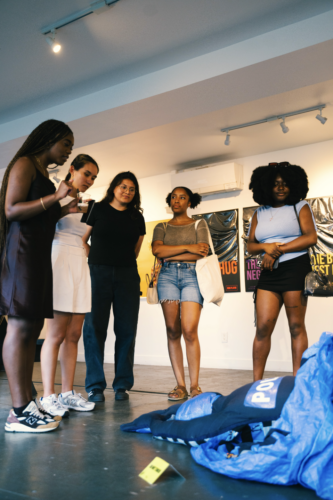 The exhibit extends the welcoming atmosphere of stackt market, instantly grabbing your attention with bold and bright pieces, pop culture references and even a nod to the Barbie movie. But beyond the bright and bold aesthetics, the medium of pop art also allowed the artists to address impactful themes.
"I love that it's a way for artists to share things that are important to them in a way that doesn't necessarily feel as heavy-handed but it can still be equally powerful—just in a way that's more fun, engaging, and colourful."
BlackPOP! Invites viewers to leave their preconceived notions about pop art at the door, to experience vibrant, unapologetic, and tongue-in-cheek pieces, and to celebrate contemporary Black artists making an impact in Toronto.
BlackPOP! Is on display now at stackt market until August 17. More info here.