Bookmarked is a new series in which She Does the City contributor, Erica Ruth Kelly, speaks to some of our favourite women about the books and stories that shaped them.
Comedian Aparna Nancherla's punchlines sneak up on you, just like the way one of her favourite books, Sideways Stories from Wayside School, caught her off guard. "I just found it out of the blue," says one of Marie Claire's Funniest Women of 2015. "I felt like I had found this magical, new way of writing."
Louis Sachar's novel, Sideways Stories from Wayside School (Harcourt Brace Jovanovich, 1978) is the first in a trilogy about Wayside School ­­— a place where supernatural events are both normal and hilarious. At Wayside, all thirty classrooms are stacked on top of each other due to a mistake during construction. The stories of the students and teachers from these classrooms interweave throughout the book and are "interesting and quirky and very unpredictable," says Aparna, who recently relocated to New York City after being raised in Washington, D.C.
Aparna – whose own deftly crafted jokes have appeared on Conan, Womanhood, and prompted Time Magazine to name her one of the 140 Top Tweeters of 2014 – was especially marked by the careful construction of the novel: "It has a sort of cleverness to it that sometimes isn't in writing for children."
How did you get your hands on Sideways Stories?
I think I was probably in fourth or fifth grade. I got it at the library, where my family and I would go once a week. I was definitely a big reader as a kid, so it was something that I looked forward to. I would always scour for new books and I was excited because I think I found this book on my own. I loved it so much. I was delighted that I stumbled on it. It felt like a real find.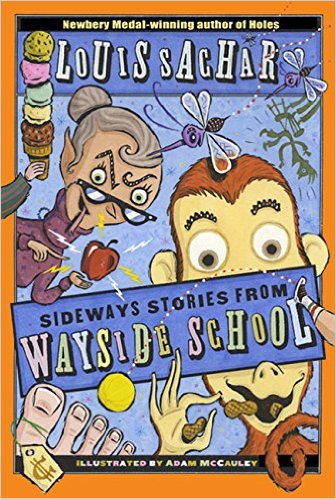 Do you remember how you reacted to it when you first read it? Were there parts of it that irked you and other parts that you really adored?
I really responded well to it. I think I loved it right away. It wasn't just the writing; it was the whole structure, built around the concept. I just loved how much thought was put into the whole book and the details that maybe were just additional things for the reader to appreciate, but it was really something that stuck out to me.
Did you respond to the macabre and more whimsical aspects of it?
Yeah, I think so. I think the acceptance of absurdity in everyday life as the norm was intriguing to me. And the fact that it went to darker places (maybe one of the first books I read that did that) piqued my interest in that way of, "Oh, this is something I don't feel I've experienced with other books."
Has it impacted your writing or your observations throughout your career in some way?
I think my comedic style is very much tinged with absurdity and whimsy. And I think that is definitely something you could cite in my work. Exploring those darker elements of our minds and our day-to-day life is something that informs my sensibility.
Was there one story in there that you recall loving more than the others?
I don't remember the individual stories as well now. But I did love that the school didn't have a nineteenth floor. It's like a thirty-storey building, but it had no nineteenth floor. So I love that in the first book there's no nineteenth chapter. It just skips. There are two more books; it's a series of three and [Sachar] addresses it differently in each one. I think in one of them he actually does a story about the nineteenth floor that exists in an alternate reality where no one knows about, it but it's there. I appreciated that level consideration for the structure of his book.
Have you revisited it recently? Do you still feel connected to the young person who loved that book?
I definitely do. It's one of those books that I don't want to go back and read because I'm afraid if I don't like it, or it somehow doesn't affect me in the same way, I'll be kind of sad about it. I feel like that's true with a lot of books; they affect you depending on the time in your life when you read them. I do feel like it captured a very specific period in my life when I was open to new ways of looking at the world. It opened up a new way of storytelling.
Aparna's new album, Just Putting it Out There, is available on iTunes.
Follow Aparna @aparnapkin and Erica @ericaruthkelly