Bria Mack Gets a Life is a show for the burnt out post-secondary grads, for the cuspies (those straddling the line between Gen Z and Millenial) and for anyone who copes with microaggressions by daydreaming about the ultimate comeback.
This delightfully wacky yet relatable comedy series premiered at TIFF last month, and the series is now streaming on Crave. Creator Sasha Leigh Henry wanted to examine what it's like to navigate the world and workforce as a young Black woman, but from a comedic perspective.
"I wanted to offer catharsis through humour," Sasha tells me. "Two big areas that we like to challenge and play with throughout the show are what's it like to be a young Black woman experiencing the world right now, and then also what it's like to be a young person in a topsy turvy world that's ever-changing. How do you find yourself amongst all of that?"
Bria Mack Gets a Life follows Bria, the daughter of an immigrant Jamaican mother and a recent university graduate. She's tired, burnt out from school, and looking forward to a break…but she finds herself thrust into the workforce sooner than she expected, and ends up becoming the only Black person working in an all-white accounting department for a corporate bank. As Sasha puts it: "hilarity and microaggressions ensue." Bria's imaginary hype girl, Black Attack, pops up in moments of stress, providing at times questionable advice and helping her cope by playing out otherworldly situations.
The premise might prompt some comparisons to Issa Rae's Insecure — but Bria Mack Gets a Life hones in on a stage of life that can be so rife with inner turmoil, growth, change, messy choices and mistakes — life after graduation.
"We have Insecure and we have shows like Girlfriends that cover the later 20s and into the early 30s. We have shows like Grown-ish, and even Black-ish that live in the teen and college space. I felt like there was a bit of a gap here…this was an area that we weren't exploring in as much detail for a lead like this."
Bria Mack Gets a Life was inspired by Sasha's life after graduating. While figuring out how to start her career in film, she took on a bunch of different temp jobs and had some… interesting experiences along the way.
"In those temp jobs, I would have these odd experiences or experience microaggressions and you have this internal dialogue of like, Do I say anything about this? Who do I mention it to? Is it worth it…because I still very much need a cheque at the end of these two weeks," she says. "I started thinking a lot about the mental negotiation that many Black women and marginalized people go through when we are in certain spaces."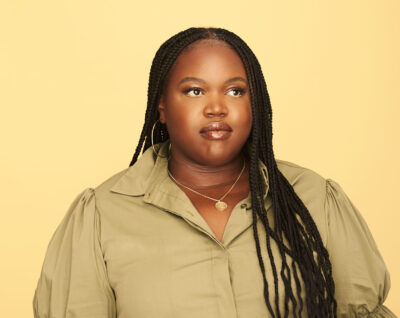 For Bria, we see these negotiations play out in real-time, often in the form of over-the-top fantasy sequences featuring her chaotic counterpart, Black Attack.
"What would it look like if you married Luther, Obama's anger translator, with the hormone monster from Big Mouth?" Sasha says. And from that, Black Attack was born. Instead of sitting in the pain that these microaggressions can cause, Sasha explains that Black Attacks gives agency back to Bria.
"Black Attack allows Bria to go to the place where she can actually play out what she'd want to do, what she wants to say, in some really ridiculous gags and setups…ultimately Bria often gets the last laugh, and that was something that I really wanted to keep front and center while crafting the show."
Sasha describes herself as "a comedy girl through and through" and her deep familiarity with the form really comes through in Bria Mack Gets a Life. Her key to a great comedy? "The unexpected," she says.
Bria Mack Gets a Life nails the injection of hilarious and wild, chaotic moments into the life of an average woman with very relatable struggles. Sasha hopes to see even more of Canadian TV lean into the wacky, and the specific.
"I'm glad that we're starting to embrace the weird, embrace the specific oddities of being Canadian," she says, pointing to Sort Of and How to Fail as a Popstar as shows that find the humour in specific lived experiences. "Comedy is something that Canada has always done well, and it's really great to see that continue to gain momentum."
Bria Mack Gets a Life is now streaming on Crave, with new episodes dropping on Fridays.