With a journalistic approach to the culinary world, Butternut Productions showcases food in its most uncensored form. Their flagship series IN THE WEEDS was recently featured when the production company teamed up with Supper Club Cinema to host a passionate evening of food, cinema, and community at Queen East's Project Gallery art space.
Supper Club Cinema, organized by Gabrielle Leith, is a monthly dinner series that pairs food with short films. Gabrielle was inspired to create this organization after attending similar events while living in Paris. "It's a great way to organically discuss the films and I think it's so important to eat with strangers."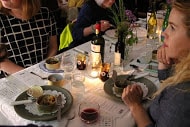 Held in the cozy yet chic Project Gallery art space, two communal tables, set for an exclusive twenty-person dinner, were accented with a runway of wild flowers between rows of wine glasses and polished flatware. Using the gallery's white walls, a projection screen stood frozen, ready to bring to life the night's short films, curated by Gabrielle on the theme of Survival. The theme was inspired by Butternut Production's IN THE WEEDS, the award-winning Canadian webseries-turned CBC Documentary Channel show, which highlights the thrill and skill of foraging for fresh food.
The first film of the evening was an extended episode of IN THE WEEDS starring chef Charlotte Langely of Scout Canning, who prepared the four-course meal we were about to enjoy, and Becky Lamb and Lee Earl of The Wild Foragers Society, who foraged the evenings ingredients from the heart of Toronto.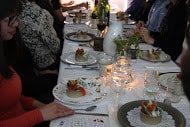 IN THE WEEDS – which started as a webseries and has since been picked up by CBC's Documentary channel – is the creation of Lindsay Kutner and Abigail Ainsworth, who together form Butternut Productions. The series takes Canadian chefs into local terroir with trained foragers to find ingredients and then prepare culinary dishes in the wild. The show's feel is young, vibrant, hip, curious, experimental and never afraid to laugh at itself. Adventurous chefs show off their knowledge of rare ingredients while displaying their creativity with beautifully coloured dishes plated on found materials. Each episode delivers sincere excitement for food, the genuine surprise of bounty in unsuspected locations, and a tasty dish, which makes the palate salivate as the chefs dig in at the end of each episode.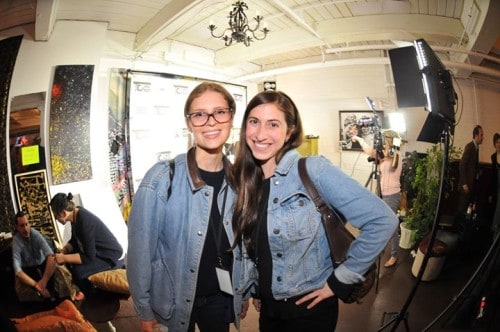 Abigail started IN THE WEEDS from her own desire to learn more about foraging. Working with chef Jamie Kennedy, Abby grew a passion for learning about local food, where it comes from, and respecting it. Initially a portfolio platform project, Abby created Butternut Productions as a way of combining her experience in the culinary industry with her background in television. Similarly, Lindsay Kutner, formally of Shaw Media, was looking for a passion project that would challenge her skills and grow her career. The two women met over LinkedIn and the rest was kismet. The ambitious women have grown Butternut Productions from humble, passionate beginnings to a full service production company focusing on food TV and web content – even having their work commissioned from such high-profile industry leaders such as Momofuku restaurants. "Today Butternut is more than just a passion project," says Lindsay. "I quit my job at Shaw Media to pursue its growth. Abby and I are both deeply invested in the company and the work that we do."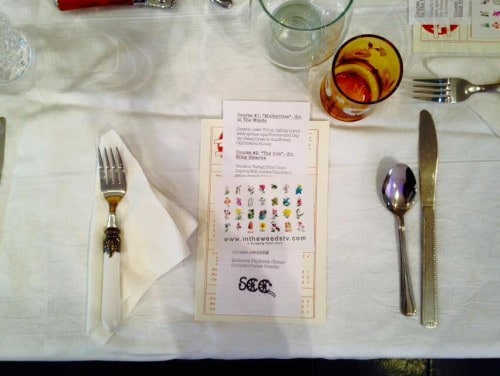 At the Project Gallery, I began to sense a new theme to the evening – Passionate Women. At the helm of each organization involved was a woman or team of women whose work had started as a passion project and grew into success. With great excitement, I shared my observation with Abigail. She nodded, and with calm poise she noted that it hadn't been the initial idea behind the event – to feature industrious women – but it was certainly an enjoyable factor of their coming together for this evening of artistry and craftsmanship.
As the episode ended, applause filled the room and suddenly discussion erupted between strangers at the table. Gabrielle's vision for the Supper Club Cinema was playing out, as organic conversations bobbed across the long tables. Strangers were coming together to talk about art, about food, and about IN THE WEEDS. I am inspired by Lindsay and Abigail's series, which very recently won awards at the Los Angeles Webfest and Toronto Webfest for Best Factual/Documentary series. This kind of bravery to pursue passion over security reminds me that life (like food) is best when bold. For these women, choosing small was never an option and they're rightfully being rewarded for their tenacity and perseverance.