Finnish filmmaker Khadar Ahmed was exiting the subway in Helsinki when he was struck by a giant photo of Canadian Yasmin Warsame, who was featured in an H&M campaign. Her look captivated him, and inspired him to track her down. It wasn't easy, but once he finally had her email address, he sent her The Gravedigger's Wife script, which he wrote, and requested that she read it. "I loved it. I called him right away, and we spoke for hours," says Warsame, who agreed to take on the role of Nasra. Her performance is breathtaking—you'd never know that it was her film acting debut.
The Gravedigger's Wife is a film with many firsts: Warsame's co-stars, Omar Abdi and Kadar Abdoul-Aziz Ibrahim, who play Nasra's husband, Guled, and son, Mahad (respectively) were also first-time feature film actors—all three are outstanding in their roles. The Somali language is the only language spoken throughout the film, marking another first for the powerful film.
Set in the outskirts of Djibouti city, the film tells the story of a family in crisis. As a gravedigger, Guled makes very little money, which means he is always anxiously waiting for someone to die. Supporting his family is an enormous struggle, especially with Nasra's compromised health. When her condition worsens and its discovered that only a $5000 operation will save her, both Guled and Mahad desperately set out to find the money they need.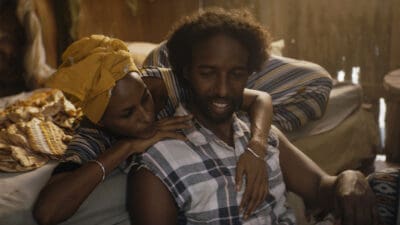 "In Africa, many people die for tiny things. The health situation in sub-Saharan Africa is crazy," Ahmed explains, sharing that it was an unnecessary death in his own family that inspired him to write the film. The director's childhood was spent in both Somalia and Ethiopia, before he moved to Finland. Inequity and the devastating aftermath of colonialism are themes the director set out to explore in The Gravedigger's Wife. "An operation like this would be easy to obtain in Western countries. In a postcolonial world, people have decided to look away."
For Warsame, the tough subject matter of the film was life-changing. "I came back and I quit smoking, and that was because of that role. Nasra was struggling not because of something she had caused herself, but the circumstances of life had caused her physical body to deteriorate," she says, sharing that after playing that role, she could no longer square the fact that she was spending money on something that would knowingly harm her body. "I couldn't continue doing that. Nasra has affected me."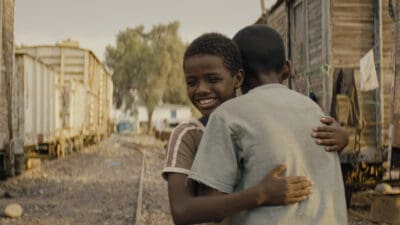 In an industry preoccupied with stories about wealth (how many films and series have been made about The Royal Family?) The Gravedigger's Wife offers a much-needed perspective, but it's also an achingly moving love story that feels incredibly authentic, an achievement in film that is rare, and a testament to both Ahmed's writing and directing, but also the remarkable acting. "We didn't need to take our clothes off or make out or show our body parts, we did it in a way that communicated more deeply than touch," says Warsame, gushing how much she enjoyed the love story between her character and Guled. "Emotional lovemaking, emotional connectivity, emotional oneness… that is a lot better than an orgasm, sometimes."
Their chemistry is palpable, and with so little acting experience, it's impressive how authentic the relationship feels. Warsame admits that she has surprised herself. "I didn't think I could do it, but Khadar convinced me that I could. He guided me and helped me and worked with me to help bring this out of me. I didn't see it."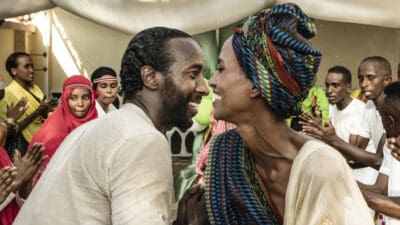 For Warsame, shooting in Somalia, where her family is from, was a gift. "Somalia was familiar, even though I hadn't been there since I was young. The people were familiar, she [Nasra] looked like people I knew. She spoke like people I knew. That was the easy part. The hard part was getting out of the way to let Nasra come in. The self conscious Yasmin would sometimes get in the way," she says, adding, "It was always a wrestle." Perhaps, but it doesn't show.
The film had its premiere at TIFF last night, and the Somali community in Toronto showed up to celebrate. The film is an absolute triumph and shares a portrait of a fiercely committed and loving family that is both gut-wrenchingly tragic and beautiful. These characters will be remembered by all who witness them, or as Warsame says, while holding back tears, "Nasra has affected my life. She has made me a better person."