This month, Canadian Stage is presenting the multiple Tony Award-winning family drama The Humans, written by OBIE Award winner and two-time Pulitzer Prize finalist Stephen Karam. Directed by former Shaw Festival Artistic Director Jackie Maxwell, the play probes the dynamics of a middle-class family whose very fabric is fraying at the edges.
We spoke with Maxwell about The Humans, her work as a director, and how the Canadian theatre community can move forward in the wake of #MeToo and #TimesUp.
SDTC: What drew you to The Humans?
JM: First of all, I love the writing. I think it's brilliant. It's a kind of hyper-realism – a play where nobody leaves the stage. There are no blackouts or interference. Six people – in this case a family – come on stage, and for ninety-five minutes their story happens. What it means is you have to create a bold and detailed journey for every one of those people at all times. It's on a two-level set, like a dollhouse sliced in two. So you have at least three, sometimes four little scenes going on at any one time. It's a great challenge, both directorially and for the actors. It takes a very well-known trope and presents it in this incredible detail and allows us to see all the relationships, both separately and together.
The other thing that starts to manifest itself – what makes it so pertinent to today – is incredible anxiety. The world, the so-called middle class world they live in – is really fraying at the edges.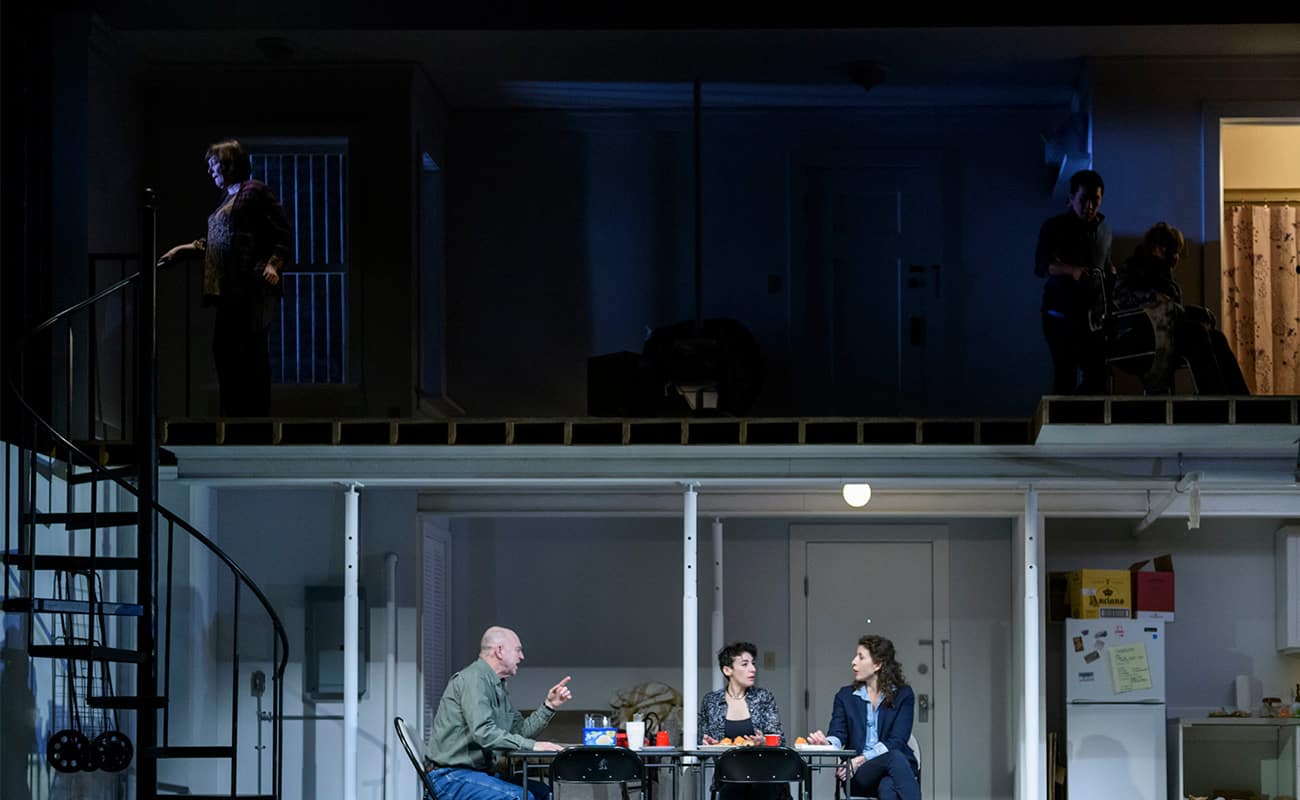 What do you hope people take away from The Humans?
Death, to me, is people leaving the theatre and turning to each other and going, "So…where do you want to go for a drink?" To me, people should be coming out of the theatre arguing, re-calibrating, clarifying, rethinking – anything where you'll know that the play made them stop and think for a moment. This play has that. It has an ending that can be translated in many different ways. And I think the level of relatability is really huge in this play.
Did you always want to be a director?
I wanted to be an actor. I was born in Belfast and joined a youth theatre there. I got the bug and became "the kid" for the local theatre company whenever they needed a kid for their shows. I went to the Manchester University drama department. What I started to realize is that the building of the play – the putting together of the world – kind of suited my brain better.
Good actors have to be their own advocate. They have to be kind of mono-focused. It's not as if they don't know the world of the play, they do, but they have to really be very focused on themselves. Whereas a director gets to focus on the whole thing. I enjoy that. It's very macro to micro. You have to decide what it looks like overall, how it moves, how it shifts. I have a more magpie kind of brain that seems to respond to that. I realized directing was a mode that keeps me happy.
Why aren't there more female directors and artistic directors?
Good question. It's interesting – when I started here in Canada in the late 70s, there were chances. People were open to talking to you. I became an assistant to the artistic director in the National Arts Centre. I became a very good assistant, and the danger of that is you can become a really good assistant and never actually do it. But the male artistic director, John Wood, encouraged me to actually direct.
It's not that I haven't had really strong relationships with male directors and male artistic directors, but to actually get in one of those positions of power – boards are part of that. A lot of times, boards are very male-dominated. That can be an issue. If there are fewer female artistic directors, it is also likely that there will be fewer female directors.
When I became the AD of the Shaw Festival, in my first year, I hired seven female artistic directors out of eleven plays. I have to say, the reaction – you'd think I'd set off a nuclear bomb or something. I'm talking about people like Martha Henry and Eda Holmes here. I didn't go and drag women off the street and tell them to direct. I was very clear when I went up for the job. I said I want to get the female voice, I want the female voice in programming, I want more female directors. The frustrating thing is, it's not that there haven't been any, but we just don't seem to increase.
Did you have to work extra hard as a female director to prove yourself?
Oh, absolutely. A lot of eye-rolling. Even though I was someone with a pretty strong reputation, the word "feminist" was used as a kind of worrying epithet as opposed to a complimentary one.
My first board chair on the Shaw was a wonderful man who was a great supporter and someone who really helped me. It's not that I have only ever been supported by women, but in the board room, I had to make myself sound ballsier than I am to get something done.
I'm a pretty forthright person, I'm Irish, I'm used to not taking things lying down. If something doesn't seem right, I encourage younger women to speak to it or of it in the moment.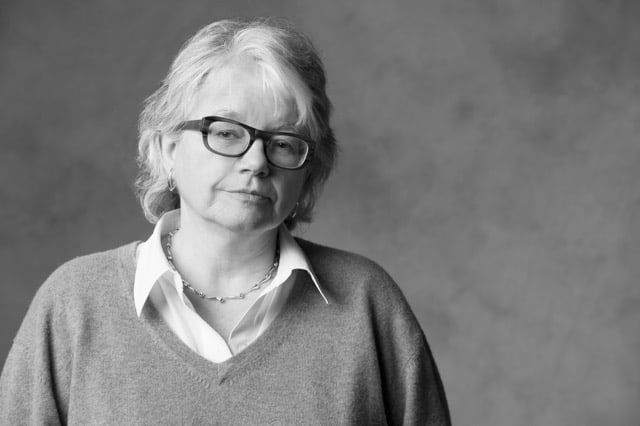 If you could go back and tell your younger self anything, what would it be?
It's not that I didn't make mistakes, but I wouldn't change much. One thing I had, and still have, is a real optimistic belief that somewhere I would get my voice heard. You have to have that in the theatre. At times you feel like you're Charlie Brown with the football and you're just going to constantly fall over. I'm a realist but an optimist.
For me, it's about voices. It's about letting voices out into the world that haven't been heard. At Factory Theatre, I arranged to translate the work of Quebec writers because we weren't hearing those voices. I brought in the guys from Sioux Lookout, including Tomson Highway. Female voices, too – these voices have to get out. I have great, fond respect for the fact that I did believe and I did keep fighting.
A lot has happened this past year, with #MeToo and now #TimesUp. What needs to happen in the Canadian theatre landscape to repair the trust and support each other better?
There's a lot of conversation happening and I think that's very vital. I'm a member of a group called Got Your Back that was started by Martha Burns in her living room in the fall to encourage women in the theatre to get together and talk in private. To not have to do it under a big media spotlight, and to not do it in reaction to a specific thing that was happening, but to start talking.
What are our rights? What is our association doing for us? The conversations have been extraordinary and moving. Real conversation – people opening their hearts and minds – is vital. We need to know where we stand before we just jump into situations. Information is hugely important. We have to empower ourselves in order to present ourselves and really be empowered across the board.
Have you witnessed a drastic change?
Things have changed; there is no doubt. [We've] opened Pandora's Box and that lid is not going to go back on. But I think it's up to all of us to follow this and ask how we move forward. How do we create safe spaces? Sometimes you have to be very vulnerable. I pride myself in having a rehearsal hall that is open, where people can be vulnerable in the appropriate way. We have to get our voices out, and we have to really make sure our conversations are heard. Of course there is going to be a backlash, there always is, but I think we can handle that. I feel extremely cautiously optimistic.
The Humans runs February 6-25 at Bluma Appel Theatre (27 Front St. E). Get tickets here.