Certainly one of the most magical evenings on Toronto's social calendar, CANFAR's Bloor Street Entertains turns the Bloor-Yorkville corridor into an evening of glamour while raising funds for HIV and AIDS. Back for its second year, Twilight and Twilight+ brings the best of Bloor Street Entertains to Toronto's trendsetters with a pre-dinner party followed by an elegant stand-up cocktail dinner.
Every year, the event transforms venues into exquisite dining spaces. This year, Twilight+ guests will be treated to a stand-up cocktail dinner at DIESEL on Yorkville Ave or the ROM Dino Gallery. The night promises sumptuous delights from Toronto's top chefs, top performances, an impressive silent auction and one unforgettable party that kicks off at twilight.
Grab a date or your best girls and don't miss out on this spectacular event to support HIV and AIDS research. There are still tickets available to purchase or you can try your luck by entering our contest!
CONTEST! Enter to win tix to CANFAR's Bloor Street Entertains Twilight+
Shedoesthecity is excited to share that we have partnered with CANFAR's Bloor Street Entertains to run a contest in which we will give away 3 sets of tickets to join us at the ROM Dino Gallery! There are two ways you can enter:
Enter on Twitter by tweeting, "Dear @Shedoesthecity, I want to experience the magic of @CANFAR Twilight #BSE13! Please send me and a guest on Nov 27th!"
Send us an email at contests@shedoesthecity.com and tell us why you'd love to attend this year's Bloor Street Entertains.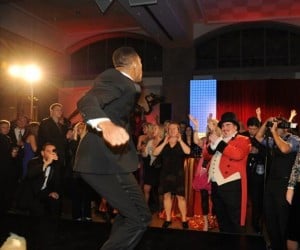 For more information about the event, or to check out photos from past years, visit www.bloorstreetentertains.ca.
Twilight Pre-Dinner Cocktail kick off at 6:15pm. The Dinners and Twilight+ will begin at 8pm. Dress up, support a great cause and have fun! At this time of year, Bloor-Yorkville is aglow! Kick off the holiday season by giving back; we know you'll have the best time.