Jessyca Greenwood is a criminal defence lawyer at the female-led practice of Greenwood Lam LLP. She focuses her work on defending families with mental health issues, addictions and special needs. In addition to being an advocate for mental health awareness, Greenwood is a huge supporter of the advancement of women in law as well as helping those in need through pro-bono work (including for women leaving abusive relationships). Most recently, Greenwood won the Notable Woman award presented by Deloitte.
SDTC: What got you interested in practicing law?
JG: I was interested in working with people who were in vulnerable situations. I did a lot of advocating for my younger brother who has special needs. That was something I learned from a very young age – the resources available to people with special needs, and sometimes the lack of support that's available in healthcare and the mental healthcare system.
Certainly, growing up with a sibling with mental health issues/special needs in the 1990s was very different than it is now. There was a lot less support and a lot more stigma. That was my exposure to that area and it sort of naturally progressed into something I saw myself doing in my career – helping people, working with clients. I never saw myself being a corporate lawyer on Bay Street; I saw myself as the type of lawyer that fought for the underdog and took on unpopular causes and unpopular clients.
I went to Wilfred Laurier University in Waterloo and did my undergrad in Political Science. I went to law school at University of Windsor Law. I began right away in first year volunteering at the legal aid clinic that the school runs. I worked there all three years of law school.
What was the most compelling case you worked on at that clinic?
I had a few domestic violence cases that were very interesting. The clients had a number of serious mental health issues. I was able to learn how important it was for people to have an advocate. Even if it was a student and not a lawyer, having someone in your corner is so important, because going to court – being charged – is such a stressful event. It's very difficult to go up against your adversary and explain your position when you're talking about your own life. You need someone who can help you explain your position.
I quickly realized the importance of people having a lawyer. I learned about the power imbalance that happens when people go to court and how being unrepresented puts you at a real disadvantage.
How can the system be changed to better support vulnerable people?
The criminal justice system needs more resources. It's very reactive rather than proactive. There are a lot of counselling programs and rehabilitative programs that people could be doing if the system were better funded. Hopefully, that would see them not come back to court. Instead, we see people coming back to court, they fail, and we punish them for failing. To me, that system of punishment is just not working, especially for people who have diminished capacity because they have mental health issues. That system doesn't work, and it doesn't deter people from committing crimes. For example, my clients who are mentally ill or addicts – they will steal from the LCBO, get caught, go to jail, then go back and steal from the LCBO again. Clearly, the arrest and the punishment is not working. There are things we can be doing to support people in the community and address the social and underlying health issues that lead people to come into conflict with the law. Things like housing, proper health care, getting their medication, counselling.
Take domestic violence for example. In a lot of those situations, people are under a tremendous amount of stress and they don't have a lot of support. Not every case that comes before the court means that the person is a chronic abuser. It could have been a bad decision that happened on a really bad day in their life. They need support to get their family back and work on themselves and make amends. I think that the system is set up to be adversarial, where the two sides are against each other. Sometimes that doesn't benefit the community [or protect] the safety of the public. Jail isn't fixing people's problems.
We like to paint the abuser as the villain, though.
It's really [easy] to hear one side of the story and think that's all there is, but I've worked with all sorts of offenders and accused people – everyone has a story. Even people who do really do bad things. Everyone has an interesting story and an interesting background that brings them to where they are. I would say that for most people – even for people who have done terrible things – they didn't expect to be here. There's some history or some trauma in their life that contributed to their story and where they ended up.
Has this job shifted your view of human nature?
I try not to over-generalize or over-simplify people's situations. That's something I've learned as a lawyer – not to judge the situation immediately but to take a step back and look at all the different factors and influences that have contributed to where this person has ended up. I think that's part of what I had to realize. Life, and people's own experience, is a lot more complex than we can understand at first instance.
What is the biggest challenge you've overcome in your career?
One of the biggest challenges is trying to balance running a business and having a family. I started my business in early 2010, and then two years later I had my first child, and three years into my practice I had my second child. It was a lot. It's a challenge because of your own physical resources and what you're able to do, and there isn't a lot of support in the system for lawyers who have a full practice and a family. That's one of the things that the profession could do better but is trying to address.
Can you walk me through a typical day?
Every day is a different situation and as a defence lawyer; you have to be responsive to a lot of different situations. Typically, I wake up in the morning and try to make it to my 7 a.m. gym class. Then I head downtown to my office. I make it there for 8 a.m. I'm in court by 10 a.m. each day, whether I'm in a trial or dealing with a bail hearing or administrative appearances. Then I'm back in the office in the late afternoon to meet clients and deal with office work – correspondence, client meetings, letters, phone calls. I try to make it home so I can see my kids before bed. When I'm in trials, it's even more crazy – I come in quite early and leave late.
How do you prevent burnout?
It's a big issue in the profession. I try to mix up the different things I do with my time. I also do some board work and some adjudication work that involves sitting in hearings. I also do some teaching and writing. I also have two junior lawyers that work with me and help me with the practice.
What is a misconception people have about lawyers that you would like to dispel?
I think a lot of people think that lawyers just do this job for the money. For me, it certainly isn't about the money. I do it because I feel it's important and the clients that I get to work with – some of them have really incredible success stories where they've completely turned their life around. It's an incredible experience – it's very meaningful.
What is your advice to other women wanting to run their own law firm?
Have a niche. Figure out what you're good at and figure it out early on because it allows you to build on your successes. If you have an area of law that's your specialty, you can develop that and become the expert in it. That will help you build your brand – you can write about it, you can be asked to speak, and build your profile.
Learn how to run a business. Learn about marketing, ROI, learn what it means to run a business and all the different parts of that. Get a good bookkeeper and spend the smart dollars where you're going to get clients and get business out of that.
Have mentors. Find the people in senior positions who have been there and done that in all the different aspects of your business, whether it's HR, figuring out how to get more clients, or a problem with a case. You have to have a rolodex of 5 to 10 people that you can call on if you have a problem, because it can be very lonely running a business by yourself, and it's important to have support.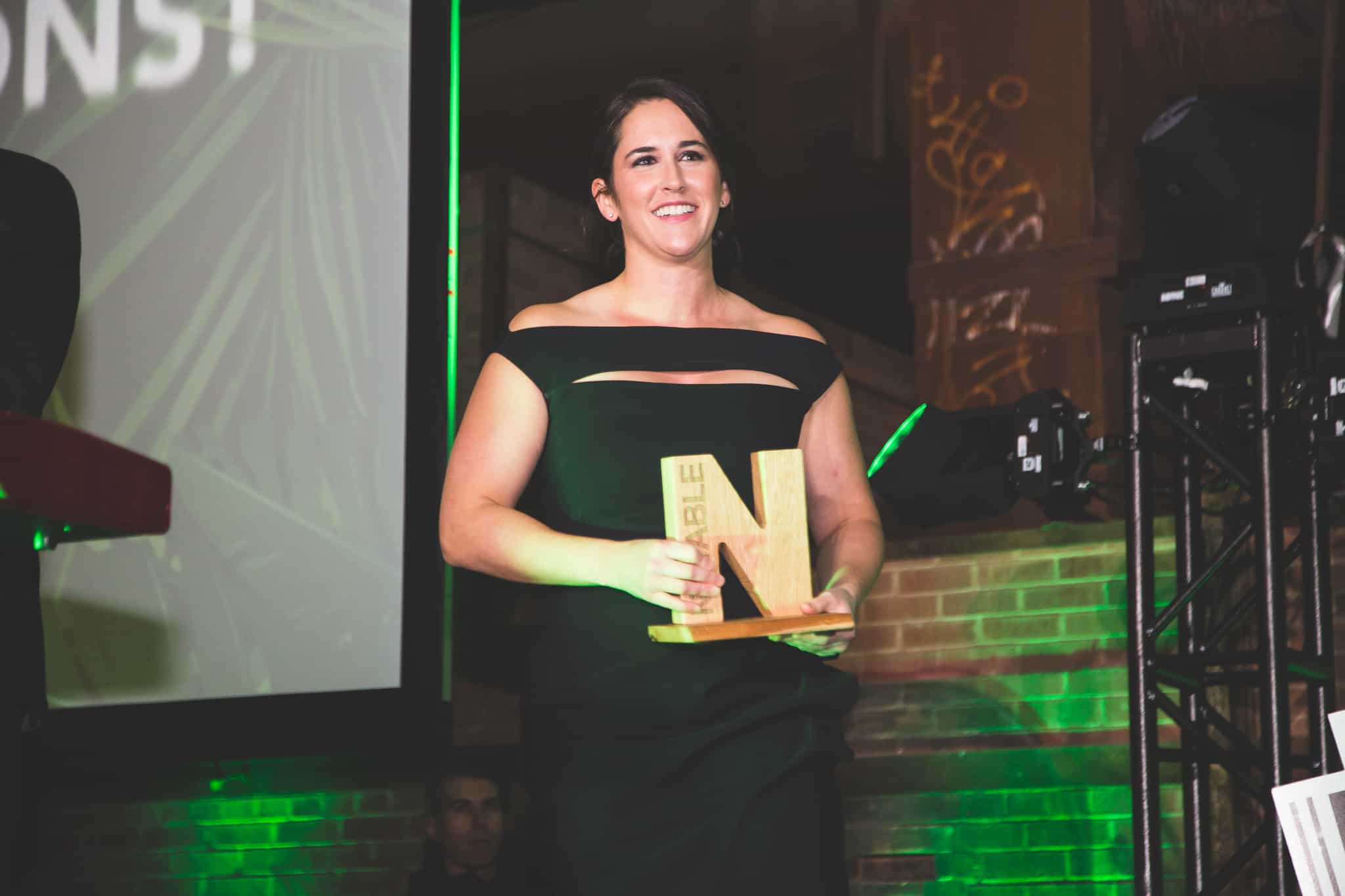 Were you surprised to get the Notable Woman award?
I was in the crowd taking a video of who the winner was going to be and they called my name. I was flabbergasted – completely shocked. It's a really big deal that Deloitte is doing something to acknowledge women in the profession. It was very cool to be honoured in this way.