Toronto-based artist Caroline Ji creates moody and atmospheric paintings that explore the solitude stemming from introversion. She draws inspiration from life and people around her, as well as her own memories and an awkward understanding of cultural identity through the lens of being both Canadian and Chinese. A self-taught artist, her work is influenced by Classical painting and the Old Masters, but she has gradually evolved to step away from traditional realistic paintings to explore more abstracted ways of image making.
She recently exhibited her work at the Toronto Outdoor Art Fair. We chatted with her this week.
SDTC: You pivoted from Electrical Engineering to becoming a self-taught professional artist. What prompted that shift?
CJ: The decision to switch my career occurred to me during my last year of undergrad in engineering, and it sat on my mind for a long time before I actually did it. I've always liked drawing and painting, but was not raised in a family that encouraged it as a career. However, without sounding too cliché: Life is short and our time here is limited. I felt that the longer I waited, the harder the switch would be and the more I would've felt like I "had to lose." After graduating, I worked as an engineer for about a year and a half before I left that career to begin painting.
As with anything, the switch has had its ups and downs. I basically traded financial security for fulfillment. I enjoy painting and being able to do it for a living gives me great joy. However, the long and enduring periods of self-doubt and financial insecurity are persistent things that I face and must learn to deal with.
What is your earliest memory of experiencing a work of art that moved you? What is your current favourite work of art?
My earliest memory was actually through the movie Titanic. The scene where they showed a closeup of Monet's Water Lilies – I saw that when I was maybe ten years old, and couldn't get it out of my mind. Many years later in my adulthood, I saw the giant waterlily triptych in MoMA NYC and nearly cried. Currently, I'm really enjoying Gwen John's portraits and the photography of living artist Quentin Shih.
Walk me thru your process to creating one of your paintings.
The inspiration for my work comes from my internalized understanding of life and people around me. I paint my friends, and a certain amount of inspiration is drawn from the model and my relationship with the model as well. I keep a mental library of things or moments in my everyday life that move me, and try to recreate the feeling in a painting later. The final painting will sometimes deviate from my initial idea from an image making point of view, stuff will get moved around for a better design and composition. The initial emotional content usually stays the same.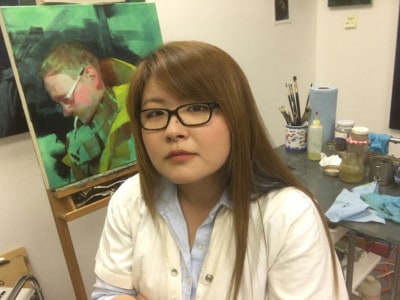 Walk me thru a typical day in your life.
On a typical day, I wake up around 10 a.m. and make myself a cup of coffee. I check my email and social media accounts as I review my to-do list for the day. Once I get to the studio, I begin painting and any other studio tasks that need to be done. I work in bursts and take frequent breaks, and I am a night owl. I usually finish up anywhere between midnight and 3 a.m., and have a general to-do list in mind for the next day.
What do you love most about painting as a medium?
There are many things I love about painting, but if I had to pick one it might be that painting is a collection of the artist's thoughts and decisions. The artist's intentions are revealed in each brush stroke–what the stroke was meant to do, if it achieved its purpose, if the artist changed their mind later and changed it, etc. Personally, I really appreciate decisive, succinct painting and it gives me great joy to see artists who are able to effectively and efficiently say what they wanted to say with the painting.
What is your mantra these days?
Everything is what you make of it.