ATTN: Expecting moms.
Get cozy, grab a snack and fill out a Hug Plan as soon as you're done reading this post. As a first-time mom who gave birth just over a month ago, I can tell you with a fair bit of conviction that you'll be very glad you did.
Whaattt is a Hug Plan, exactly? Huggies has come up with the No Baby Unhugged initiative to help educate new parents about the physiological and psychological benefits of skin-to-skin hugs for newborns. Just think of it as an extension of your Birth Plan.
Birth is a beautiful yet completely unpredictable experience. You NEVER know how things might go; I ended up with a C-section after a textbook pregnancy and labour, and there's a very good chance that my wishes for immediate skin-to-skin would have been derailed in the chaos if I didn't have a Hug Plan in place.
The Hug Plan asks mom nine questions about her post-birth preferences and covers everything from timing (do you have your heart set on doing skin-to-skin before or after cord is cut and clamped?) to her birthing garment, because logistics! It's an excellent tool that helps Mom figure out what she wants and helps her support team advocate on her behalf if necessary. In my case, answering these questions allowed me to better visualize those first few precious/challenging/beautiful hours and set intentions, which helped me to stay chill and present on the day. (As much as possible, at least.)
Need a bit more convincing? There are SO many medical benefits to hugs and human touch. In fact, there's increasing evidence that skin-to-skin contact helps us form stronger and more affectionate relationships later in life, in addition to all the amazing qualities it fosters in newborns, like helping to build self-esteem, develop trust and attachment, regulating sleep and stress hormones, the list goes on and on. For a more in-depth understanding, you can download The Power of Human Touch for Babies, a whitepaper developed by researchers detailing all of the benefits of skin-to-skin for babies, here. And, you can fill out the Hug Plan on nobabyunhugged.ca.
CONTEST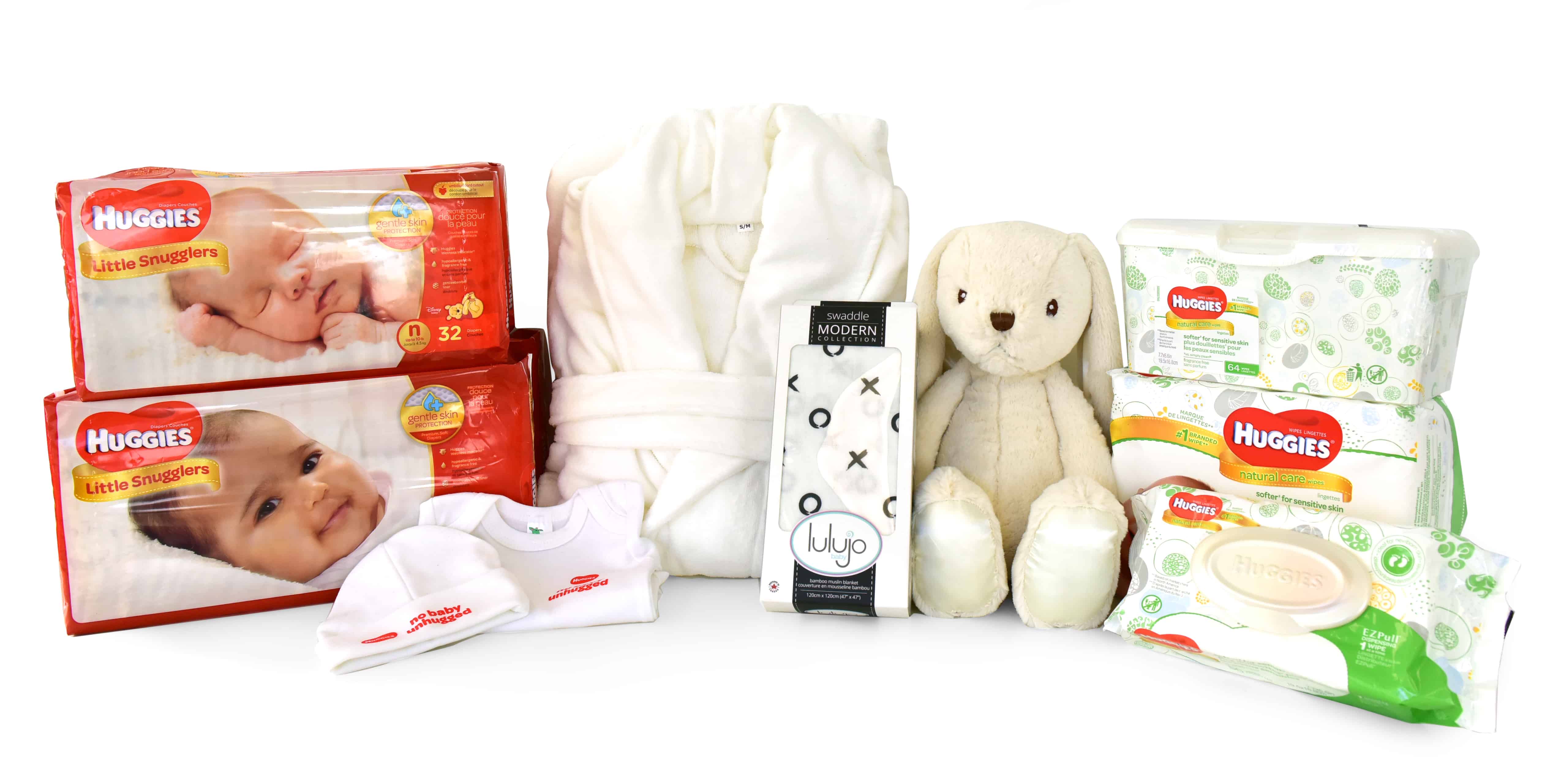 One lucky mama will score this sweet Huggies Care Package valued at over $100! What's in it?
Huggies Little Snugglers diapers (4 x packs of respective size determined by contest winner)
Huggies Natural Care Wipes (1 x refillable tub, 1 x refill pack, 1 x travel pack)
A robe for mom and swaddle blanket for baby (items to help enable hugs!)
An adorbs stuffed animal
A No Baby Unhugged onesie and hat (only available in newborn size)
It's the perfect treat for Mom and Baby, and there THREE ways to enter!
To enter on Twitter:
Tweet: "Hi @shedoesthecity, please hook me up with a @HuggiesCanada Care Package, I can sure use some extra diapers! #NoBabyUnhugged #NationalHuggingDay"
To enter on Facebook:
LIKE + COMMENT on this post.
To enter on Instagram:
LIKE + COMMENT on a pic from this post.