BodCon 2021 sponsored by Knix, is the first and only virtual conference focused on Body Confidence and the movement towards radical self-acceptance.
Happening this Sunday, the event will bring together 40+ presenters with many being Canadian, including Sarah Nicole Landry (@BirdsPapaya), Raia Carey (@Coach.Carey), and TikTok phenomenon Alicia McCarvell. The digital platform also allows several international guests to patch in, and we were able to connect with UK influencer Chaneen Saliee (@chaneensaliee), who is thrilled to be joining the digital symposium from her home in London, England.
Chaneen has gained a loyal following for her piercingly honest documentation and sharing about motherhood. Her following isn't as massive as other BodCon presenters, some of whom are pulling in numbers over a million, but her impact is significant, and has earned her the title of #1 Mom Influencer in the UK. "At the time, I think I had like 5000 followers. I always thought it was a numbers game: the more followers you have, the more of an impact you're making. But it didn't matter, because the way that I was sharing was enough for women to vote me to be the top of that list and it's just been a massive honour." She's proof that influence comes with authenticity.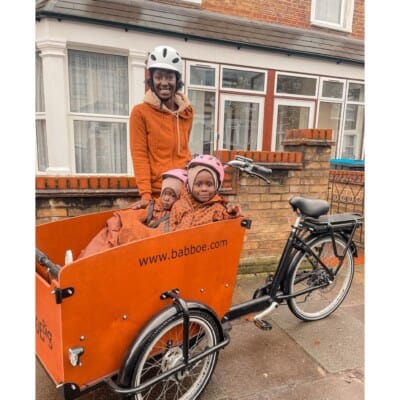 Motherhood, on social media, is a space dominated by white women; Chaneen is changing that. "I recently shared that being a Black woman in this Instagram industry of motherhood, where it is predominantly white middle-class women, meant that I didn't fit in. And there was a lot that I never said, because I didn't fit in." But gradually she began putting herself out there, and as a result, Chaneen receives countless messages of gratitude and thanks from mothers who've never dared to do the same, but take great comfort in knowing that they aren't alone.
Sharing her story has been incredibly powerful, and not just for her own sense of self worth. "It's massively valuable and it has to do with culture. Most of my family thought I was nuts for putting myself out there in any way. the wrong thing out there it's going to mess you up. We have to work harder as Black people. You're told all these stories when you're growing up and it's like 'OMG, don't do anything. Don't say anything. Don't even take a picture!' There's this whole idea of always keeping things under wraps, that saying the wrong thing can get you in big trouble, and prevent you from getting jobs."
With a striking palette of black, brown, pink and orange, in every hue, Chaneen's feed is aesthetically beautiful but she believes it's her words—that range from poetry to vulnerable thoughts about motherhood—that have enabled her to grow her audience at an impressive rate. "My captions are so long!" she laughs. She has a lot to say!
"For a long time I doubted myself and I never thought anyone would want to listen. I would speak, but I never put much confidence behind what I was saying…everything was a question. Now, people want to hear what I have to say. I am valuable. My existence and experience is valuable, and so is everybody else's."
Chaneen is not afraid to tackle any subject, and in between posts that show her girls in sweet matching outfits and big smiles, she discloses how she's dealt with intrusive thoughts or gets real about systemic racism.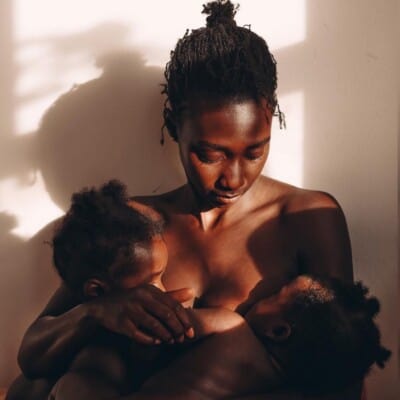 It's not just her words that are vulnerable, Chaneen's photos show the naked truth of motherhood. From stretch marks on her belly to tandem breastfeeding, her pictures acknowledge and celebrate the full scope of being a mom—in body and spirit.
While the response is overwhelmingly positive, she does get nasty comments. "I've had people say 'You're disgusting! You're breastfeeding your child!" or "Why is her boob so small?" or things like that. There's a lot of ignorance out there, and it's that person's issues with themselves or with whatever, so I continue floating on."
Ignoring the insults is not something she could have easily done years ago, when she struggled with loving herself, but sharing her story has been healing. "It's given me a lot of insight into the fact that I am never alone," says Chaneen, who has found strength through solidarity. She can't wait to connect with other change-makers at BodyCon 2021, "It's everything I love, self love, body confidence, and that's what I want to teach my daughters."