Running from September 27 to 30 at Factory Theatre, Shades is a powerful performance set to a soundscape of pulsing African rhythms. Distinguished creator/choreographer Esie Mensah and an ensemble of six artists will daringly explore shadeism through dance.
Between her work at Soulpepper Theatre and Shaw Festival, as well as teaching varying levels of students across the GTA, Mensah has built a reputation as one of the city's boldest choreographers and is celebrated for her unique style of Afrofusion choreography.
We can't wait to see how Mensah chooses to tackle sensitive issues through choreography and participates in an act of healing by drawing on her own life experiences. We don't believe a performance quite like this has ever been staged in Toronto.

We caught up with her to discuss everything from her artistic process to dance as a tool for survival.
SDTC: For those who aren't clear, how do you define shadeism?
EM: Shadeism, also known as colourism, is a form of prejudice or discrimination in which people are treated differently based on the social meanings attached to skin colour. Many say Alice Walker was the first to define it, and she describes it as "prejudicial or preferential treatment of same-race people based solely on their colour."
Please share with us the birth story of this production. Was there a particular incident that drove you to create Shades? Or was it a slow build that you've been thinking/planning for years?
The inception of Shades was a slow build. The idea developed over time from multiple experiences that I couldn't ignore. Feeling a lack of opportunity because of my shade was a regular occurrence at that stage in my career and life. I can't recall what specifically occurred to bring it to the forefront of my mind, but it officially took shape when I was on vacation in Barbados and Turks and Caicos in May 2016. I started asking questions and researching the subject and realized how many people dealt with this issue. The biggest revelation was that it was happening in silence. Trying to bring that silence forward was a blessing and a curse. I did not know what to do or how to put it together as too many questions flooded the surface.
My biggest challenge was how to put this into movement on stage with dancers and not make it look like a typical dance show. I constantly feel like a student in this process of creating this work. I can never say I 100% knew what it would turn out to be. All I knew was that I wanted to get to a space of healing with the work, and I think I've achieved that.
When you set out to choreograph the piece, what were the main goals that helped you design it?
[In] Shades, which is different than my last show, ZAYO, I explored movement and how that can translate a conversation between bodies. It's not a piece of work that has elaborate choreographed sequences, because it doesn't call for it. It was necessary for me to develop these characters and honour what their stories and voices are. Creating movement or exploring movement that would support the piece was my focus.
A major goal was who I needed in the room to give the work the love that it needed. I had to choose people that were invested, connected and could challenge me and the work to create the best thing possible. Working with D'Bi Young Anitafrika as a mentor on this project was monumental.
A lot of trauma surfaced for the team during our creation week, and I didn't feel prepared to tackle it. Having D'Bi on board allowed for her to help facilitate the conversations I didn't feel prepared to have. She gave the team the knowledge and questions for us to ask that can truly make a big difference in the depth you can reach with this work. She raised the bar for all of us and set the tone that would change the course of the process, all within one week.
My other two collaborators are Akosua Amo-Adem (director) and Debbie Wilson (dramaturge). Both of these women have challenged me, my dancers and the work. I couldn't have created this piece without these two sharp eyes to see what I couldn't see, since I am dancing in the piece. A simple request has made the world of difference and most of all has given me the chance to present the piece I always wanted.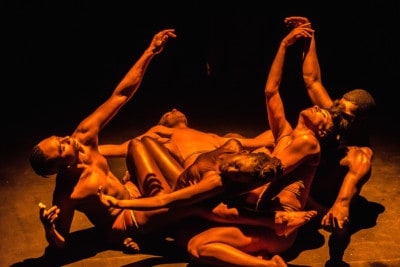 What discoveries, personal or otherwise, have you made since first embarking on this project?
I discovered so much of myself during the two years of creating this work. I've shed more than I anticipated so I could turn around and give more in return. I've poured myself into this work, and the timing for its birth is almost here. I've finally arrived, and Shades is ready to bring a conversation to the world.
How does dance help you survive?
It heals me even when I'm not expecting it. It makes me stronger when I feel weak. Dance has given me my passion and my purpose.
What can audiences expect when they attend Shades?
I keep thinking of this question and keep coming up short with an answer. I think the only thing I can guarantee is that they will feel something. Whether it's anger or remorse, sadness or love, the piece will ignite a reaction that will be supported by conversation.
Having a talkback after every show is necessary because we need to discuss what has happened! I don't think it's fair to give you all that we will give and expect you to go home and not talk about it. That ain't friendly! As communities of colour, I feel we don't talk enough, and this piece will spark a needed conversation.
What conversations or ideas do you hope to spark?
The conversations that Shades can spark are endless. There is a deep seed that lies in the stomachs of many people of colour who have suffered or gained at the hands of shadeism. By exposing shadeism you also shed light on racism, anti-black sentiment, colonialism, sexism, classism, patriarchy and more. The spider web connected to shadeism is endless; everything feeds into one another.
Shades runs at Factory Theatre September 27 to 30. Don't miss out on this powerful performance. Reserve your tickets today.