Sober or sober curious? You're going to want to visit the Clearsips pop-up at Stackt Market, running until November 27. Explore a shipping container full of beautiful non-alcoholic wines, beers, spirits and RTD (ready-to-drink) NA cocktails, and find something special for the table.
Clearsips is a very cool Canadian company with an inspiring story. It was founded this past spring by the Thompson family, who understand firsthand what it feels like to be sober in a world obsessed with alcohol (3 of the 4 family members are sober, and the other is sober curious). We love how they're on a mission to disrupt and revolutionize the market, ensuring that non-alcoholic choices are just as appealing and special as alcoholic ones.
In the Clearsips shop you'll find premium non-alcoholic offerings from all over the world, as well as some beloved homegrown brands like Quebec's Sober Carpenter and British Columbia's Nonny beer. Other labels include wines from Oddbird, L'Arjolle, Le Petit Chavin, Luminara and Sin Zero; spirits from Monday and HP Juniper; and RTDs from HP Juniper, Piquette Zero, Cipriani and Edna's Cocktails. Talk about choice! The days of being limited to sparkling water, soda or an extremely sugary Shirley Temples are long gone.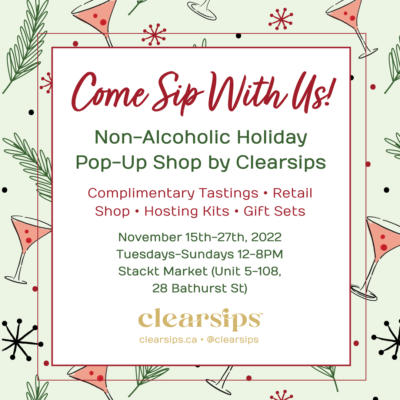 It's important to remember that not everyone drinks, and people choose sobriety for a wide variety of reasons. For some folks, drinking was having a negative impact in their life, and a change was necessary. For others, it's about choosing a healthier option. And then there are those who choose non-alcoholic drinks because they prefer the taste, or don't like feeling tipsy. There's also designated drivers, people who want a break from hangovers, those who abstain for religious reasons, or because they are on medication or are pregnant… There are literally hundreds of reasons why someone may not want alcohol.
While in years past, sobriety may have been met with an "I feel sorry for you" sentiment, or a remark that insinuates that you're missing out on the fun, things have (thankfully) changed. We've finally arrived at a place where choosing sobriety isn't seen as some weird or awkward thing, because it isn't! It's a strong, healthy, and admirable choice.
We're so thankful that Clearsips exists and are grateful that the sober movement shows no signs of slowing down. Visit the Clearsips pop up for complimentary tastings and stock up for the holiday season.
The Clearsips Pop-Up runs until November 27th. Shop Tuesdays to Sundays from 12pm to 8pm Stackt Market, Unit 5-108, 28 Bathurst St, Toronto.