This winter was a hard one for everyone. Most of us will admit that warm sun and fresh air are a prime elixir for de-stressing and shoving off the daily toil.
We're lucky, where we're from. Southern Ontario does not want for summer recreation—lakes, river valleys and golf courses abound. But few of us can take a full week off of work/life without planning for months in advance. Often, the only option for a mind-and-body reset is a relaxing weekend, so it's gotta be special, packing in all the chill-factor and luxury of a longer vacay into two short days. Can it be done?? I was sure it could.
With that in mind I decided to surprise my significant other with a weekend away at a place generating some significant buzz, Cobble Beach Resort and Spa located in beautiful Georgian Bay.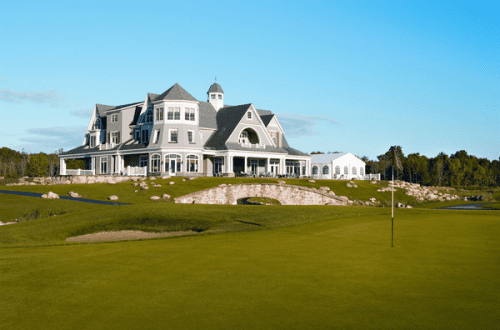 The brief drive out of the city was a great start to our weekend together—just the two of us on an adventure. The city lights were steadily replaced by general stores and farmhouses as we talked and left our cares behind. It being shoulder season, we weren't sure what to expect but were excited for the adventure.
Upon arrival we quickly realized we were in for a treat. Our large suite with vaulted ceilin, walk-in closet and big, cosy bed was going to be very, er… user friendly.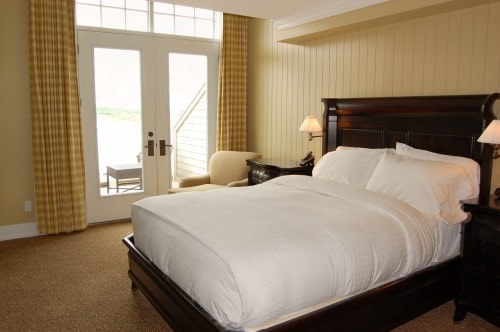 We happily indulged in what any city dweller would—ample free parking everywhere! We got our room at the Central Inn and officially began our weekend getaway. Official because no one was driving anymore and we could wear bathrobes all day. Official.
After a busy work week and the subsequent drive, our only plan for Friday night was dinner at the Inn restaurant and a good night's sleep. That turned out to be a great choice. What's more relaxing than ROMANCE? And dinner provided lots of it. Cozy tables complimented by a two-sided fire place and spacious bar for easy mingling got us chilled out and loved up. Soon we were in the  mood. The mood… for FOOD.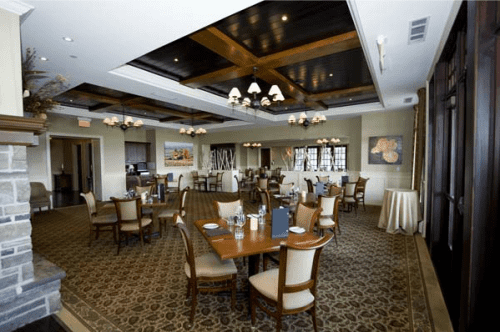 It is common for more seasonal resorts to shut the doors for the winter and bring staff back for spring or summer opening. Not the case at Cobble Beach, and at dinner we discovered why. The restaurant was bumpin' and it was no wonder: the food was delish. Besides resort patrons, locals travel in from around the area to enjoy this fine bit of dining and keep the kitchens busy all year round.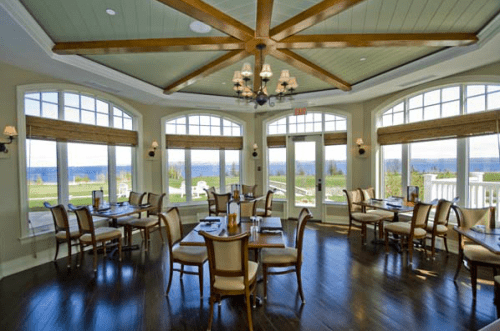 Once seated to dinner it was time for a glass of local red and a sophisticated menu that was a welcome surprise. I teased my partner for ordering a boring ol' Ceasar salad, but instead of the usual creamy whatever, his salad was nuanced and interesting—a fun twist on a classic dish. The tender sirloin which followed was right on medium rare and delicious. Someone had found their happy place. My meal was also excellent.
Yet, for a place that has received publicity for its summer acumen, the slower seasons must present different challenges. Many summer places shut down and lay off during the slower months and re-hire come spring, meaning an almost total staff turnover every year. This method can mean swings in the quality of service as new staff experience growing pains and get settled in, or favourite staff are lost to a winter season in Whistler. Robert McLeese thinks this is a mistake. He retains his high-calibre staff by keeping the restaurant open year-round, and believes it's worth the investment.
And Robert's very invested. The resort began when Robert's father Willis came to him one day and said he'd purchased a development property in the Georgian Highlands. His hope? To develop a golf course in the style of Pebble Beach. The property was ideal for a Links-style course, with its majestic views out onto Georgian Bay.
The course became a reality a few years ago and was recently ranked the 11th best Golf Course in Canada, a testament to Willis' vision and dedication. But in the rolling property of nearly 600 acres, there was room for more. And as we found out this weekend, over the years the 'more' has been realized.
After breakfast we donned cross country skies and snowshoes for a wintry adventure: a lap through an enchanted cedar forest and beyond. A magical journey through clusters of ancient trees, culminating in a trek over the elevated tees with views out over the bay.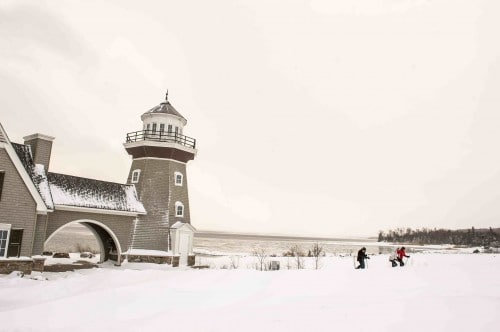 Once back at the resort it was time to warm up and head to our spa appointments. Like the kitchen, the spa at Cobble Beach is staffed year-round. We loved the personable beauty experts and indulged in something we both wanted: a mani-pedi for me and a massage for my Caesar-salad-loving boyfriend. But one thing we could agree on was a hot tub together after. And more wine, obviously.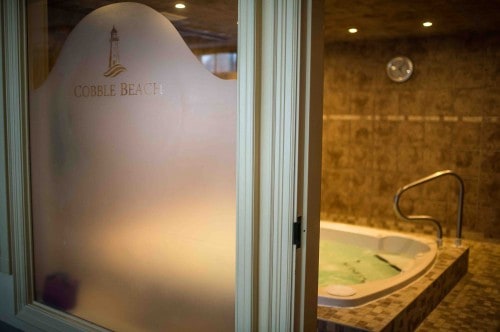 The deliciously comfy bed with too many pillows felt like home and the open cable package was my new best friend. Nice touch. We were both starting to unwind. Just in time for dinner… I was noticing a trend.
Dinner on day two was a masterpiece. We started with a guinea fowl served on a bed of wild mixed spring salad with carrot sabayon, arugula and pine nuts.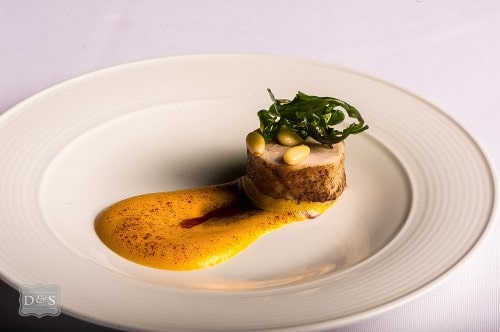 Next, I practically inhaled the velvety Yukon gold potato soup with leek oil wild trout. The salad that followed was divine, and made up of Wylie's mushrooms, heirloom beets and poached quail eggs it looked as incredible as it tasted. SOMEHOW I found room for the main, a coupling of lamb and elk on top of a celeriac puree, sweet onion, veal foam (!!!) and cranberry.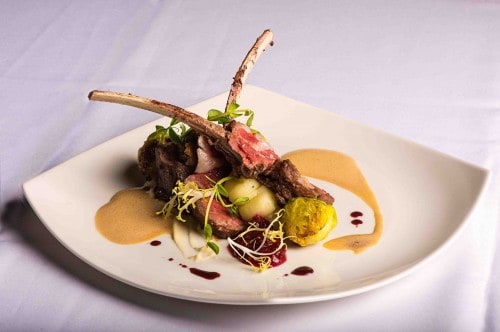 Dessert was equally impressive—a unique twist on a chocolate brownie with melt-in-your-mouth mascarpone mousse drops and orange. It was paired with Peller Estates Ice-wine. Amazing.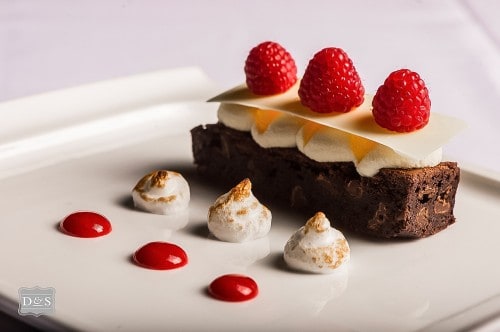 Besides its growing reputation as a golfing and dining destination, it`s refreshing to hear that Cobble Beach is becoming a self–sufficient community and decreasing its environmental footprint. The resort has added geo-thermal heating/cooling and its own waste processing facility.
The boyfriend can't wait to come back when the weather warms up to golf, and I'm looking forward to hosting a weekend with some of my best girls, complete with spa treatments and delicious eats. See you again very soon, Cobble Beach.