Over the last year, we've faced social upheaval like never before. We've lived through enough major historical events, heard the word "unprecedented" enough times, and experienced unimaginable grief. We're all a little stressed. In fact, according to Mental Health Research Canada's National poll on the impacts of Covid 19, we're more than a "little" stressed: Canadians are actually reporting higher levels of depression and anxiety than ever before.
With many of us working from home, isolated from our coworkers and friends, and so many of our typical forms of leisure and entertainment not being accessible – it's been hard to find ways to fill our days (with more than just "doom scrolling"). Sure, we can kill hours on TikTok, or re-watch our favourite films and TV shows (for the sake of my mental health, don't ask me how many CW Teen TV shows I've binge-watched since last March!) – but one thing that has brought me continuous joy over the last year has been reading.
From re-reading my favourite young adult fantasies, and losing myself in tender poetry collections, to falling in love with twisty, suspense-filled thrillers, joyful romances, beautifully written literary fiction, "unputdownable" essay collections, and weird and wonderful graphic novels – I have found escape, joy, and, maybe most importantly, comfort in books.
As we pass the 1-year mark since the WHO declared COVID-19 a pandemic, and since our lives changed so completely, my anniversary gift to you is this curated list of 13 "comfort reads", across genres, topics, writing styles, and even age groups.
Regardless of your tastes, and whether you're looking for escape, distraction, affirmation, knowledge, or connection – whether you're an avid bookworm, a "once in a while" reader, or someone who is struggling through a "book rut"— I hope you find something to bring you comfort in the list below!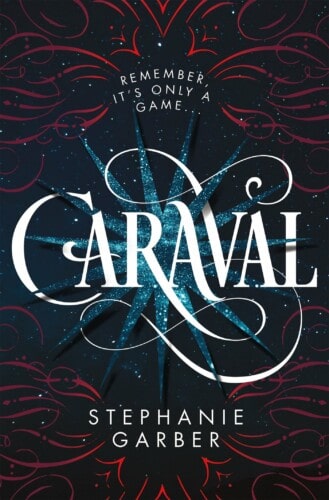 Caraval – Stephanie Garber
Sometimes you just want to escape into the comfort of magic. Into a world of kisses and curses, of marvel and mayhem… Caraval is all of that, and more!
It follows our heroine, Scarlett, who has never left the tiny island she calls home, with her rebellious sister, Tella, and her abusive father. She has longed to see Caraval – the once-a-year performance, where the audience is part of the show – but when her father arranges her marriage, she fears that dream is over. Then, Tella whisks her away to the show, with the help of a mysterious sailor, only to be kidnapped by the show's mastermind, Legend, shortly after they arrive. Scarlett quickly discovers that this is part of the game, and that this season of Caraval depends on finding Tella. It's supposed to just be a game, but it feels a little too real for comfort… The stakes are high, and the game is just beginning….
Magical, mysterious, and addictive, Caraval is a lush, fast-paced, and unforgettable spectacle. The first in a young adult trilogy by the same name, Caraval instantly transports you into a new world… One where you don't know what's real, and what's just a game… But you know you want to keep reading.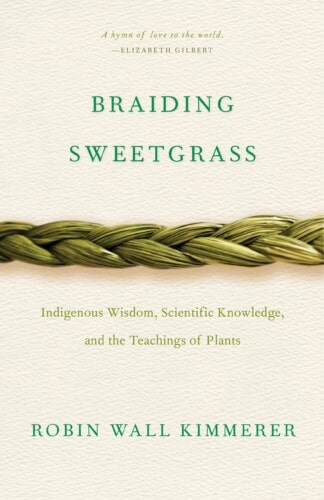 Braiding Sweetgrass: Indigenous Wisdom, Scientific Knowledge, and the Teachings of Plants – Robin Wall Kimmerer
A powerful and beautiful book, that will help you better understand the world around you. Rooted in Indigenous history, botany, ecology, and Kimmerer's own stories, you will savour every page. Equal parts Science and poetry, you'll fall in love with this book, and want to soak up every word.
This book has been recommended to me by so many people, and for good reason. Braiding Sweetgrass answers questions of nature, with scientific tools and inquiry, and embraces plants and animals as some of our oldest teachers. Bridging the gap between Science as we know it, and legacies of Indigenous wisdom, this book invites us to expand our consciousness. It's a slow, and powerful read – perfect to read with a friend (or a book club!).
A must read for everyone, this book will show you a path to sustainability, and a deeper understanding of the earth, through harmony and reconciliation.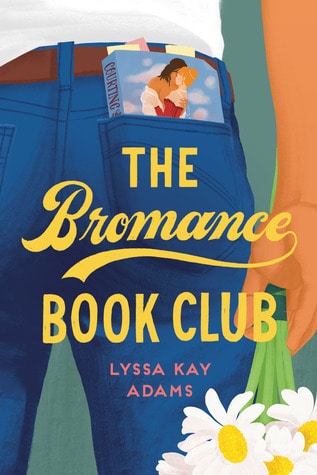 The Bromance Book Club – Lyssa Kay Adams
The first rule of book club: You don't talk about book club.
Whether you're a passionate fan of "bodice rippers", or an occasional viewer of romantic comedies, there's something you'll love in Lyssa Kay Adams' The Bromance Book Club. The first in a series by the same name, this book is a light-hearted romp. It follows a professional baseball player, Gavin, who – in a fight with his wife, Thea – discovers that she's always faked her orgasms. Shaken and humiliated by the revelation, and desperate and devastated when Thea asks for a divorce, Gavin finds help from a surprising source: a top secret romance book club, made up of several of Nashville's top "alpha males". With the help of his new friends – and the steamy Regency romance, Courting the Countess, Gavin gets coaching on how to save his marriage… Will he hit a home run?
Read this delightful, quick story to find out… Then, read the other books in the series for some more sweet and sassy fun.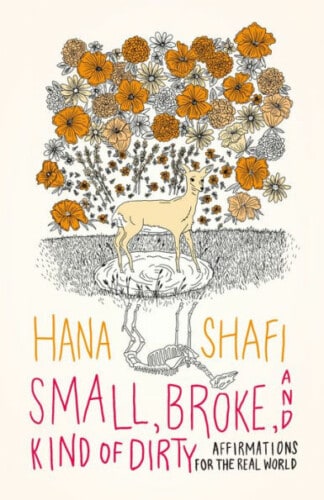 Small, Broke, and Kind of Dirty: Affirmations for the Real World – Hana Shafi
Toronto-based artist, writer, and poet, Hana Shafi, gained a lot of popularity with her beautiful, weird, and powerful illustrated affirmations, and her debut poetry collection, It Begins with the Body. Her second book, Small, Broke, and Kind of Dirty, is based on those affirmations, but an advice book, it ain't!
Shafi is well on her way to becoming a ~ millennial icon ~ (she's already mine!), with her sharp wit, pointed observations, and uplifting affirmations – and Small, Broke, and Kind of Dirty is a delight. Instead of offering advice, or meditation tips, or reminders to drink water, and wear sunscreen, Shafi offers something much more. She offers a vulnerability and self-awareness that's so easy to connect with, and relate to. She offers a lesson in resilience, and belonging. In growing up, and pushing through.
Small, Broke, and Kind of Dirty is a book about self-discovery and hardship, but also triumph and humour. Exploring topics of feminism, allyship, body politics, and pop culture, this essay collection is hopeful, affirming, and unforgettable, and serves as a reminder "to not let the bastards grind us down."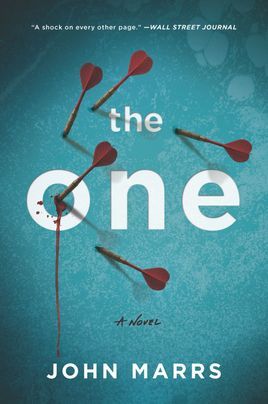 The One – John Marrs
"How far would you go to find The One?"
John Marrs has created a world where a simple DNA test can determine your perfect partner – the one you're genetically made to be with. This is the promise made by Match Your DNA, a multi-million dollar corporation which announced the discover of the gene that pairs us with our soulmate 10 years ago. Since then, millions of people around the world have been matched – but the discovery has its downsides.
Test results have led to countless breakups, and completely changed our perceptions of dating, romance, and love. The One follows five very different people, each of whom receive the notification that they've been "matched" with their true love.
This was a fascinating, gripping thriller about love, and secrets, truth, and consequences. It twists, and it turns, and it keeps you guessing the whole time. It's a story about Science and technology, and makes you ask the question: Just because we can… Does it mean we should?
This book is the perfect distraction from real life – you can sink your teeth into it, and lose yourself in the story, and the fascinating lives of our five main characters (and their matches). Nothing is what it seems. This book will hook you in, and leave you wanting more.
… Lucky for you, the Netflix adaptation comes to Canada on March 12th.
I Hope We Choose Love: A Trans Girl's Notes from the End of the World – Kai Cheng Thom
"What can we hope for at the end of the world? What can we trust in when community has broken our hearts? What would it mean to pursue justice without violence? How can we love in the absence of faith?"
I Hope We Choose Love is a heartbreaking, powerful, and ultimately hopeful collection of personal essays, poetry, and prose. Less than 150 pages long, it's a short read, but dense, and full of lessons you'll want to take to heart. It's not an easy or casual read, but it's the kind of book where after reading a few passages, you'll want to put it down, and talk to a friend about what you just read. I read it with my highlighter in my hand – re-reading passages, and occasionally exclaiming "Oh my God!"
This is definitely one of those books that changes your whole perspective. Maybe your whole life!
Kai Cheng Thom offers heartfelt solutions to painful problems – of violence, vengeance, complicity, and forgiveness. It's a great primer and introduction to transformative justice, and will change the way you think about forgiveness, harm, and accountability. After a year (or if we're being really honest, many years) of tumult, and polarization, and rage, this book is an antidote. It asks for healing, in a time of injustice, and love during the end of the world.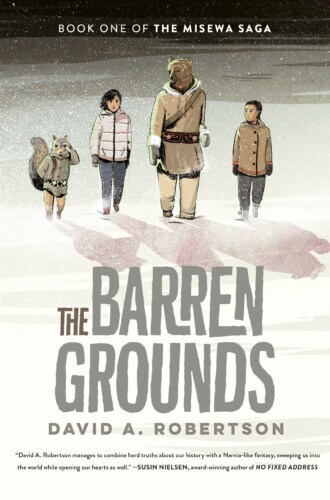 The Barren Grounds – David Alexander Robertson
The Barren Grounds is the first book in an epic middle-grade fantasy series (which will be enjoyed by children and adults alike).
Described as "Narnia meets traditional Indigenous stories", it's a beautiful read, weaving concepts of community, and belonging into Indigenous stories and wisdom. It follows Morgan and Eli, two Indigenous children who were forced away from their families, and their communities, who end up in the same foster home in Winnipeg. Each struggling with feelings of being disconnected, and isolated, they struggle to fit in: at school, at home, and with each other… Until, they find a secret place.
In their unfinished attic, they find a portal to another reality, Askí, stumbling onto its frozen (and barren) grounds, where they meet Ochek the only hunter left, trying to feed his struggling, and starving community; and Arik, a sassy squirrel who steals from their trapline. As the quest for food becomes more and more desperate, they decide to set out on a dangerous quest to save their community, and stop this eternal Winter.
The Barren Grounds is the epitome of a "cozy" read – one you can read by yourself, curled up under your favourite blanket, or a story the whole family can read together and enjoy. David Alexander Robertson has written a beautiful story – descriptive, powerful, unique, and unforgettable; One that is full of great lessons for all of us.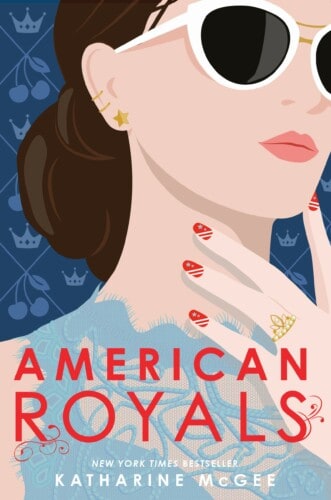 American Royals – Katharine McGee
It's rare that I finish a book and say out loud "that was AMAZING!" – but that's what happened with American Royals, the first in a fast-paced, and fun young adult duology by Katharine McGee. In this book, McGee asks the question: "What if America had a royal family?"
The answer? Something like a cross between Gossip Girl and The Crown – full of steamy romance, duty, tradition, rebellion, attempted murder(?), and SO. MUCH. DRAMA.
In Royals, when America won the Revolutionary War, the people crowned George Washington, and two and a half centuries later, the House of Washington is still on the throne. The book follows the three Washington siblings:
Dutiful, responsible Princess Beatrice, who is next in line for the throne, getting closer and closer to becoming America's first Queen regent, but the duty and traditions she had been embracing her whole life suddenly feel suffocating.
Rebellious wild-child, Princess Samantha, the "spare", and the classic middle child: Never the focus of attention, unless she's breaking the rules, Samantha doesn't care about anything… until she falls for the one person who was off-limits.
Golden boy, and Samantha's twin, Prince Jefferson. He's adored by most of America, and has two very different girls vying for his affections.
Maybe more timely than ever, after that Oprah interview, with Meghan and Harry, American Royals is pure, messy, unadulterated fun.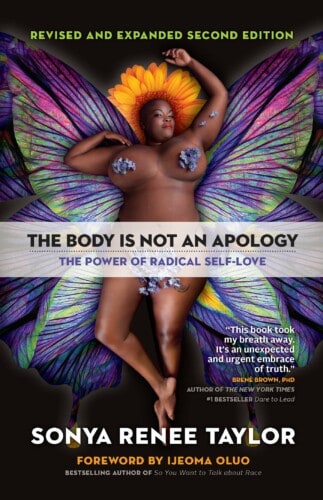 The Body Is Not An Apology, Second Edition: The Power of Radical Self Love – Sonya Renee Taylor
Whatever hurts, whatever is hard, whatever you're struggling with, there may be an answer for you in the second edition of Sonya Renee Taylor's game-changing The Body is Not An Apology.
It sounds bold (and maybe reductive?) to say that – can loving yourself really be the answer to everything that's going on? Maybe, Maybe not, but it definitely won't hurt. This book posits that most of the world's greatest problems (and isms) happen to, and cause harm to bodies. Systems of oppression are built off our inability to make piece with our bodies.
Revised and expanded from its original 2018 edition, with a new foreword from Ijeoma Oluo, this book invites you to think about the revolutionary power of radical self-love. It makes you think about how you can apply love, care, tenderness, empathy, kindness, and forgiveness to your body, to yourself, and to those around you. It asks you to think about love and justice, and how interconnected they are, and how so few bodies get to see them.
This book is a fundamental "must read" for every body. It's powerful, hopeful, challenging, impactful, and unforgettable. It will change the way you look at your body, and hopefully lead you on a path to radical self-acceptance, changing the way you relate with the world around you.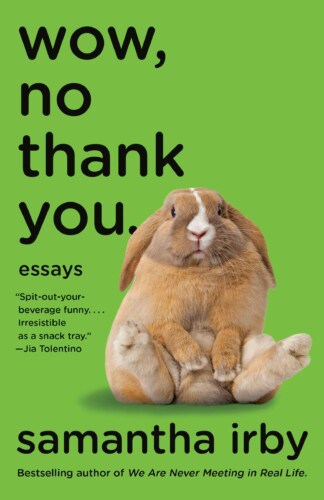 Wow, No Thank You. – Samantha Irby
As cliché as it is to say this: This book was a breath of fresh air.
Samantha Irby writes for real people with gross bodies, and weird habits. Her essays are unapologetic, hilarious, and unforgettable. Wow, No Thank You. was a refreshing antidote to a hard day and reminded me again how much fun reading can be.
While she discusses real-world issues, and topics that can sometimes be really difficult, Irby has a really powerful way of finding humour in them – in a way that's refreshing, smart, and so unique. Her self-deprecating wit feels authentic, vulnerable, relatable – you'll see yourself in stories that aren't even about you, not even a little bit.
Laugh-out-loud funny, unfiltered, and unabashed, this book was a delight, and you won't be able to put it down.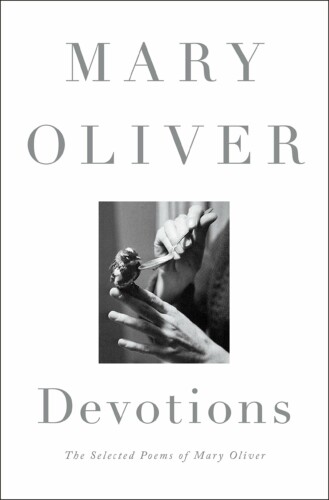 Devotions: The Selected Poems of Mary Oliver
I don't know how else to say it, but Mary Oliver's poetry is healing.
Devotions is a collection of 200+ carefully curated poems that span through Mary Oliver's illustrious career – from her very first book No Voyage and Other Poems, to her 2015 collection, Felicity.
Her poems are about nature, but they're also about so much more. These poems ask the kinds of questions we're all wondering, and they answer questions we didn't know we had. From short, and impactful poems, that are just a couple of sentences long, to longer verses that span multiple pages – once you read one of her poems, you won't be able to stop thinking about it.
You can pick up this book, and start it from anywhere, and the poem you find will be like a horoscope – challenging you, telling you things you think you already knew, and making you feel seen. There's something about reading about nature, and thinking about nature, and being in nature that is good for the soul. After all the upheaval and the grief, and the rage we've felt and seen over the last year, Devotions is a balm.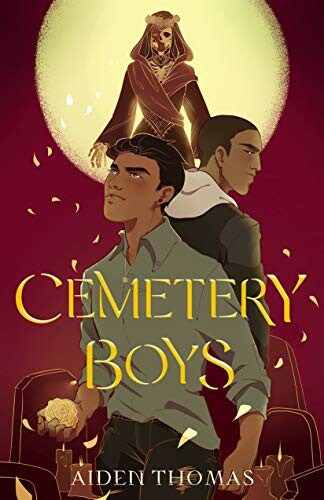 Cemetery Boys – Aiden Thomas
"Yadriel has summoned a ghost, and now he can't get rid of him."
Cemetery Boys is a book about a lot of things. It's a paranormal Young Adult debut about magic and ghosts. It's a coming-of-age story about a young, Latinx, trans boy who is determined to prove himself, and be accepted. It's a story of tradition, and legacy. It's a queer love story.
When his traditional Latinx family has difficulties accepting his true gender, Yadriel is determined to prove himself as a brujo. With the help of his best friend (and cousin) Maritza, he performs the ritual, himself, setting out to find the ghost of his murdered cousin, in order to set it free… Unfortunately, the ghost he ends up summoning is actually Julian Diaz, the school's bad boy – and Julian is… a little clingy.
He's determined to find out how and why he died, and tie up some loose ends before he leaves the world of the living. Yadriel agrees to help Julian, so they can both get what they want…. But the more time Yadriel spends with Julian, the less he wants him to leave…
Despite tackling heavier topics like death, and violence, and transphobia – Cemetery Boys is sweet, and heartfelt, and ultimately "unputdownable". It's a story about death and grief, and moving on, but also a story about queer joy, and acceptance, family, and first loves.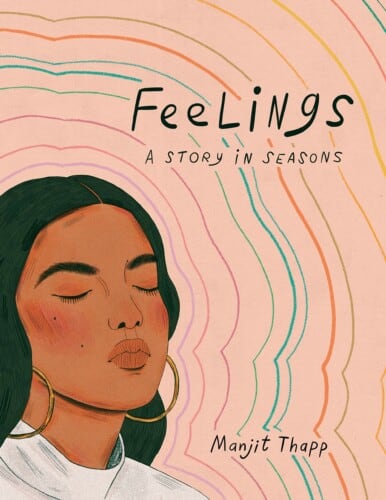 Feelings: A Story in Seasons – Manjit Thapp
Maybe the most relatable book on this list, Feelings is a stunning visual journey into one woman's year of emotions.
The book is split into 6 seasons: High Summer, Late Summer, Monsoon season, Autumn, Winter, and Spring.
This visual story explores moods that change as quickly as the Weather, the different worries and hopes that every new season brings, and the joy, hardship, resilience, and pain that fuel our growth. Feelings is unique. It's stunning – with breathtaking images, and creative depictions of complicated feelings. It's smart and emotive – but also so simple. It's warm and tender, and so validating. The illustrations are accompanied by beautiful words, and Thapp's growth (and dormancy) is paralleled through imagery of plants, and the ways they grow (or don't).
Manjit Thapp's gorgeous art and beautiful storytelling will have you in your feelings. It will challenge you, and heal you.
This is one of those books you'll want to read over and over again.
Ameema Saeed (@ameemabackwards) is a storyteller, a Capricorn, an avid bookworm, and a curator of themed playlists, tailored book recommendations, and cool earrings. She enjoys dancing, tattoos, sweatsuits, bad puns, and good food. She also loves to write. She mostly writes about books, unruly bodies, and her lived experiences, and hopes to write an essay collection one day. When she's not reading books, or buying books (her other favourite hobby), she likes to talk about books (especially diverse books, and books by diverse authors) on her bookstagram: @ReadWithMeemz