Looking for an ol' time REVIVAL to save your sinning soul? Look no further!
Whether you're pure as the driven snow or a Catholic school dropout, you will not want to miss the Toronto Burlesque Festival presentation of Kitten n' Lou's Holier Than Thou, coming to Revival Bar next Thursday!
This demented and glittering romp through the Old Testament brings together everyone's fave gay-married superduo drag darlings to present their glitter bomb of award-winning dance, irreverent striptease, and surreal comedic magic. Be transformed in body and mind as they dig deep and ask the hard questions: What is the meaning of our existence in the universe? Are we really supposed to believe there's a God if Donald Trump is president? How can homosexuality be a sin when the Bible is clearly so GAY GAY GAY?!?
Expect to be converted and shouting, "YAS GAWD!"
SO, YOU READY TO GET BIBLICAL?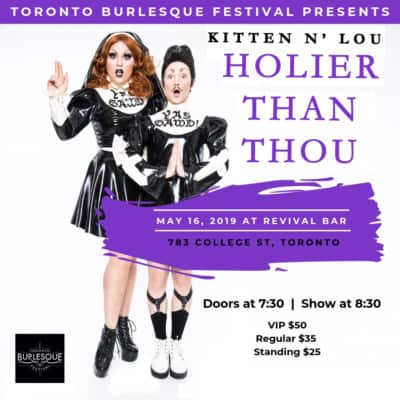 Holier Than Thou takes place on May 16 at Revival Bar (783 College Street). Doors at 7:30; show starts at 8:30. Grab your tix here.
CONTEST
Enter to win a pair of tickets to this campy Bible-thumping masterpiece!
You have three ways to enter:
TWITTER: Tweet "Yes @shedoesthecity! Baptize me in glitterbomb! Send me to #HolierThanThou @TOBurlesqueFest @kitten_and_lou"
INSTAGRAM + FACEBOOK: LIKE + COMMENT on our #HolierThanThou posts.