Honestly, if you haven't been to FAN EXPO Canada, you may not realize that it's THE MOST FUN TORONTO EVENT EVER!
Whether you're a four year old who loves Spiderman or a forty-four year old whose imagination is similarly captured by comic books, fan fiction, or cult TV and cinema, FAN EXPO Canada is an annual extravaganza with AHHHH-MAZING surprises at every turn.
This year, we're especially looking forward to the cast reunions of both Back to the Future and Degrassi. These iconic cultural legacies played an important role in our childhood and adolescence. Who would you rather meet, Michael J. Fox or Pat Mastroianni (the one and only Joey Jeremiah)?
Beyond meeting beloved cast members, you can watch a cosplay competition, or test yourself in the Harry Potter Escape Room. Jeff Goldblum will also be in attendance, doing photo sessions and signing autographs. Maybe you'd prefer to explore Jabba The Hutt's palace on the show floor; give a high five to Lucy Lawless a.k.a. Xena: Warrior Princess; ask Pee-wee Herman questions; or cuddle up with the original Chewbacca. THERE IS LITERALLY SOMETHING FOR EVERYONE! It's practically a theme park, but it's quirkier and weirder in exactly the way we want things to be quirkier and weirder.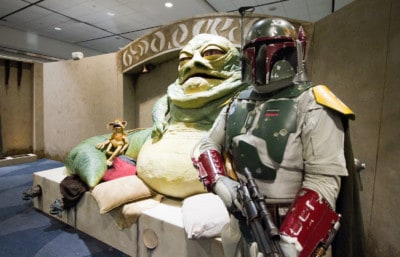 Gaming, anime, comics, sci-fi, fantasy: FAN EXPO CANADA IS THE BEST!
CONTEST
Win a pair of Deluxe FAN EXPO Canada passes! There are three ways to enter:
TWITTER: Tweet "OMG, YES @shedoesthecity! I want to go to @FANEXPOCANADA to reunite with the stars of Back to the Future, Degrassi, and so much more. Please send me a Deluxe pass! #FANXC18"
FACEBOOK & IG: LIKE + COMMENT on our FAN EXPO Canada posts.
Contest closes August 24 at 1:00 p.m. EST. Winner will be notified by 3:00 p.m. EST. GOOD LUCK!